Can Chicago P.D.'s Intelligence Unit Survive The Reforms In Season 8?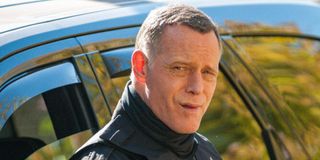 (Image credit: NBC)
Spoilers ahead for the Season 8 premiere of Chicago P.D. on NBC, called "Fighting Ghosts."
Chicago P.D. finally returned to NBC with the first new episode since the premature Season 7 finale back in April, and Season 8 is already taking the Intelligence Unit in some very new directions. Just like Chicago Med is rolling with the real-life complications of COVID as part of its latest season, Chicago P.D. is incorporating police reform and protests against police brutality and escalation. And, as anybody who has ever seen an episode of Chicago P.D. knows, the Intelligence Unit cops aren't exactly known for their soft touches. Can Intelligence actually survive the reform after "Fighting Ghosts"?
The Season 8 premiere was very much an Atwater-centric episode, which was necessary after the killer Atwater cliffhanger at the end of Season 7. That said, "Fighting Ghosts" took the time to show how each member of Intelligence is handling police reform and deescalation, and some of them are handling it much better than others.
Atwater is the standout when it comes to rising to the challenge of changing the way they work now that Deputy Superintendent Samantha Miller is pushing for change. While he dealt in shades of gray in the Season 8 premiere after the discovery that one of the not-so-dearly departed Doyle's friends planted heroin in his car, he struck me as the most pragmatic and proactive of the unit by far, as well as with the most to lose.
He even took on Voight when Voight wanted to play by his own old rules, and a shouting match with Voight is a scary prospect. At this point, I'm more nervous about Atwater surviving the rest of C.P.D. than I am about him professionally surviving reform. The episode ended with a bunch of the boys in blue jumping and viciously beating Atwater. I know Miller has her eye on Intelligence because other units will follow what Voight does, but can she please prioritize laying some reform down on Doyle's racist buddies?
Burgess seems to be dealing with the changes fairly well. She snapped at Ruzek when he tried to go after a man who tossed a beer bottle at him, saying that she didn't intend to lose her career over it, and she made a Chicago Fire cameo to prove that she's still hard at work on catching bad guys. Halstead probably comes in behind Burgess, since he stopped Upton from digging herself into a deeper hole with her commentary on Miller's reform goal, but he was also about ready to snap when he was called "bitch" by a bystander.
Upton managed to pull Halstead away before he escalated the situation, but her comments about Miller and reaction when called out by Atwater indicate that she's not really embracing the reform so far, which isn't altogether shocking considering her Voight-esque arc in Season 7. That said, she was at least bothered enough by the tense moment with Atwater that she brought it up to Halstead later. If only she'd brought it up to Atwater and they could have had a conversation about it!
Ruzek proved that the push for deescalation hasn't cured him of his aggressiveness, and he's still willing to do whatever Voight wants him to do. He's a good friend for Atwater now that Atwater is in a bad situation, but unless Ruzek starts following other examples beyond Voight, he could find himself in big trouble again. Burgess was able to call him off of starting something unnecessary in "Fighting Ghosts," but he might not always be partnered with somebody who can do that.
And with Rojas MIA and not even mentioned in the Season 8 premiere, that of course leaves us with Voight. Miller explicitly told Voight that he would be out of C.P.D. in a matter of months if he kept running Intelligence the way that he has for the past seven years, and Voight seems to sincerely want to see the C.P.D. do better. He also seems to want that to happen without Intelligence actually having to change how they do things.
I will say in his slight defense that he did try for a decent chunk of the episode, and nobody in Intelligence deliberately made the situation with the warrant more dangerous than it needed to be. His breaking point came with the death of the little girl who had been shot in the first place, after which he was ready to start throwing suspects in the cage and doing... well, presumably doing what Voight does best. When that didn't work out, he seemed all ready to cross more lines when it comes to the cops who were going after Atwater.
All things considered, Voight really seems like he'll be on his way out if he can't make some changes. Since Jason Beghe likely isn't going anywhere, something is going to have to give for Voight, and I'm not sure he can do it without being backed into a corner. If I had to put money on a member of Intelligence not able to survive the reforms at C.P.D., I would go for Voight or Ruzek. Voight might have some degree of protection within the C.P.D. by virtue of his connections; Voight basically is Ruzek's connection, and Ruzek has proven before that he'll go down with a ship if that's what it takes.
All of this said, the Intelligence that presumably survives to the end of Season 8 may be very different from the Intelligence as of the end of Season 7. The unit may stay together, but it can't stay the same, and it should be interesting to compare where they are now to where they'll be by the time finale season rolls around.
My number one wish at this point is just that Atwater catches a break. As much as I wanted Atwater to get a big arc of his own, I didn't want it to involve him being jumped and beaten by a bunch of fellow cops just for doing the right thing! Maybe he can finally get a little love at some point in Season 8, even if it won't be with Rojas.
The next new episode of Chicago P.D. will be called "White Knuckle" and see the stakes raised in Atwater's fight against the blue wall, as patrol officers will stop responding to Intelligence calls. Voight will face new pressure when he is tasked with taking down the son of an influential former cop quickly to avoid any appearance of preferential treatment.
See what happens on Wednesday, November 18 with the next episode of Chicago P.D. at 10 p.m. ET on NBC, following Chicago Fire at 9 p.m. ET and Chicago Med at 8 p.m. ET. For more options, check out our 2020 fall TV premiere schedule.
Your Daily Blend of Entertainment News
Laura turned a lifelong love of television into a valid reason to write and think about TV on a daily basis. She's not a doctor, lawyer, or detective, but watches a lot of them in primetime. Resident of One Chicago, the galaxy far, far away, and Northeast Ohio. Will not time travel, but will sneak references to The X-Files into daily conversation.