The Mandalorian's Bryce Dallas Howard Confirms Fun Tribute To Ron Howard's Apollo 13 In Latest Episode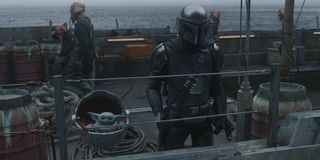 Spoilers for the latest episode of The Mandalorian – "Chapter 11: The Heiress" – lie ahead.
With only three episodes under its belt, The Mandalorian Season 2 has managed to give viewers some big moments. From Timothy Olyphant's explosive introduction to that daring battle with the ice spiders, the season is off to a great start. But this week's episode really kicked things into gear, and we can thank director Bryce Dallas Howard for that. Not only did she manage to give us some great battles and massive reveals, but she even managed to stick in a not to Apollo 13, which was directed by her father – Ron Howard.
In the opening scene of this latest episode, the heavily damaged Razor Crest manages to arrive on the moon of Trask, though it does so after coming in way too hot. The sequence is visually stunning, and some astute viewers happened to pick up similarities to the re-entry scene from Ron Howard's Apollo 13. Bryce Dallas Howard, upon seeing these posts, excitedly took to Twitter to confirm their assumption:
You have to love when directors pay tribute to other directors, especially when there's a close familial tie like there is here. Aside from the fact that the scene is a sight to behold, you also have to admire how Dallas Howard found an organic way to work it in.
This episode marked Bryce Dallas Howard's second time being in the director's chair for The Mandalorian, as she previously helmed Season 1's "Chapter 4: Sanctuary," which received strong reviews following its initial debut. The same has also been true of this new episode, as the director both ramps up the set pieces and moves the story forward in major ways.
The episode marked the introduction of Katee Sackhoff's Bo-Katan Kryze, who offered Mando some info on the Jedi in exchange for his help in taking down an Imperial cargo ship. In the end, Mando, Bo-Katan and her Mandalorian allies are successful in raiding the ship. Kryze also holds up her end of the bargain by directing Mando to Ahsoka Tano's location, which is exciting for a number of reasons.
With her latest directorial effort, Bryce Dallas Howard is starting to make a serious case for why she should receive her own Star Wars project. The two episodes she's produced prove that she knows how to balance storytelling with massive set pieces and action. The Mandalorian's Deborah Chow has already landed her own project with the Obi-Wan series (and rightfully so), and Dallas Howard could become the next of the show's directors to get the opportunity. Only time will tell if this actually comes to pass, but let's hope it does and that Howard will also be able to throw in some other cool nods to the work of her father and other filmmakers.
Be sure to watch new episodes of The Mandalorian when they premiere Fridays on Disney+.
Your Daily Blend of Entertainment News
Covering superheroes, sci-fi, comedy, and almost anything else in film and TV. I eat more pizza than the Teenage Mutant Ninja Turtles.