Snowpiercer Season 2: 8 Quick Things We Know About The Upcoming Season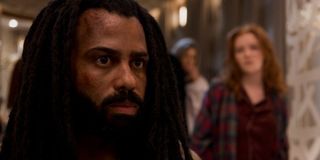 TNT's drama Snowpiercer was a surprise hit of 2020, and at a time where it seemed the world was coming apart, captivated some audiences with its post-apocalyptic train story. Now the series is set to return in 2021, and while there are a lot of things we don't know about the upcoming season, there is a solid amount of things we do know about Snowpiercer Season 2.
As the Snowpiercer faces an uncertain future and a cold world, fans are in a much better position in terms of knowing what's ahead in the series. Here's most of what we know ahead of the new season, and what viewers should be prepared for going into new episodes. As mentioned, we're still in the dark on some things, but at least the following we can say with absolute certainty.
Snowpiercer Season 2 Is Set To Premiere In January 2021
Snowpiercer Season 2 had a fair amount of production out of the way by the time lockdown protocols went into effect, and because of that, it will be one of the first shows to kick off its season in 2021. Fans will still be able to find the drama on TNT, with the premiere date set for Monday, January 25. No better time like winter to watch a show where people are on a train trying to survive freezing to death, right?
Snowpiercer Season 2 Will Be 10 Episodes
For anyone hoping Snowpiercer Season 2 would exceed the episode count given to Season 1, I have some bad news. The sophomore season will also have 10 episodes, though an optimist would relish in the fact that the episode count has not dropped. Personally, I think Season 1 did a good job of telling its story over 10 episodes, so I'm not too concerned that Season 2 will struggle to tell its story. It does make one wonder though, should Season 3 be announced, will 10 episodes just be the standard for the series going forward?
Sean Bean Debuts In Snowpiercer Season 2 As Mr. Wilford
After his presence in the series was teased long ahead of the premiere, Sean Bean finally makes his debut as Mr. Wilford in Snowpiercer Season 2. Towards the end of Season 1, Mr. Wilford's arrival is seen as an impedance on the recent coup of the Snowpiercer, and the saving grace of First Class. So far, it's impossible to say how Snowpiercer Season 2 will be impacted by his arrival, but based on what little we know, it will definitely shake up the train in a meaningful way.
Season 2 Of Snowpiercer Features Another New Train
One train was exciting enough, so it's obviously a point of interest that Snowpiercer Season 2 will give fans a look inside another train. Specifically, we're going to see how the Big Alice, a prototype train piloted by Mr. Wilford, operates. This train isn't just relevant because of its ability to control the diagnostics of Snowpiercer, but because it'll be a look into the lives of another group of survivors who have been traveling as well in the years since departure. Have these folks fared the same as the folks in Snowpiercer, or has their way of survival been vastly different? Obviously, we'll have to wait for Season 2 to find out.
Snowpiercer Season 2 Will Feature Layton Leading The Main Train
Andre Layton's grand plan was to gain better standing for the Tailees, and he got all that and then some. He's the de facto leader of Season 1, but whether that will remain the case in Snowpiercer Season 2 is up in the air. Mr. Wilford has quite the bargaining chip with Big Alice controlling the Snowpiercer's diagnostics, and will soon be aware a chunk of the train is ready to do his bidding. Layton will certainly be in charge of the train at some point in Season 2 though it remains to be seen how long it lasts.
Melanie's Daughter Alexandra Will Be In Snowpiercer Season 2
Melanie was certainly Snowpiercer's most polarizing character in Season 1, though it was understandable how she could make such cold decisions considering what she sacrificed. Melanie was ultimately able to betray and pose as Mr. Wilford in the first years of the train's run, but her betrayal came at the expense of leaving her family behind. This included her daughter, Alexandra, who as luck would have it, would be on the Big Alice alongside Mr. Wilford. Snowpiercer Season 2 will likely feature a reunion between the two characters, and maybe feature a reckoning of sorts as Melanie explains to her child why she made her decision.
Snowpiercer Season 2 Will Feature Bigger Roles For Certain Characters
Snowpiercer has a great cast and many characters, to the point that Season 1 couldn't keep the spotlight on all of them. That will change in Season 2 for some, as CinemaBlend can confirm certain characters will get elevated roles compared to what they were up to in Season 1. Showrunner Graeme Manson confirmed some characters would have meatier roles, though wasn't too forthcoming on details. It's assumed others may have the same considering the death of other characters in Season 1, and the opportunity for others to become a much bigger factor in the story.
Snowpiercer Season 2 Will Bring Back All Living Characters From Season 1
One thing that is exciting about Snowpiercer Season 2 is that those who were alive at the end of Season 1 will be back in the new episodes. I guess one upside to the show being set on a train is there's no easy way to write off characters without killing them so fans will get more time with characters like Roche, Bennett, and Ruth. That's a great thing because we've only gotten to know some of these characters, and it will be great to learn more about their lives on Snowpiercer, and how they've developed.
As mentioned, Snowpiercer Season 2 is set to premiere on TNT Monday, January 25. Continue to stick with CinemaBlend for more details on the series in the meantime, and for the latest news happening in television and movies.
Your Daily Blend of Entertainment News
Mick likes good television, but also reality television. He grew up on Star Wars, DC, Marvel, and pro wrestling and loves to discuss and dissect most of it. He's been writing online for over a decade and never dreamed he'd be in the position he is today.