Why Grey's Anatomy Decided To Give COVID To A Major Character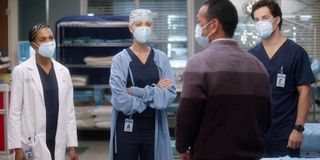 Warning! Spoilers ahead for the Grey's Anatomy Season 17 episode, called "My Happy Ending."
At the end of the Grey's Anatomy Season 17 premiere, Meredith Grey collapsed in the parking lot of the hospital, and the episode ended with a beach-happy dream of Patrick Dempsey's Derek Shepherd. The very next episode confirmed that Meredith was diagnosed with COVID-19, which explained why she was fever-dreaming about her late husband to begin with. While it's a pretty shocking move to give a main character a potentially deadly virus, Grey's Anatomy showrunner Krista Vernoff revealed why she and the writers decided to give Meredith COVID to kick the season off.
Grey's Anatomy, like so many medical TV shows, incorporated the COVID-19 outbreak and its impact on patients and healthcare workers into its new episodes. While the Season 17 premiere focused on the many patients diagnosed with COVID in the early days of the pandemic, the medical drama pivoted to address what it would be like for a major character like Meredith to come down with the virus. Here's what Krista Vernoff told The Hollywood Reporter about the creative decision to infect Meredith:
Meredith was in and out of consciousness throughout "My Happy Ending," clearly in pain and unsure of what was real. Meanwhile, her fellow doctors were debating how they should treat her. It was a very harrowing storyline and I commend Krista Vernoff and the writing team for actually taking it a step further.
Meredith's diagnosis offers a way for viewers to witness her experience through a personal lens. Not that having other COVID patients wouldn't have done the same thing, but Meredith is the main character and that arguably makes it all the more powerful. Considering Grey's Anatomy's national and global audience, giving Meredith COVID certainly showcases the very real dangers of the virus and I hope it will emotionally resonate with viewers.
All that said, Meredith wasn't the only familiar character to be diagnosed with COVID-19 on Grey's Anatomy. Greg Germann's neurosurgeon Tom Koracick also tested positive. At the same time, the remaining Grey Sloan medical staff were being tested for the virus while also having to attend to patients, many of whom were unfortunately dying. Suffice it to say that the episode was devastating and all too realistic, and Krista Vernoff's "stay tuned" has me sincerely worried for what's to come.
Grey's Anatomy Season 17 airs Thursdays at 9:00 p.m. ET on ABC. For more on what to watch in the meantime, be sure to check out our fall TV schedule and our 2021 winter and spring premiere guide.
Your Daily Blend of Entertainment News