Will The Good Doctor Feature A Lot Less Of A Certain Character When Season 4 Returns?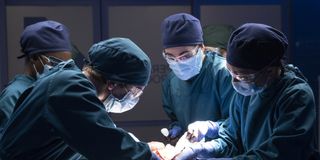 Spoilers ahead for the fall finale of The Good Doctor Season 4 on ABC, called "Fault."
After just a brief run of episodes following a long hiatus, The Good Doctor is heading into another break with "Fault" serving as fall finale. The show won't be back until the new year, and despite the fall finale not ending on a huge cliffhanger, it's possible that one major character in particular won't be around as much to kick off 2021. Will fans be seeing Richard Schiff's Dr. Glassman a lot less frequently when Season 4 picks back up?
"Fault" didn't exactly end with Glassman in any kind of peril that might take him down for the count, and The Good Doctor moving past the pandemic in-universe means that he's not even stuck at home anymore. The reason why fans might want to prepare for a lighter load of Glassman to start the new year has to do with actor Richard Schiff's real-life hospitalization.
Richard Schiff was diagnosed with COVID-19 shortly after The Good Doctor Season 4 premiered in early November, as was his co-star and real-life wife Sheila Kelley. Schiff was hospitalized by November 16, at which point he revealed via social media that he was on oxygen and medications, while Kelley was home. Schiff has since returned home as well, and has spoken about his ordeal with COVID, which he did not contract on the Good Doctor set.
Of course, all of this raises the question of what comes next for Dr. Glassman (and Debbie). The Good Doctor star Freddie Highmore confirmed to CTV News shortly after news broke about Richard Schiff's positive test that the show was continuing to film, although "the most important thing is that we're very much hoping that Richard and Sheila have a speedy recovery and that we're all thinking of them."
For his part, Richard Schiff recently spoke with MSNBC about recovering from COVID, and he revealed that all of his energy and strength are "gone," and coming back "ever so slowly." Schiff also shared that wife Sheila Kelley is still "fighting to get some normal energy" despite her milder case of COVID.
With Richard Schiff and Sheila Kelley recovering and The Good Doctor continuing production throughout their ordeals, it seems quite possible that the show will return for the rest of Season 4 with less of Dr. Glassman and Sheila for a time. "Fault" didn't end with any cliffhangers for Glassman or hints that he'd be taking a break from St. Bonaventure, so only time will tell how The Good Doctor will accommodate Schiff's recovery time within the story, if that becomes necessary.
It's also possible that Richard Schiff and Sheila Kelley filmed more footage that has yet to air before they began to feel to effects of COVID. Whatever the case, I only hope that they continue to recover and regain their strength. Fans will have to wait and see if less of Dr. Glassman is on the way when The Good Doctor Season 4 returns.
Unfortunately, like other big network TV dramas, The Good Doctor is heading into another hiatus after a brief run in the fall. The Good Doctor returns with the next episode of Season 4 on Monday, January 11 at 10 p.m. ET on ABC. For more important premiere dates, check out our 2021 winter and spring TV schedule.
Resident of One Chicago, Bachelor Nation, and Cleveland. Has opinions about crossovers, Star Wars, and superheroes. Will not time travel.
Your Daily Blend of Entertainment News
Thank you for signing up to CinemaBlend. You will receive a verification email shortly.
There was a problem. Please refresh the page and try again.