Along With More Daredevil, Vincent D'Onofrio Wants To Join Two Of TV's Best Genre Shows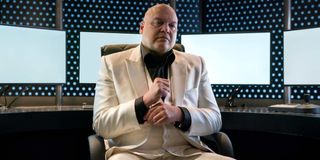 When it comes to underrated actors, Vincent D'Onofrio is definitely one of them. The veteran actor has been working for a while, but one could argue that his performances haven't always drawn the attention they deserve. This changed in a big way, though, when he entered the Marvel realm in the role of Wilson Fisk a.k.a Kingpin. D'Onofrio was lauded by both critics and fans but, above all else, he just enjoyed working on Daredevil. It's for this reason that he would love to see it revived, yet he's also revealed that there are two other hit genre shows that he would love to be a part of.
A fan recently reached out to Vincent D'Onofrio on Twitter, asking to start a thread of TV shows and movies that they would love to see him in. That particular user expressed interest in seeing the actor star in Fargo. D'Onofrio later retweeted the post and listed Daredevil, along with two other massive projects:
So it would appear that aside from a return to Daredevil, D'Onofrio would also love to appear on The Umbrella Academy and The Mandalorian. I mean… can we actually make both of these collaborations a reality?
First of all, it's cool to know that D'Onofrio is a fan of both shows. Should Marvel Studios choose not to do anything more with Daredevil, The Umbrella Academy would be a nice return to the genre for him. The show's strong group of performers, led by Elliot Page, have helped the niche comic book adaptation reach new heights, and bringing in D'Onofrio would only be another feather in its cap.
And I don't know about anyone else, but I can absolutely see D'Onofrio making an appearance on The Mandalorian. Throughout its first two seasons, producers Jon Favreau and Dave Filoni have done an excellent job of securing talent. The second season alone has seen stars like Timothy Olyphant, Katee Sackhoff and Rosario Dawson enter the critically acclaimed show. Based on the way Favreau and Filoni are adding to the Star Wars mythology, they could certainly find a role for D'Onofrio.
Of course, before Umbrella Academy or Mandalorian, it definitely appears that Vincent D'Onofrio's primary goal is to once again play Wilson Fisk on Daredevil. Now, that the moratorium is up and Marvel Studios has the rights back from Netflix, there is a possibility that the show could return. Some fans would even love to see it on Hulu, rather than FX or Disney+. But despite their pleas, neither Disney nor Marvel have given any indication as to what they're planning for the property.
Regardless of what happens with Daredevil, seeing Vincent D'Onofrio on The Umbrella Academy and/or The Mandalorian would be a real treat. They may not have the level of brutality that led him to the Marvel show, but they'd still be perfect fits for him.
Covering superheroes, sci-fi, comedy, and almost anything else in film and TV. I eat more pizza than the Teenage Mutant Ninja Turtles.
Your Daily Blend of Entertainment News
Thank you for signing up to CinemaBlend. You will receive a verification email shortly.
There was a problem. Please refresh the page and try again.