Wait, Star Wars: The Clone Wars Was Going To Explain Anakin's Force Ghost Return?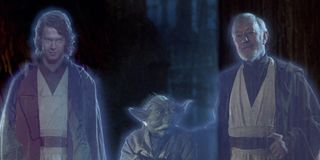 One of the things many fans enjoyed most about Star Wars: The Clone Wars is that it added new elements to the mythology and, in many cases, answered long unanswered questions. The show especially tackled a number of concepts relating to the Force and its origins. Now, thanks to one of the show's stars, we now know the animated series was even planning to address the revamp of Anakin Skywalker's Force ghost in Return of the Jedi.
For those who aren't familiar with the situation, when the redeemed Anakin Skywalker originally appeared during the closing moments of Return of the Jedi, he appeared as an older man played by Sebastian Shaw. However, in the film's 2004 re-release, Shaw was replaced by Hayden Christensen, as George Lucas sought to link the Prequel and Sequel trilogies even more. Many fans took issue with the change, but it would appear that Lucas had a reason for doing so.
Sam Witwer, who voiced Maul on Star Wars: The Clone Wars, recently revealed during IGN and CineFix's Return of the Jedi watch party that a deleted piece of dialogue from the series finale was meant to explain why Anakin appears as a young man when he's a Force ghost. According to Witwer, George Lucas explained that Jedi can reach out to their friends and sense their presence when they're alive. And during the Clone Wars finale (which coincided with the Jedi Purge from Revenge of the Sith), Ahsoka wouldn't have been able to sense Anakin:
So it seems that because Anakin's death as a Jedi occurred the moment he became Darth Vader, it was only natural that he would maintain his pre-dark side appearance. Sam Witwer further explained that when someone turns to the dark side of the Force, they become a shell of their former selves:
George Lucas has always been thoughtful when it comes to the lore surrounding his franchise, and this is a further testament to just how much he considers the more nuanced details. And while that deleted dialogue wasn't absolutely essential to the Clone Wars' finale, it would've been nice to have.
All seven seasons of Star Wars: The Clone Wars are now streaming on Disney+.
Your Daily Blend of Entertainment News
Covering superheroes, sci-fi, comedy, and almost anything else in film and TV. I eat more pizza than the Teenage Mutant Ninja Turtles.
Your Daily Blend of Entertainment News
Thank you for signing up to CinemaBlend. You will receive a verification email shortly.
There was a problem. Please refresh the page and try again.