The Conners Actress Breaks Down That Unexpectedly 'Emotional' Fall Finale Scene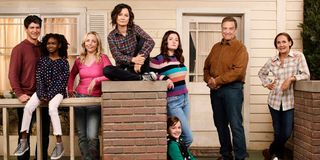 Warning! Spoilers ahead for The Conners' Season 3 episode, called "Protest, Drug Test and No One Leaves the Nest."
It was announced last month that Alexandra Billings would be joining Season 3 of The Conners in order to play the role of Robin Shetsky, Becky and Darlene's boss at Wellman Plastics factory. The actress was first introduced in the fifth episode of Season 3, but things already became very personal and "emotional" for Billings during a pivotal scene in The Conners' fall finale.
In Episode 6 of The Conners' third season, Robin got candid with Lecy Goranson's Becky and revealed that she is a transgender woman. The scene itself added depth to the episode and showcased the high level of trust between Becky and Robin, while also explaining why Robin wasn't quite as willing to march along with her employees in protest of supervised drug testing. For Alexandra Billings, the scene meant a lot because it somewhat mirrored her real life experiences as a trans woman. Speaking with TheWrap, Billings was asked how she approached the crucial scene as her character. Here's what she said:
Alexandra Billings went on to reflect on the various events from her past that have led her to a new perspective. Having been diagnosed with AIDS in the '80s, Billings explained how she has lived through two major global tragedies – the AIDS epidemic and COVID-19 – and how she's marched and signed petitions throughout her lifetime. Ultimately, Billings related her experiences back to her performance as Robin to explain why her character now has that particular perspective during the conversation with Becky on The Conners.
The pivotal scene becomes even more interesting when you consider that Robin and Becky don't have the greatest relationship. In fact, Robin is more of a mentor and friend to Becky's sister Darlene. With that in mind, the scene played out as a much more intimate moment between the pair, which Alexandra Billings says was helped along by her and Lecy Goranson's great rapport offscreen.
Fans can definitely expect to see Alexandra Billings' Robin back again when The Conners returns with new Season 3 episodes on Wednesday, January 13 at 9:00 p.m. ET on ABC. For more on what to watch in the coming months, be sure to check out our fall TV guide and our 2021 winter and spring schedule.
Your Daily Blend of Entertainment News
Thank you for signing up to CinemaBlend. You will receive a verification email shortly.
There was a problem. Please refresh the page and try again.