Why The Conners Might Seem Weird When It Returns To ABC For Season 3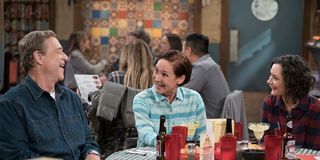 While a few TV shows resumed filming in June and July, more mainstream productions are only just now picking back up with production, with each series undoing a large number of alterations to accommodate new safety protocols and health guidelines. Of course, these changes will also apply to ABC's hit sitcom The Conners, which is up and running once more. However, there's a reason why the Roseanne spinoff might seem weird to audiences when it returns for Season 3.
Whether it's ensuring rigorous testing or using latex mannequins for intimate scenes, no TV show has returned to business totally as it was before. The Conners' return to filming also consists of some notable changes. To start, a smaller number of crew members will be working on set, with producers working to ensure safety measurements implemented by local and state authorities. And according to TVLine, The Conners will be filmed without a live, in-studio audience, which is going to be a wild change for a multi-cam sitcom.
Considering that series like The Conners are built around the performance format of landing jokes and pausing for audience laughter, I'm sure it'll be more than a bit awkward for the actors to do their scenes with no audience in sight (or sound). It's possible that the writers could figure out a way to alter the joke-response rhythm for Season 3, but that might be even weirder for viewers. Could the sitcom possibly replace real laughter with that of an artificial laugh track?
That said, it's perfectly understandable why The Conners is doing away with studio audiences for now. The pandemic is still ongoing, after all. It's just too much of a safety and health risk having so many people crammed into the same room together, but not quite enough people to provide the same number of laughs needed. I have to wonder how much viewers will notice that the studio audience is gone when Season 3 begins airing. Maybe it'll seem like every episode is telling a sad storyline.
The Conners isn't the first show to resume production without an in-studio audience, joining a growing list of series that have eliminated them. Big Brother All-Stars, Jeopardy!, Wheel of Fortune and many other shows have dropped studio audiences as productions resumed filming, though those shows don't feature multiple laugh breaks per minute.
It's not surprising, considering the controlled environments that studios are trying to go for to ensure safety protocols are followed. Not to mention the fact that late-night shows were some of the first to forego on having a live audience for safety reasons back in March. While Jimmy Fallon was the first to return to the studio to film The Tonight Show, the live audience was no longer a factor and hasn't been for some time now.
I'll be interested to see how a lack of an audience impacts a sitcom like The Conners and whether the changes being implemented now will continue to affect comedies in the future. Whatever the case, I suppose we'll find out soon enough.
The Conners Season 3 does not yet have a premiere date scheduled. However, when the sitcom does return to ABC, it'll air on a new night on Wednesdays at 9:00 p.m. ET. In the meantime, be sure to check out our 2020 fall TV premiere guide for more viewing options.
Your Daily Blend of Entertainment News
Your Daily Blend of Entertainment News
Thank you for signing up to CinemaBlend. You will receive a verification email shortly.
There was a problem. Please refresh the page and try again.