HBO's The Undoing Ending Explained: A Closer Look At The Big Reveals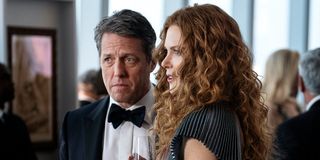 Major spoilers below for the season finale of HBO's The Undoing, so be warned!
After five episodes of big twists, possible clues, red herrings and one of the grossest bludgeoned-heads in all of TV special effects, HBO's psychological mystery thriller The Undoing came to a close in ways that shocked viewers both positively and negatively in different ways. Set largely in and around the courtroom, The Undoing's finale finally answered the big question behind Elena's death, and also definitively showed audiences where the relationship between the anti-rom-com Hugh Grant's Jonathan and Nicole Kidman' Grace ended up.
In some ways, The Undoing's finale felt like it came from a completely different TV show, since the hour-ish episode was devoted mostly to tying up plotlines as opposed to dangling more threads for viewers to hang onto. So let's discuss all the key questions that were answered, either by the finale itself or by creator David E. Kelley and the cast members in interviews.
Elena Alves' Killer Was Actually Jonathan All Along
Nearly everyone who appeared in The Undoing for longer than three seconds – perhaps just two seconds for some – qualified as a suspect at some point, which is a feat for such a limited run series. Especially since all of the intentional suspicion-dripping moments were nothing more than coincidence and circumstance, from Grace's camera-footage walk near Elena's home to Fernando's seeming obsessiveness to the penultimate episode's last-second implication that Henry could have bludgeoned after having seen his father with her.
The finale proved once and for all, and with uncomfortable brutality, that Jonathan was the guilty party all along. He and Elena had sex, which he'd confessed to, but he ended up snapping after she talked about Grace. Elena reacted with physical force, and Jonathan took a hot second before committing 100% to hammering her head in to the point where it looked like a half-eaten bread bowl. (So those were definitely his P.O.V. shots that viewers saw all season.) What wasn't made immediately clear was whether or not Elena really was obsessive and semi-psychotic, or whether this was a one-off incident that Jonathan used to amplify her mental issues.
Why Grace Took The Stand During Jonathan's Trial
Even though viewers were allowed to make assumptions about Henry after seeing him with the weapon, Jonathan essentially lost all support from Grace after he voiced that suspicion to her. So while it initially appeared as if Grace volunteered to take the stand as a way to appeal to the jury in Jonathan's favor, she actually had an ace up her sleeve in the form of Lily Rabe's Sylvia.
Sylvia told the prosecution what Jonathan's mother shared with Grace about his lack of empathy once his sister died. That story squashed all of Jonathan's chances of earning a non-guilty verdict. One was then left to wonder whether he had purposefully allowed his sister to get into an accident-prone situation in the first place.
What Happened To Jonathan
As soon as the trial was over and it was clear he wasn't going to escape jail time via courtroom, Jonathan pulled an audible and snatched up Henry under the guise of taking that trip they'd talked about, only this time one of them would be a fugitive engaged in a kidnapping. So... not exactly the same kind of trip. In any case, Hugh Grant's performance flipped between measured and unhinged with fluidity as he at first attempted to keep calm for Henry's sake, but soon lost it once it was clear the police were about to nab him, at which point he made it appear he would leap to his death from a bridge. Here's how Hugh Grant explained the character's mindset during that sequence to TVLine:
Authorities end up taking Jonathan away, and it's very likely he'll be going away for quite a while. Though if Hugh Grant's instinct is something to go by, he'll probably enjoy being a spotlight prisoner, and would likely sign his life rights away to some premium TV network or streaming service to turn his life into a true crime series. Or maybe he'd immediately get killed in prison. Both seem equally likely.
Why Jonathan's 'Other Woman' Was Never Explained
One of Jonathan's claims that felt like a major loose end was his admission to Noma Dumezweni's Haley Fitzgerald that Elena was one of two women that he had an affair with. Fans definitely spun theories around that mystery woman, with Sylvia arguably drawing the most attention in that respect. But Hugh Grant told TVLine that his second-woman claim was probably just another one of Jonathan's lies. Here's how he put it:
Of course Jonathan came onto Sylvia. I'm there there were a lot of stress-filled mothers at that hospital who had some very uncomfortable situations involving Jonathan's roving eyes, and possibly hands. So the question now is whether or not Elena was Jonathan's only victim.
Will The Undoing Season 2 Happen At HBO?
From the moment it was announced, The Undoing was said to be a limited series, as it's based on the novel You Should Have Known by author Jean Hanff Korelitz. But seeing as how the mystery hooked enough viewers to make it a certified hit for HBO across its run, it's natural to wonder whether or not HBO and creator David E. Kelley would find a way to agree on terms for Season 2 to happen in some way. Here's what Kelley told TVLine:
Seeing as how The Undoing went for broke when it came to setting up false suspects to throw the blame off of Jonathan, it's hard to imagine how David E. Kelley and his creative team would go about tackling Season 2 if it were to happen. It would likely need to apply a different kind of narrative thrust, which would potentially destroy the very thing that made Season 1 so appealing in short bursts. So don't count on a second season, but don't be overwhelmingly shocked if it happens one day, since Big Little Lies is on the verge of making Season 3 a real thing.
With some questions left unanswered, The Undoing is available to stream in full on HBO Max. While waiting to hear more about a possible second season, check out our Fall 2020 TV premiere schedule and our Winter and Spring 2021 premiere schedule to see what new and returning shows are on the horizon.
Your Daily Blend of Entertainment News
Assistant Managing Editor
Nick is a Cajun Country native, and is often asked why he doesn't sound like that's the case. His love for his wife and daughters is almost equaled by his love of gasp-for-breath laughter and gasp-for-breath horror. A lifetime spent in the vicinity of a television screen led to his current dream job, as well as his knowledge of too many TV themes and ad jingles.
Your Daily Blend of Entertainment News
Thank you for signing up to CinemaBlend. You will receive a verification email shortly.
There was a problem. Please refresh the page and try again.