Miley Cyrus Reveals Why She Added That Major Insult To Her Exes In 'Prisoner'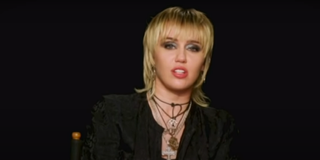 Miley Cyrus has returned to making music, having recently released her latest album Plastic Hearts, itself a follow-up to 2017's Younger Now. The new album comes a little over a year after she and Liam Hemsworth filed for divorce following less than a year of marriage. At the end of her music video for the single "Prisoner" with Dua Lipa, Cyrus left an NSFW message to her exes, and the pop star recently revealed the reason behind that major insult.
To say that Miley Cyrus has been through a lot over the last few years would be putting it mildly, and there has been a lot of focus on Cyrus' relationships with various Hollywood stars, including Kaitlynn Carter, Cody Simpson, and her on-again/off-again romance with Liam Hemsworth. The singer left a message at the end of the music video for "Prisoner" that reads, "In loving memory of my exes: eat shit," which definitely sparked conversations among fans. Here's what Cyrus told Australia's The Project about why she included that statement:
That end-of-video message is scrawled in bright pink letters outlined in red, while the "eat shit" portion of the statement sits in the middle of a heart made out of red barbed wire. I don't know that I'd necessarily call it campy, but the image certainly leaves a strong impression. I can't say for certain, but the message seems to imply that Miley Cyrus is no longer a prisoner of her exes' love or any other emotions.
You can check out that interview clip below, in which The Project's Lisa Wilkinson said "eat shit" without censoring, which she later apologized for online.
"Prisoner" isn't the only song on Miley Cyrus' new album that includes a message to her exes. The single "Midnight Sky" was also inspired by her exes, and a press release for the album reveals that the song drew influence from the last year of Cyrus' life, which seems to imply that it's at least about Liam Hemsworth and Kaitlynn Carter, if not also Cody Simpson, whom Cyrus broke up with in August.
More recently, Miley Cyrus revealed that she had experimented heavily with drugs and alcohol while she was still with Liam Hemsworth. Although the singer didn't offer very many specifics, the whole ordeal sounded pretty intense. While Cyrus maintained sobriety throughout her relationship with Cody Simpson, she admitted to having a setback while quarantining earlier this year, but confirmed that she is now sober once again.
Stay tuned to CinemaBlend for updates. In the meantime, be sure to check out our updated 2021 winter and spring TV schedule for new and returning watch options.
Your Daily Blend of Entertainment News
Thank you for signing up to CinemaBlend. You will receive a verification email shortly.
There was a problem. Please refresh the page and try again.