Miley Cyrus Is Naked For 'Fashion' On The Cover Of Rolling Stone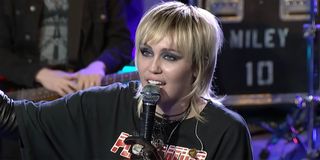 Miley Cyrus is opening herself up a lot this month. She talked about why her relationship with Liam Hemsworth failed and how she's struggled with sobriety during 2020. Now, she's also laid herself bare on the cover of Rolling Stone, and recently shared a look at all her new fashion looks in varying states of dress on the cover of the magazine's new January 2021 issue.
This may not be the edition of Rolling Stone in which Miley Cyrus is "gonna buy five copies for [her] mother," but Miley Cyrus has never been one to be particularly shy about her body. (Here, it is worth pointing out her mom manages her.) In fact you could argue she's well-suited to her own skin, and has delighted in being seen naked on a wrecking ball and more in the past. This time around, she's dropping trou for "fashion," as she put it on Instagram.
A second look at Miley Cyrus on the cover has her in shoes and lingerie, lounging on a comfy-looking velvet couch. She's been rocking this shorter hair for a bit now to mark her more rock era of musicianship, and she told the outlet her hair has always been used by the public to benchmark her sanity or lack thereof. So, take of the new cut what you will, I guess.
These looks at Miley Cyrus may help to keep up the fiction that she is a free spirit. But if you talk to the singer these days, she'd be the first to tell you (or Rolling Stone, who asked first) that she's really a pretty "grounded" person. She noted:
Miley Cyrus may not be a free bird, but I don't think anyone would accuse her of being stagnant. She's the type of personality who can shift from hits like "We Can't Stop" to covers of "Jolene." She's been on the interview circuit quite a bit during 2020, and as part of a recent appearance on The Howard Stern Show, she channeled her inner Courtney Love and belted out Hole's "Doll Parts," a performance worth watching.
The point is, she's never interested in doing what we expect out of her. Now, whether or not her Rolling Stone looks are "fashion" is a totally separate conversation, though I really wish with her new looks and rock interests, SNL would book her again, next.
Amazing Race & Top Chef superfan with a pinch of Disney fairy dust thrown in. Theme park junkie. If you've created a rom-com I've probably watched it.
Your Daily Blend of Entertainment News
Thank you for signing up to CinemaBlend. You will receive a verification email shortly.
There was a problem. Please refresh the page and try again.