Miley Cyrus Talks About Drug Use During Marriage To Liam Hemsworth And It Sounds Intense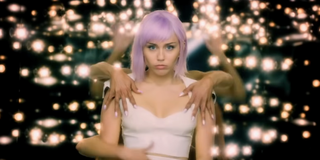 Miley Cyrus and Liam Hemsworth surprised everyone by marrying in late 2018 after a, somewhat rocky, on again / off again / on again relationship. But, that joy was not to last, as the couple split up less than a full year later. Since then, both have moved on romantically, and Cyrus has been revealing some information about the short marriage both in her music and during interviews. Now, Cyrus has opened up about how bad things got for her during her time being married to Hemsworth, and has spoken about her intense drug use while they were together.
Liam Hemsworth filed for divorce from Miley Cyrus in August of 2019, and cited irreconcilable differences as the cause. Cyrus has alluded to several of the issues in her marriage through her music, but, lately, she's been opening up even more. She's now done an interview with Rolling Stone for the release of her latest album, Plastic Hearts, and when asked why she decided not to tour after her album Younger Now was released in 2017, said:
Ooooh, man. Intense stuff, right? While we'll never know the full story of what went on between Miley Cyrus and Liam Hemsworth while they were married (and why), it's clear that neither of them got what they were hoping to get from the marriage. And, Cyrus seems to be saying that there was a lot of pressure to be and do things that were not true to the spirit of who she really is, which may have led to a serious increase in her drug and alcohol use, as well as surrounding herself with people who were not the best to be around.
Cyrus has gotten a lot of flack over the years since breaking out of her Hannah Montana mold, especially for being open with her sexuality and seeming like a wild child who can't be tamed. I doubt anyone who was alive when she appeared on stage at the MTV VMA's in 2013 could forget the firestorm that erupted over her new look and (seemingly) new attitude. So, it would make sense that Cyrus may have felt even worse for seeming to change herself the way many may have wanted, while "playing house" and appearing to live "some fairy tale" when her life was anything but.
When asked to clarify that she was, in fact, ramping up her drug and alcohol consumption while back in a relationship with Liam Hemsworth, Cyrus said:
Miley Cyrus makes a very good point when bringing up how we often equate the way someone chooses to dress or style themselves to whether or not they're sane or going through a hard time. After several years of dressing in ways that many of us would deem odd, once Cyrus and Hemsworth got back together, she began to present as more of a typical pop star. It was closer to what people had known of her during her Hannah Montana days, and so, to a lot of folks, it meant that she seemed "normal."
Cyrus also notes that she had to get serious about her sobriety so that she can always have access to her full potential, especially because it sounds like she's not someone who's really capable of taking it easy when it comes to drugs or alcohol. So, it seems like she's in a much better place now than she was when she was with Hemsworth, brand new mullet and boobie-flashing photo shoot be damned.
Be sure to stay tuned to CinemaBlend to keep up to date with all things TV, movies, and pop culture.
Bachelor Nation, Gilmore Girl; will Vulcan nerve pinch pretty much anyone if prompted with cheese...Yes, even Jamie Fraser.
Your Daily Blend of Entertainment News
Thank you for signing up to CinemaBlend. You will receive a verification email shortly.
There was a problem. Please refresh the page and try again.