The Masked Singer's Crocodile Reveals Other Backstreet Boys' Reactions To His Performances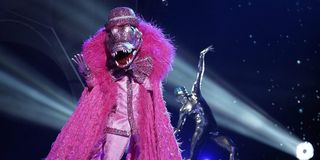 Warning! Spoilers ahead for The Masked Singer's Season 4 finale.
The Season 4 finale of The Masked Singer likely surprised few people more than the three finalists, with none of them realizing who the other costumed singers were until the final unmasking. Sun and Mushroom were stumped over Crocodile's identity, despite having worked together in the past, and were shocked to discover Nick Carter beneath the mask. But the boy band member revealed that his fellow Backstreet Boys had the best reactions to his stint as Crocodile.
A big part of The Masked Singer's draw is the mystery. Beneath the mask, singers have the freedom to go all out under the guise of anonymity, but that obviously doesn't stop audiences from playing the guessing game until the very end. For Backstreet Boys' Nick Carter, his boy-bandmates were apparently right on the money regarding his inclusion on the competition show, even though he had to lie about it. Here's what Carter told TVLine about AJ McLean's reaction:
That's a pretty fun and spot-on reaction, and I can only wonder how long Nick Carter was able to throw AJ McLean off his scent. It probably wasn't for long, I bet, considering how convinced some were that Crocodile came from a boy-band background. After all, the two have been singing together for decades, and if anyone could recognize Carter's voice, movements and mannerisms, it's McLean. It seems Carter and McLean had similar ideas this year because they both ended up on competition shows, with the latter signing up to do the foxtrot, salsa, and rumba on ABC's Dancing with the Stars.
While AJ McLean probably figured out who was beneath the Crocodile mask based on Nick Carter's voice, The Masked Singer contestant says that fellow Backstreet Boys member Kevin Richardson realized his identity because of a completely different reason that had nothing to do with his vocals. Here's how Carter put it:
How many of us can claim to have such recognizable thighs? While Nick Carter's fellow Backstreet Boys accurately guessed that he was the Crocodile, the singer made an accurate guess of his own. Carter said that he assumed LeAnn Rimes was the Sun after seeing her face on a monitor. I'd say that he had some help with that one though, but at least he got her costume right.
The Masked Singer may be over for now, but there are still plenty of new and returning TV shows slated to air over the next few months. Be sure to stay up-to-date on premiere dates and times with our handy 2021 winter and spring schedule.
Your Daily Blend of Entertainment News
Thank you for signing up to CinemaBlend. You will receive a verification email shortly.
There was a problem. Please refresh the page and try again.