The Masked Singer Vet Tom Bergeron Gets A Little Filthy Talking Taco Costume With William Shatner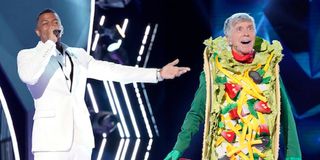 Tom Bergeron wowed The Masked Singer audience when he competed on the competition series in the spring. The former Dancing with the Stars host survived a few weeks before he was revealed to be inside the Taco costume. Clearly, William Shatner remembers Bergeron's supreme performances when recently relaying a taco-related joke to Bergeron, and The Masked Singer alum proved he was no prude in his cheeky reply.
Star Trek's William Shatner had some fun on Twitter over the weekend when he discovered that The Bachelorette star Dale Moss once modeled a taco costume for a Party City advertisement. Shatner tagged Tom Bergeron in his tweet and joked that Moss was "moving in" on Bergeron's food-clothes territory and that he should call a lawyer about it. Ever the stoic gent, Bergeron was unperturbed by the costume similarity and had a great response for Shatner. Take a look!
I feel bad for The Bachelorette's Dale Moss, whose taco store costume looks less than appealing to say the least. The taco strap is more or less wrapped around his shoulder and the costume meat is indeed hanging downward at an unappetizing angle. It seems that it's the first thing Tom Bergeron noticed because his, uh, taco costume was much more put together during his time on The Masked Singer.
I definitely think Tom Bergeron's Masked Singer taco outfit was far superior and I love that he had a filthy response ready for William Shatner. Bergeron also tagged The Masked Singer's official Twitter account for good measure, turning into a pretty funny exchange. Bergeron will never let his meat hang out, just so we're all clear! (Though I'd argue that his outfit actually didn't have any meat in it at all, sorry Tom!)
William Shatner was ribbing about 2020 getting worse for Tom Bergeron, though I think that particular sentiment might still be too fresh for Dancing with the Stars fans. Bergeron exited the long-running competition series ahead of Season 29, though not of his own choice. The announcement came as a shock because Bergeron had hosted Dancing with the Stars since it premiered in 2005. However, both he and former co-host Erin Andrews were replaced by America's Next Top Model and America's Got Talent alum Tyra Banks.
As for Dale Moss, The Bachelorette star was caught in more than one costume from his Party City modeling days. One fan dug up a plethora of photos of Moss modeling a Superman costume, a Roman Centurion outfit complete with sword, and, of course, the taco costume. The photo William Shatner used in his tweet didn't do the costume justice since there was also an image of a dog wearing a taco costume that was cropped out completely. Who knows? Maybe Moss and Tom Bergeron will inspire another wave of taco costumes this Halloween.
New episodes of The Masked Singer Season 4 are currently airing on Fox. For more on what to watch, be sure to check out our 2020 fall TV premiere guide.
Up next: Ken Jeong Is Still Embarrassed He Didn't Guess This Masked Singer Contestant
Your Daily Blend of Entertainment News