Even The Masked Singer's Serpent Couldn't Believe He Was Asked To Join Season 4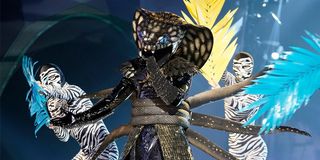 Warning! Spoilers ahead for The Masked Singer's Season 4 Group B finals.
The Masked Singer's Group B finals saw the unmasking of not only the wacky Whatchamacallit, but also the Serpent, who turned out to be none other than Dr. Elvis Francois. The spinal surgeon rose to Internet fame in the early months of nationwide COVID-19 lockdowns, at which time he posted videos of himself singing live at hospitals. Suffice it to say that his performances went viral and got enough eyeballs that inspired the producers to reach out and ask him to join The Masked Singer Season 4.
Unfortunately for those who wanted to hear Serpent's crooning throughout the remainder of the season, Dr. Elvis Francois was eliminated during the Group B finals alongside NBA star Lonzo Ball as Whatchamacallit. The Masked Singer judge Nicole Scherzinger turned out to be right all along about Dr. Elvis being the Serpent. However, his unmasking was quite the shocker for many, considering that he was not a staple of the entertainment world in the way that 99% of the contestants are.. How did Dr. Elvis land a spot on the Fox show? Here's what he bemusedly told TVLine:
Elvis Francois certainly sounds like a humble kind of guy, and his initial confusion over being asked to join The Masked Singer's Season 4 speaks to the "interesting" year that 2020 has been so far, to put it mildly. That said, I'm glad that the reality show's producers reached out to Francois and that he was able to work out his schedule to sing on the competition series for a few weeks. His voice is pretty magical, all in all.
Those familiar with Dr. Elvis Francois' singing voice from his videos may have been tipped off about the identity of the Serpent in advance of the big reveal. However, no one's identity is ever confirmed on The Masked Singer until it's elimination time and so Francois had to be mum about his involvement while at work. When asked whether his colleagues had any inklings that he was the Serpent, Francois had this to say:
Can you imagine being asked about your identity on The Masked Singer while performing surgery? It sounds like Dr. Elvis Francois was able to keep it together despite having to tell a few white lies. I can't say for sure, but his hospital colleagues probably thought his stint as the Serpent was pretty cool. It's certainly an experience the surgeon will carry with him for years to come, even if he can't wear the costume in the OR.
New episodes of The Masked Singer Season 4 air Wednesdays at 8:00 p.m. ET on Fox. For more on what to watch in the coming months, be sure to check out our TV premiere schedule for the remainder of the fall and our 2021 winter and spring guide.
Your Daily Blend of Entertainment News