WandaVision's Elizabeth Olsen Reveals A Key Detail About Scarlet Witch's Past That The Show Will Explore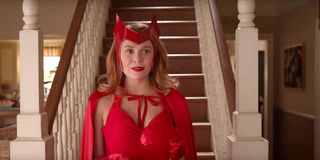 WandaVision is all set to usher in a new era for the Marvel Cinematic Universe. The series will be the first of many Marvel projects — that will include The Falcon and the Winter Soldier, Loki, Hawkeye, and Ms. Marvel — to air on Disney+. Set in the aftermath of Avengers: Endgame, the series is an homage to a variety of television sitcoms. While there aren't many details about the show, series star Elizabeth Olsen recently revealed that WandaVision would explore a key detail about Scarlet Witch's past.
Based on the trailer alone, WandaVision looks like it'll be a weird show (in a good way). The one thing viewers can expect is more insight into the titular characters. Wanda Maximoff and Vision were previously staples in the MCU films, but they didn't get all that much attention when compared with Captain America, Iron Man, and the core Avengers. That's about to change in WandaVision. Ahead of filming the series, Elizabeth Olsen and Paul Bettany met with Marvel's Kevin Feige for a pitch meeting and the approach for Wanda's story arc sounds fascinating. Here's what Olsen told the Emmy Magazine about it:
That information has certainly piqued my interest. Elizabeth Olsen is mum when it comes to offering any further details about WandaVision so as to avoid any spoilers. However, while she says she was initially nervous about Marvel's foray into the world of television, Olsen was ultimately excited about the Disney+ series after hearing about "that nugget of the idea."
Avengers: Age of Ultron did establish Wanda and her now-deceased brother Pietro as having grown up in the fictional Eastern European country of Sokovia. Of course, by the time of Captain America: Civil War, Elizabeth Olsen had dropped Wanda's original accent and replaced it with an American one. Maybe WandaVision's exploration of her having grown up on "American black-market products like television" could explain that change, but that's just my speculation.
WandaVision's television sitcom setting is hard to decipher at the moment because it's unclear as to how Scarlet Witch and Vision may have ended up in this state to begin with. It could be an alternate reality, Wanda using her magic to create this world, or something else entirely. Whatever the case may be, I'm sure the mystery will play out nicely when the show premieres.
WandaVision will premiere Friday, January 15 on Disney+. The Falcon and the Winter Soldier will follow in March, with Loki slated to debut in May. For more on what to watch in the coming months, be sure to check out our 2021 winter and spring TV premiere schedule.
Your Daily Blend of Entertainment News
Thank you for signing up to CinemaBlend. You will receive a verification email shortly.
There was a problem. Please refresh the page and try again.