Colin Jost Forced To Read Brutal Joke About New Wife Scarlett Johansson In Excellent Weekend Update Bit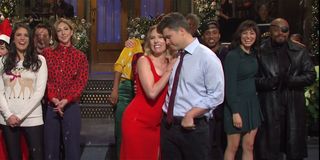 If you've seen any Saturday Night Live-related headlines today, you may already know that Jim Carrey is out as Joe Biden on the successful late night sketch show series. In another exciting note, last night's SNL episode was the holiday-adjacent episode, which means "Weekend Update" hosts Michael Che and Colin Jost engaged in the time-honored tradition of writing inappropriate jokes for one another. This year, Jost's new wife Scarlett Johansson actually took the brunt of one of the jokes.
I really hope that Scarlett Johansson has a sense of humor because this year Michael Che was on fire, writing jokes for Colin Jost that made him look, well, not super great, as the sketch intended. In particular, he had to take a pretty painful jab at his wife that tied into her controversial Ghost in the Shell casting from a few years ago. But I don't want to spoil the joke. Luckily, if you missed that bit, SNL shared it as well. Just look at that face.
Luckily, Colin Jost got Michael Che back with a zinger of a joke intimating that Che was familiar with Jeffrey Epstein's estate prior to its demolition. I suppose all is well that ends in inappropriate sex trafficking jokes.
In case you aren't familiar with this bit, the point of "Weekend Update" around the holidays each year is so Michael Che and Colin Jost go "too far" with the jokes; that's the bent of this version of their famous gig, which they call the "Joke Swap." These jokes are supposed to be ill-advised and over the line. I feel like that's obvious if you actually watch the segment, but it's never a bad idea to point this sort of thing out. In fact, Che and Jost have been doing this version of "Weekend Update" for at least three seasons now and it's something I look forward to every year.
Last year, for example, Colin Jost mentioned that the two were going to "try to make it fun and not ruin anyone's career." Yet, that was followed by jokes about Jost keeping his neighborhood white and Michael Che curing people with Herpes. So, I think it went over pretty well...
Meanwhile, I have no idea if Colin Jost is in the doghouse at home following this weekend's big holiday episode. The good news is, the whole point of this is that Jost and Che don't know about the jokes they are reading in advance, so they can hardly be blamed for the text on the prompter. Plus, I'd imagine if you are the type of person who has married a comedian, you are also the type of person who is able to take a joke. At least I hope so, because "Joke Swap" is now a Saturday Night Live tradition, and if there is low-hanging fruit for that segment, Michael Che is going to take it.
Colin Jost and Scarlett Johansson actually got married earlier in 2020. Though not much is known about the wedding, they did have a funny way of sending out invitations, so it seems as if humor is a paramount part of the couple's relationship. Regardless, the good news for Johansson is that it'll be another year before the two longtime "Weekend Update" hosts trade jokes. In the meantime, we'll be sure to keep you updated as soon as the NBC sketch comedy series announces new episodes for the winter.
Amazing Race & Top Chef superfan with a pinch of Disney fairy dust thrown in. If you've created a rom-com I've probably watched it.
Your Daily Blend of Entertainment News
Thank you for signing up to CinemaBlend. You will receive a verification email shortly.
There was a problem. Please refresh the page and try again.