Dan Levy Was So Stressed On Schitt's Creek It Landed Him In A Neck Brace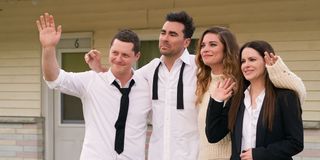 When the sixth and final season of Schitt's Creek aired on the Pop TV app and Netflix earlier this year, it was a bittersweet binge fest. The end of the hilariously dramatic series exceeded all expectations and took home a record breaking 9 Emmys. Since gaining a massive following, all eyes have been on Schitt's Creek's co-creator, showrunner, and breakout star Dan Levy. Now, it appears Levy's dedication to the show apparently caused so much stress that, at times, he needed a neck brace.
It's impossible not to see Dan Levy shine on Schitt's Creek, with his personality radiating through his character, David, and the rest of the Roses. In fact, the overwhelming success of the show can, at least in part, be attributed to uniquely lovable qualities of Levy that he puts into the characters and their relationships with one another. Fans of the show can really feel like they know a part of Levy through their familiarity with the characters on the show.
However, Dan Levy didn't only put his personality and character traits into the show. He has also put an incredible amount of time and self-sacrifice into making Schitt's Creek exactly what he wanted it to be and in turn, exactly what it should have been. In an interview with Bustle, Dan Levy went into what his days consisted of to make his labor of love, Schitt's Creek. Be forewarned: while David Rose is a dedicated business owner, his work ethic has nothing on his real-life counterpart.
On a normal day, Levy started work at 5 a.m., rehearsing and making scene rewrites. He would then go to wardrobe to make clothing and accessory decisions for Mama Rose, which is a whole art in and of itself, since Moira Roses' moods and actions directly linked to her flamboyant clothing choices. After the filming day was done, Levy was not, as he would continue to write for a couple hours before returning home around 8 p.m. And if a 15-hour work day doesn't sound long enough, Levy says that once he was home and had eaten, he would sometimes continue writing until 2 a.m., just to go back in to set at 5 a.m., starting the entire routine over again.
In the same interview, Dan Levy talked about what a huge space Schitt's Creek took up in his life and the possibility of making room for a love life in the middle of such an ambitious project. Here's what he had to say:
Hearing that Levy may have given up finding love while making Schitt's Creek may be a downer for some fans, seeing as Levy's on-screen love connection was so touching and absolute relationship goals. The payoff, though, seems well worth it for both fans and Levy himself.
This isn't the last we will see of Levy (Thank GOD) and, while we hope he can keep his stress level down and neck brace off, more Schitt's Creek may even be in our future. Until then, check out Cinemablend's updated Winter/Spring TV Schedule for more binging content.
Constantly thinking about books, coffee, and the existential dread I feel from Bo Burnham's Inside. While writing I'm also raising a chaotic toddler, who may or may not have picked up personality traits from watching one too many episodes of Trailer Park Boys.
Your Daily Blend of Entertainment News
Thank you for signing up to CinemaBlend. You will receive a verification email shortly.
There was a problem. Please refresh the page and try again.