Schitt's Creek Keeps On Winning With Impressive New Streaming Ranking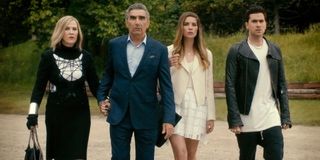 Even though it's technically over now, Schitt's Creek is still on a roll. Following a six-season run that ended in the spring, the sitcom swept the 2020 Emmy Awards with wins in all of the major comedy categories. It was quite a stupendous night for the cast, who seemed genuinely surprised by their incredible winning streak after years of lackluster attention. More recently, Schitt's Creek Season 6 began streaming a bit early on Netflix and it has garnered another impressive victory on the Nielsen streaming chart.
Schitt's Creek's final season landed on Netflix on October 3 and it very quickly rose to the top of the streaming service's ranks within the same week of its release. According to Nielsen (via THR), the comedy series earned top-tier numbers to reach first place during the week of September 28-October 4, with U.S. subscribers watching a grand total of 968 million minutes of Schitt's Creek on Netflix. That is very impressive, especially considering Season 6 wasn't available during that entire week.
The sitcom was already in fifth place on Nielsen's streaming chart just the week before, and I'd wager that the arrival of its sixth season gave Schitt's Creek a major boost. Fans who were already binge-watching past seasons of the show likely wanted to continue watching as soon as Season 6 hit streaming in order to learn what happened to the characters in the final season, which would certainly explain how Schitt's Creek jumped so quickly to the top of the charts. Three cheers for David and the rest of the Rose family!
The heart-warming comedy can add "being on the top of the streaming charts" to its list of 2020 wins. I think its achievements are pretty phenomenal considering the show's trajectory. Not everyone had even heard of Schitt's Creek during its early seasons on Pop TV, and my guess is that its audience grew much bigger after it reached millions more eyeballs on Netflix – that's where I started watching it, too!
After its spectacular Emmy wins, the city of Toronto lit up the CN Tower in honor of Schitt's Creek. While I doubt that landing at the top of the streaming charts would inspire Toronto officials to light up the CN Tower again, it's nice to know that the sitcom's success has become something its citizens can brag about.
Elsewhere on Nielsen's streaming charts is Ratched, the Ryan Murphy co-created series starring Sarah Paulson, which slipped from first place to fifth place with a total of 791 million minutes viewed during the week of September 28-October 4. Not too shabby after only one and a half months of streaming. Joining Schitt's Creek in the top five are The Office, The Blacklist, and Grey's Anatomy, which take up the second, third and fourth slots, respectively. Check out the full list and the number of viewing minutes below.
As you can see, the dominating streaming force is still Netflix, with Schitt's Creek at the top of the list. However, Amazon's The Boys is maintaining its placement in the top ten as well as the only outlier. I'll be interested to see how The Mandalorian fares now that Season 2 is streaming on Disney+, though I surmise that Schitt's Creek will continue its reign somewhere on the charts for some time to come.
You can watch all six seasons of Schitt's Creek on Netflix. For more on what's to come, be sure to check out our 2020 fall TV premiere guide for options.
Your Daily Blend of Entertainment News
Thank you for signing up to CinemaBlend. You will receive a verification email shortly.
There was a problem. Please refresh the page and try again.