Marvel's Kevin Feige Reveals New Details About Chadwick Boseman's Final Black Panther Role On Disney+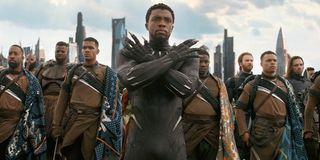 Marvel Studios has been cranking out content for well over a decade now and, under the guidance of Kevin Feige, the company shows no signs of slowing down. Next year, the studio will finally make the jump to TV with a slew of projects like WandaVision and Loki. With the Marvel Cinematic Universe pushing on, one still can't help but be reminded that it will be moving forward without Black Panther star Chadwick Boseman, who passed away a few months ago. Still, the actor is slated to play a posthumous role in Marvel's What If…?, and Feige has now revealed some surprising details on the size of his role.
While Marvel previously released snippets of footage from What If…?, the official trailer truly showcased the wild nature of the animated series, which is set to alter key events in the cinematic franchise. With this, fans were also able to both see and hear Chadwick Boseman's T'Challa, who will seemingly appear in a story that centers on the king of Wakanda becoming a space adventurer like Star-Lord.
Kevin Feige recently shared some additional details about What If…? with Emmy Magazine and, during the chat, he reflected on Chadwick Boseman's work. Surprisingly, the producer revealed that the late actor "came in about four times and recorded numerous episodes" of the show. This means fans have a few more appearances from Boseman's Black Panther to look forward to.
Seeing Chadwick Boseman's character, even in animated form, is sure to be emotional for fans. And when discussing Boseman's work on the upcoming show, even Kevin Feige admitted that "in hindsight, it's very moving." All in all, the episodes should serve as a great way to pay tribute to Boseman, who managed to leave a significant mark on the MCU.
Due to the storytelling approach of What If…?, it's almost impossible to predict how T'Challa may be utilized in future episodes. He could literally show up anywhere and in any capacity. In one episode, he could be in his typical royal position but, in another timeline, he could be a robotic warrior created by Ultron. The sky really is the limit, and it'll be fun to see how he's kept in the fold.
Marvel has found a number of ways to honor Chadwick Boseman since his untimely passing. This includes a special Marvel Studios intro that was released on his birthday as well as a tribute from Feige during Marvel Studios' presentation at Disney's Investor Day program.
The studio is also planning to move forward with a Black Panther sequel and will not recast the role. With this, Marvel will seek to further explore the nation of Wakanda and move characters like Shuri to the forefront.
While it's sad that Chadwick Boseman's Black Panther has a limited number of appearances left, we can still take comfort in the fact that we still get to spend a little more time with the character. Marvel's What If…? is scheduled to premiere on Disney+ during the summer of 2021.
Covering superheroes, sci-fi, comedy, and almost anything else in film and TV. I eat more pizza than the Teenage Mutant Ninja Turtles.
Your Daily Blend of Entertainment News
Thank you for signing up to CinemaBlend. You will receive a verification email shortly.
There was a problem. Please refresh the page and try again.