How To Watch Alex Trebek's Final Jeopardy Episode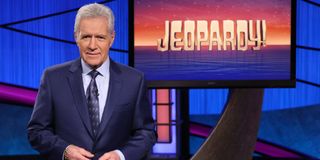 It has been nearly two months since the November 2020 death of longtime Jeopardy host Alex Trebek, and while we are faced with a world where one of the most recognizable faces, voices, and wits on television is no longer around, we're going to get the chance to take part in at least a few more "final jeopardies" before the grand tribute comes to a close. Not long from now we'll be able to take part in Alex Trebek's final episodes of Jeopardy before everything is said and done.
But there are still some questions about how the final set of episodes will go down, who will host Jeopardy once the final episode airs, and where we can watch the iconic quiz show — both new and classic episodes. We've gone through the introductions, now let's get to our first category...
When Will The Final Alex Trebek Jeopardy Episodes Air
Alex Trebek filmed his final episodes for Jeopardy just 10 days before he lost his fight with pancreatic cancer on November 8, 2020. The original plan was for Trebek's final episode to air on Christmas day, but as the show announced in a November 30, 2020 statement, the final set of episodes won't air until the week of January 4, 2021 in order to give the late quiz show host's fans a chance to see his final appearances without running the risk of being preempted over the holidays. That being said, the final episode featuring Alex Trebek will air on January 8, 2021, with the first week of guest-hosted shows starting the following Monday. Speaking of which…
Who Will Host Jeopardy After That?
Following in the footsteps of arguably the greatest and most beloved quiz show host of all time will prove to be no easy task for those taking over for Alex Trebek following his final episode on Friday, January 8, 2021, but the first person to step in as guest-host is someone who is up to the task. With those new episodes, which were filmed starting November 30, 2020, 74-time winner and Jeopardy champion Ken Jennings will step in as the first interim host.
It isn't know how long Ken Jennings will stay on as the interim host or if he will eventually become a permanent fixture on the show that made him a living legend, but the show's producers have announced that other hosts will be announced at a later date. And with names like LeVar Burton to Rosie Perez being thrown around, we could be in for some great hosts in the future.
When/Where Does Jeopardy Air And Is Jeopardy Streaming?
When and where you can watch Jeopardy depends on where you live, but luckily Jeopardy.com has an easy to use search tool that pulls up all of the upcoming broadcasts in your viewing area. All you have to do is type in your zip code and you'll be good to go. If you want to watch select classic episodes of Jeopardy streaming, you can find select episodes and seasons of the show on Netflix and Hulu, however it doesn't look like they're carrying the most recent seasons.
Hopefully this is all helpful for anyone who wants to catch the final episodes of Alex Trebek's Jeopardy and say one final goodbye to one of the most beloved figures in the history of television.
Your Daily Blend of Entertainment News
Philip grew up in Louisiana (not New Orleans) before moving to St. Louis after graduating from Louisiana State University-Shreveport. When he's not writing about movies or television, Philip can be found being chased by his three kids, telling his dogs to stop yelling at the mailman, or yelling about professional wrestling to his wife. If the stars properly align, he will talk about For Love Of The Game being the best baseball movie of all time.
Your Daily Blend of Entertainment News
Thank you for signing up to CinemaBlend. You will receive a verification email shortly.
There was a problem. Please refresh the page and try again.