11 Spectacular Shows Premiering On Netflix In December 2020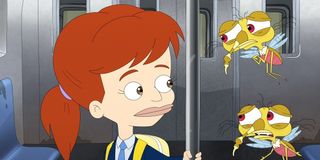 December is the final month in 2020, and I think I can speak for pretty much everyone when I say 2021 can't come soon enough. Of course, while some television has suffered throughout the year and networks struggle to keep consistent programming schedules, Netflix has done a solid job of keeping audiences entertained with its steady stream of content all year round.
Given that, it should be no surprise that December is loaded with quite a few solid shows and big hits. Of course, there's also some holiday content as well for those looking to get festive for the season, so let's dive in and read up on some of the coolest things coming to Netflix in December 2020.
Alien Worlds- 12/2
Netflix is bringing the wondrous documentary style of Planet Earth and similar shows to a setting as whimsical and mythical as the worlds of Star Wars and Star Trek. This docuseries will hop to mythical settings and explore the wildlife that lives there in a way that, as you can see in the picture above, looks stunningly realistic. Obviously, it remains to be seen if the full series looks just as amazing, but this is certainly one worth throwing on to watch on a lazy day.
Big Mouth (Season 4) - 12/3
One of Netflix's most irreverent and hilarious shows is back for Season 4, and Big Mouth looks to be bringing more awkward middle-schooler energy than ever to summer camp. One new major character this season is Tito the Anxiety Mosquito, who may just be that character that unlocks all your deepest insecurities in life. Expect to meet him, and all the other characters fans know and love as the teens embark on an adventure at sleepaway camp.
The Great British Baking Show: Holidays (Season 3) - 12/4
Treats, meats, and other sweets are a holiday tradition, or at least, that's what I tell myself on my third cookie of the day. Regardless, people love cooking shows, and few are better than The Great British Baking Show. Netflix will bring the series back for the holiday season with some past favorites of the franchise back to compete. Plus, anyone who is a fan of Derry Girls will get to see that cast as well, so fans should mark their calendars for that one.
Selena: The Series - 12/4
Known as the "Queen of Tejano Music," Selena was one of the world's biggest Latinx stars in her lifetime. Now, another adaptation is coming of her life story, which is meant to highlight the highs and lows of her coming of age as a singer. This is a story more meant to focus on the early years of her life and rise to prominence, so expect most of the story to come from that.
Mr. Iglesias (Part 3) - 12/8
Gabriel Iglesias' Netflix series is back with new episodes, and apparently, these new episodes are all about facing your fears and following dreams. Gabe is in a new relationship, and as he wrestles with navigating that he's still encouraging and hoping his students continue to pursue their dreams. Mr. Iglesias is a solid family series, so definitely worth catching up on for those that haven't given it a shot yet.
The Big Show Show: Christmas - 12/9
Netflix may have canceled The Big Show Show back in September, but it looks like the WWE wrestler and his family will return for a Christmas special. Big Show is sidelined from doing his "Santa duties" when he has an injury, so it's up to Cassy to fill his big shoes and save Christmas. It may be bittersweet for fans hoping for a whole new season, but who knows? Perhaps this return will spark some kind of Christmas miracle that leads to it returning.
Tiny Pretty Things - 12/14
Netflix has a ballet drama coming in mid-December, and yes, it will feature fierce competition and deception. Of course, it took an attack on the elite school's star pupil to bring out these nasty traits. I'm not sure why so many ballet stories in pop culture seem to devolve into deception and even violence at some point, but I can say I'm a sucker for it. For that reason, I'm already all-in on this drama and hoping it lives up to the hype.
Song Exploder: Volume 2 - 12/15
The music documentary series is back and has four new artists to profile and walk through how they wrote some of their most iconic hits. This time the artists profiled include Dua Lipa, The Killers, Trent Reznor, and Natalia Lafourcade and the creation behind songs like "Hurt" and "When You Were Young." Definitely a series worth checking out for any musician, or just people who love music in general.
Bridgerton - 12/25
From Shondaland, a woman from a notable family hopes to find true love in Regency London's competitive marriage market. This tale is adapted from the works of Julia Quinn. Expect some quick-witted dialogue, some drama, and of course, there has to be some romance happening somewhere along the way in this one. Obviously, Shondaland has a notable body of work on television, so there will be a lot of eyes on this one as it makes its Netflix debut.
Best Leftovers Ever! - 12/30
Lots of food is made during the holidays, which means lots of leftovers to snack on. As great as that may be, sometimes the third day eating ham just isn't as enticing as the first. For those who continually find a way to jazz up those leftovers and keep them feeling fresh, then Best Leftovers Ever! may be a great show to compete on. Contestants are tasked with making inventive meals out of leftovers, all for a chance at winning $10,000. It's not the fanciest cooking show out there, but cooking isn't always about being fancy either.
Chilling Adventures Of Sabrina (Part 4) - 12/31
The final episodes of Chilling Adventures of Sabrina will round out the end of 2020, and boy, have things gone south for Sabrina and friends. The final season will see the witches wage war against key figures associated with Eldritch horror, including figures like The Weird, The Returned, or The Darkness. There's also a tease that Nick will make efforts to find his way back to Sabrina's heart, but will he succeed before the series ends? Fans can hope!
Be sure to check out all these titles and more on Netflix this December. As always, continue to stick with CinemaBlend for all the latest happenings with streaming, and for more news in television and movies.
Your Daily Blend of Entertainment News
Mick likes good television, but also reality television. He grew up on Star Wars, DC, Marvel, and pro wrestling and loves to discuss and dissect most of it. He's been writing online for over a decade and never dreamed he'd be in the position he is today.