Bridgerton: 4 Reasons To Watch Shonda Rhimes' Scandalous New Netflix Period Drama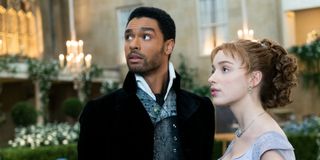 (Image credit: Netflix)
Netflix is ending the year with a slew of exciting new releases, and Shonda Rhimes' Bridgerton is bound to be a highlight for many who check it out. Based on a series of novels by prolific author Julia Quinn, the series takes viewers to early 19th century London to follow the stories of the high society ladies and gentlemen, complete with balls and gowns and decorum, along with the occasional duel. That said, Bridgerton is no Jane Austen-esque period drama, and plenty of scandal is hiding beneath the pleasantries, in the best way.
Bridgerton follows Daphne Bridgerton in her search for a husband in Regency London's competitive marriage market, where the Duke of Hastings is the hottest commodity... who isn't looking for a wife. They decide to fool everybody into thinking they've formed an attachment, to the dismay of Daphne's brothers, delight of Daphne's mother, and gossip of the rest of society. Throw in siblings and suitors and scandalous affairs involving those who don't live on the upper crust, and Bridgerton has a lot going on. Here are four reasons why you should watch.
The Story Is Addictive
Bridgerton Season 1 runs for eight episodes, and I doubt that anybody who enjoys a good scandalous drama can stop watching after just one episode. Despite primarily being the story of Daphne and Simon, the Duke of Hastings, as they dance around each other, the plot is populated with plenty of characters with their own subplots, all tangled together by the anonymous scandal sheet writer known only as Lady Whistledown (voiced by Julie Andrews) who seems to know everybody's dirty little secrets and loves to expose them.
The show combines stories from more than just Julia Quinn's first novel featuring Bridgerton characters, resulting in a full and addictive story. And honestly, the costumes alone are worth a binge-watch, if only to see what Queen Charlotte manages to pull off next. Bridgerton might not sweep the awards circuit for writing or originality, but the first season sure kept me glued to my screen. Plus, let it be said now that Bridgerton takes full advantage of the lack of constraint from Netflix when it comes to showing skin in love scenes. This isn't the Regency drama you're used to, and prepare to be addicted!
A Classic Romance With A Scandalous Twist
As a show based primarily on the "fake" relationship between a beautiful young woman with dreams of a love match and a dashing young duke who broods almost as well as he smolders, I don't think it's a spoiler to say that Bridgerton tells a love story, and it's a classic love story in many ways. Woman meets man, sparks fly, things go wrong, things go right, and gazes are more than a little too heated than anything Jane Austen would have approved of but are just right for Bridgerton.
Now, part of why I refer to it as "classic" is that the eight episodes actually reminded me of other love stories on several occasions, including the similarly scandalous Sanditon, Poldark, a very specific episode of Outlander, and somewhat bizarrely, Netflix's To All The Boys I've Loved Before. There's even a dash of the 2005 adaptation of Pride and Prejudice and the 2020 adaptation of Emma with the ball scenes, of which there are several that are sparkling with jewels and full of beautiful people dressed their best.
This is a romance with elements that have been done before, and arguably better in other productions, but Bridgerton tells a complex and steamy love story that is totally addictive, and I'll be shocked if viewers don't come out of Bridgerton absolutely swooning over Regé-Jean Page's Duke of Hastings. Move over, Mr. Darcy! The Duke of Hastings is on the scene.
A Strong Cast
Bridgerton has a large ensemble cast, and I spent a good part of the first episode concerned that it would be hard to keep track of them all, and that was true to an extent with the two younger Bridgerton brothers. I couldn't tell them apart for several episodes, and I still can't tell which of the eldest Featherington sisters is which after eight hours. Still, the cast is strong and the actors make their characters distinctive instead of fading into the background.
Phoebe Dynevor as the blushing debutante Daphne Bridgerton and Regé-Jean Page as the brooding Duke of Hastings couldn't have been better cast, in my book, and other standouts include Adjoa Andoh as Lady Danbury, Jonathan Bailey as Anthony Bridgerton, Golda Rosheuvel as the surprisingly layered Queen Charlotte, Nicola Coughlan as Penelope Featherington, and Ruby Barker as Marina Thompson. All in all, I'd be hard-pressed to pick somebody who didn't shine as a notable character. Even Luke Newton and Luke Thompson as Colin and Benedict Bridgerton, respectively, were great once I could tell one from the other!
Bridgerton also didn't put together a cast of all-white actors, which isn't always the case with Regency dramas. In fact, several of the most powerful and high-ranking characters are played by people of color, including the Queen herself and the male lead. Shonda Rhimes' shows are known for diverse casts, and Bridgerton is no exception, even if it won't be confused with the likes of Grey's Anatomy any time soon.
Potential For More Seasons
Although Season 1 of Bridgerton incorporates plots from more than just Julia Quinn's first novel centered on these characters, this is a lot more source material that could fuel more seasons of the show. That's not to say that viewers will necessarily be stuck with an unsatisfying ending if Netflix gives Bridgerton the axe as it has done to some other big shows in 2020, but there is definitely room for more.
Bridgerton builds a society populated by multi-faceted characters, and it would be a shame if the show doesn't get to explore that society with more characters in future seasons. Honestly, as a fan of shows and movies set in the Regency era, I'd watch a full second season of just the characters attending balls and generating all kinds of scandals there. What can I say? I love a good Regency-era ball, and the Bridgerton balls are a lot more scandalous than a gentleman and lady dancing without gloves on.
You can check out Bridgerton when it premieres on Netflix (opens in new tab), with all eight episodes releasing on Friday, December 25 at 12:01 a.m. PT. A scandalous Regency drama may not be the traditional way to celebrate Christmas, but Bridgerton is definitely worth a binge. For some of what you can watch on the streamer in the new year, check out our 2021 Netflix premiere guide. If you're in the market for some non-streaming options as well, take a look at our 2021 winter and spring premiere schedule.
Resident of One Chicago, Bachelor Nation, and Cleveland. Has opinions about crossovers, Star Wars, and superheroes. Will not time travel.
Your Daily Blend of Entertainment News
Thank you for signing up to CinemaBlend. You will receive a verification email shortly.
There was a problem. Please refresh the page and try again.