How His Dark Materials Season 2 Finale Endings And Post-Credits Scene Set Up Season 3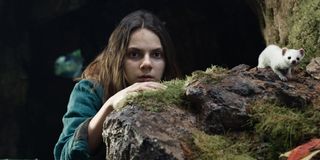 (Image credit: HBO)
MAJOR SPOILERS AHEAD for the Season 2 finale of His Dark Materials on HBO, and book spoilers through the early chapters of Philip Pullman's The Amber Spyglass.
The second season of His Dark Materials has come to an end with a doozy of a finale that killed off a couple of key characters, split up the young heroes, set the stage for a much larger conflict than just a battle against the Magisterium, and brought back somebody who wasn't expected to return until Season 3. And, if all of those weren't enough, the episode included a post-credits scene that doesn't bode well for poor Lyra!
So, now that Season 2 is over, let's take a look at the endings for the biggest surviving characters, that post-credits sequence, and what they mean for Season 3. And don't worry -- if you haven't read the Philip Pullman trilogy, I'm not going into book spoilers beyond how His Dark Materials picks up where these cliffhangers left off. Read on!
His Dark Materials Season 2 Post-Credits Scene: Roger Returns
If you're anything like me, you glanced at the time left when the credits started to roll and began to suspect that there was a little something in store before the finale ended. The post-credits scene of the Season 2 finale saw the return of none other than Roger, who of course was cruelly split from his daemon and murdered by Lord Asriel in the Season 1 finale.
In the post-credits scene, Roger can be heard calling Lyra's name and asking for help, looking no older than he did when he died. Lyra's voice asks Roger what this place is. Roger doesn't answer, making this scene a pretty great cliffhanger. Unfortunately for fans who might still be stung by his unceremonious death in Season 1, this isn't necessarily good news.
Roger's reappearance isn't a reveal that he was magically resurrected or a Roger doppelganger from one of the many other worlds in the His Dark Materials universe. Instead, this adaptation of Philip Pullman's The Subtle Knife as the second book in the His Dark Materials trilogy dipped into the plot of the third book, The Amber Spyglass, to reveal Roger in the world of the dead.
The good news is that Lyra doesn't have to be dead for her to see Roger in that place. Lyra, drugged and unconscious in the book, dreams of Roger and learns about the world of the dead, a desolate place where the dead go without their daemons after they die. This becomes key to the third and final installment of His Dark Materials, and the post-credits scene is a glimpse of what's to come.
Personally, I'm hoping that "what's to come" in the world of the dead is more brightly-lit than in the quick glimpse of Roger at the end of the Season 2 finale. Even if Season 3 doesn't spend a substantial amount of time there, a little more brightness would be much appreciated!
Lord Asriel's Return
Arguably the biggest surprise of the His Dark Materials Season 2 finale was the return of James McAvoy as Lord Asriel. The character doesn't appear at all in The Subtle Knife, and McAvoy's role in Season 2 might have been cut altogether since the Asriel standalone episode had to be scrapped. In the finale, Asriel showed up in what seemed to be a pretty empty area after "struggling through many worlds," with a grand speech to nobody... or so it seemed at first.
Asriel's speech about defeating the Authority with or without the help of those "who rebelled" evidently worked, as fallen angels began to manifest themselves to join his cause, to fight for truth and acceptance against deceit, intolerance, and prejudice of those in power. Asriel said that they should be "united in heart, soul, and deed," so that together they "could build a Republic of Heaven above and a Republic of Ideas below." He wants "better worlds where the privilege of freedom becomes the right of all peoples."
Honestly, that would be pretty inspiring if only the last time we'd seen Asriel hadn't been when he murdered a child! He followed up the speech by denouncing neutrality, saying they were either with him or against him, and these fallen angels are with him. Now that Asriel has their support, his fight against the Authority can begin in earnest.
The Amber Spyglass reveals that Asriel and his allies decide to make their stand on an unpopulated world, amassing fighters of all different types and bringing together machines of war. He'll have a fortress and armies fighting for his cause, and if some have their way, a weapon that could change everything. Speaking of which...
Will Parry Has A New Mission
Season 2 has not been easy for Will Parry. After getting his fingers cut off and then being slowly poisoned by the wounds until finally being saved by witches, his reunion with his long-lost father was cut short when his dad was shot dead (in a change from the books) shortly after giving him what sounds like an impossible task. According to John Parry, Will must take the subtle knife to Asriel. In his dying words, John told his son that "the night is full of angels," and "they will guide you now."
Although His Dark Materials' second season ended without starting Will on the next leg of his journey as the knife-bearer, the books reveal that John's final words here are actually very literal. If Season 3 sticks to The Amber Spyglass, the angels Baruch and Balthamos will emerge to guide Will on his mission to take the knife to Asriel... or so they intend. When Will descends the mountain and discovers that Lyra has been taken, recovering his best friend takes precedence over finding Asriel, to the dismay of the angels.
As of the end of the finale, Will hadn't yet met the angels, let alone discovered Lyra's absence, so it should be interesting to learn how and when His Dark Materials picks up on Will's story in Season 3. Either way, he will have two goals: his own mission to find Lyra and his assigned task of taking the knife to Asriel.
Lyra Captured By Mrs. Coulter
Unfortunately for Lyra, her ending in Season 2 overlaps with that of her mother. Mrs. Coulter harnessed the power of the Specters to kill the witch who had been napping on the job of guarding Lyra. The finale didn't reveal what Mrs. Coulter did immediately after finding and waking Lyra, but if there was a struggle, Lyra clearly lost. Mrs. Coulter was traveling via boat with her golden monkey and a large trunk by the end of the episode, with Lyra and Pan asleep inside.
Although this particular scene isn't ripped from the pages of either The Subtle Knife or The Amber Spyglass, I think it's safe to say that Mrs. Coulter has her daughter drugged to keep her still and asleep inside that trunk. In the third book, Mrs. Coulter goes into hiding in a cave in the middle of nowhere with extremely limited contact with the outside world, while Lyra is asleep aside from her unconscious visits to the world of the dead.
All things considered, I won't be surprised if His Dark Materials tweaks this plot for Season 3. I'm not sure I see the TV show keeping its young heroine drugged and unconscious for episodes at a time, or Mrs. Coulter just hanging out in a cave. Mrs. Coulter tells the sleeping Lyra that's she's taking her "somewhere entirely safe," but that could mean anything.
Changing the location from a cave to somewhere else could make sense, and the boat journey makes it clear that she's making headway in getting away from where she took Lyra. With Lee Scoresby tragically dead and Serafina none the wiser about where Lyra has been taken, Mrs. Coulter is in a pretty good position to defend Lyra, who she now thinks she needs to prevent from falling as the second coming of Eve.
The good news coming out of His Dark Materials' Season 2 finale is that the show has already scored the renewal for Season 3, so these cliffhangers definitely will be resolved on screen. The bad news is that there is no saying exactly when Season 3 will be able to begin filming, let alone complete production and arrive on the small screen. At this point, I'm wondering if there will be a time jump or time jumps for the third season.
Filming the first two seasons consecutively meant that Dafne Keen and Amir Wilson didn't age faster than their characters would have. His Dark Materials may run into a problem for Season 3: the young stars are growing up faster than their characters. A time jump could come in handy, although if fans are already suspending their disbelief about everything in His Dark Materials so far, I think we can suspend our disbelief if Lyra and/or Will magically hit a growth spurt between the second season finale and third season premiere.
For now, you can rewatch the first two seasons streaming on HBO Max (opens in new tab). For some viewing options in the coming weeks, be sure to check out our 2021 winter and spring premiere schedule.
Resident of One Chicago, Bachelor Nation, and Cleveland. Has opinions about crossovers, Star Wars, and superheroes. Will not time travel.
Your Daily Blend of Entertainment News
Thank you for signing up to CinemaBlend. You will receive a verification email shortly.
There was a problem. Please refresh the page and try again.