When Doctor Who's Jodie Whittaker Is Reportedly Exiting The Sci-Fi Show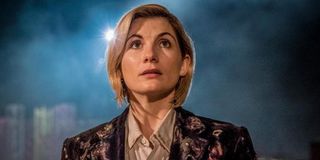 Doctor Who holds the title of longest-running sci-fi show, despite the 16-year gap between the original series and the revival. The show has been running on BBC, in some form or another, for over 50 years. In that time, there have been a number of cast changes for the lead role. The current star of the show, Jodie Whittaker, is the 13th personification of The Doctor, but it's possible she may step down from the role soon.
There are rumors that a 14th Doctor may be in our future in the not-too-distant future. While Jodie Whittaker may still have a home in the TARDIS, The Mirror reports that she may be stepping out for good very soon. Here's what their alleged unnamed insider has to say:
This makes sense, historically, as Jodie Whittaker is finishing up her third season as The Doctor. There seems to be a rule of three with recent doctors, the majority only holding the role for three seasons. If she is to follow in the footsteps of the Doctors who came before her, this next season would indeed be her last holding the sonic screwdriver.
If the reported rumors of an impending regeneration are true, BBC isn't letting on. According to Deadline, BBC refuses to confirm or deny the rumor of Jodie Whittaker's exit from the show. A spokesperson for BBC shuts questions down by stating:
While it would show some uniformity to end her stint as The Doctor after three seasons, if Jodie Whittaker does stay on for longer it would not be the first time her version of The Doctor breaks away from the show's norm. Whittaker made Doctor Who history when she was cast, becoming the first female to take on the role.
Even though having a female lead is no longer a bold step for shows, it seemed to be one that some in the Doctor Who fandom, at least in part, was not ready for. Jodie Whittaker's casting as the first female Doctor in the series was not well received by some, leading to her being, at first, somewhat disliked for the role. It was a huge change for the long-running show, and one that Whittaker herself was not sure about taking on. If Doctor Who is indeed losing its first female Doctor, it leaves fans wondering how the next Doctor will proceed to fill the groundbreaking shoes.
These rumors remain nothing more than speculation for now, until BBC or Jodie Whittaker herself releases a statement about her and The Doctor's future. Season 13 of the revival Doctor Who series, and Whittaker's third season as The Doctor, is set to release sometime this year. Check back with CinemaBlend for further Doctor Who updates.