Bridgerton: All The Relationship Statuses After Season 1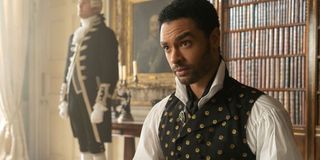 (Image credit: (Netflix))
How'd those bets go for the first social season on Bridgerton? Win any wagers? Let's dig into it. Shondaland's Netflix series quickly became one of the streaming service's biggest hits ever with its holiday season bingers, and its hold on pop culture doesn't seem to be backing down anytime soon as we look forward to what could be next for the Bridgerton family and their many entanglements. How did Season 1 shake out for our favorite couples?
Bridgerton did make haste in its eight-episode season with so many plot lines of love and lust along the way. You may not have missed some of the drama the first go around, which is why we're here to help you along. As the saying goes, "the devil's in the details'' and Bridgerton had more than its share of scandal and surprises. Warning: spoilers are ahead!
Daphne Bridgerton And Duke Simon
The starlet of Bridgerton's marriage market this season was undeniably Daphne Bridgerton, who befriended the Duke early on, but most definitely had a line of other suitors at her picking if she hadn't laid eyes on him. Daphne and Simon had a fiery romance that was strained by the Duke's vow to end his line with himself to enact revenge on his father following his troubling childhood. This pairing kept us on our toes all season long, with the question of will they or won't they looming over us.
When Daphne lost their child before the finale, it seemed as though they may not be able to patch things up. But thanks to some expert mothering on Daphne's end, these two realized that if they decide to make an effort of devotion to one another, they'll be alright. And surely after a load of steamy nights later, they are not only happily married, but also the parents of a child of their own.
Anthony Bridgerton And Siena Rosso
The eldest Bridgerton may have been responsible for turning the gears for his siblings during the social season, but early on we grew to follow his and Siena's secret love affair with opera singer Siena Rosso, heated all the way up with their sneaking around and such. Anthony grows affectionate for his mistress throughout the season, but Siena grows tired of their infidelity. Anthony and Siena do not last through to the end of Season 1 after Siena breaks up with Anthony.
Siena cites deciding to break things off as a necessity in order for her to look out for herself and ensure her own future, and honestly it seems like she was right on and aware that her and Anthony weren't going to last. Going by the books, we predict Anthony will be even more prevalent in Season 2 and could find a new romance for us to follow more devotedly.
Marina Thompson And Sir Philip
Marina had quite the scandalous social season, even if most of it was spent in agony rather than love-intoxicated bliss. She shared a memorable moment of pleasure with George Crane before he headed off to war, but it left her pregnant and dealing with a long-distance relationship during the Regency Era… which is real rough.
After believing her love to have rejected her latest letters, we get a surprise visit in the form of Sir Philip, who is George Crane's brother. Sir Philip comes with news that his brother has died in the war, but proposes to Marina himself in order to make right George's early advances. Marina agrees to the marriage and gets shipped away with him while still pregnant with her lost love's child. I am worried about her!!
Benedict And Madame Delacroix
There's a whole lot of Bridgerton blood to go around, including for the second-born Bridgerton, Benedict. Not unlike his bro, he fancies his affair with dressmaker Genevieve Delacroix throughout the season. The madame is a working class professional, who does not share the same status as Benedict. So that's three for three so far in the Bridgerton family scandal.
Benedict doesn't necessarily keep his romance a secret, telling Daphne and Anthony, the latter telling him "good for you, brother. You deserve contentment." Eloise also catches on to the love affair, but after talking with the madame, decides to keep their relationship close to the corset for them. We're not sure what's next for these two, but hopefully Benedict will continue to pursue his art as well.
Penelope Featherington And Colin Bridgerton
There were still some pure affections to be spotted on Bridgerton as well, most memorably with Penelope and Colin, who seem to be smitten with one another, but a little bit unaware of it. Penelope was going to tell Colin at the end of the season about her feelings for him until she found out that he was traveling abroad and decided to keep it to herself. If you had only told him, he may have stayed, Penelope! Or you could have gone with him? Ah, young love!
We'll have to see if Colin remains the one who got away or if there's still a chance for these two down the road. Considering Penelope was revealed to be Lady Whistledown of all people, she might become enamored with keeping that a secret with Eloise and the Queen hot on her trail.
Queen Charlotte And King George
One of the fan favorites in Bridgerton was Queen Charlotte, who takes after a real figure in history, actually! The queen did not take part in love affairs, but she loved hearing about them throughout the season, particularly bonding with Eloise about their interest in Lady Whistledown.
She is married to King George, but there's a historically accurate reason why their relationship seems distant. King George III was famously quite ill at this time period, incoherent and unstable, and creating a negative image for the Royal family. Charlotte therefore becomes the face of the crown. It's strictly situational for these two at this point.
Eloise Bridgerton And ....
Last but certainly not least is the spunky Eloise Bridgerton, who has no suitor or interest in obtaining one. She just wants to figure out the deal with Lady Whistledown! Eloise is very the Jo March of Bridgerton with her views and we love her all the same. While she's happily single at this point, we're excited to see where her character goes should a Season 2 come along.
What's your favorite relationship on Bridgerton right now? Vote in our poll below and stay here on CinemaBlend for more Regency-era gossip among other TV and movie news.
This poll is no longer available.
Your Daily Blend of Entertainment News
YA genre tribute. Horror May Queen. Word webslinger. All her writing should be read in Sarah Connor's Terminator 2 voice over.