What The Blacklist Fans Can Expect From Liz Keen When Season 8 Returns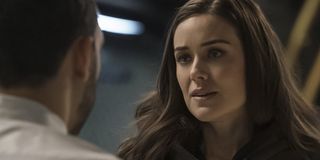 (Image credit: NBC)
The Blacklist returned to NBC with Season 8 back in the fall, ending the long hiatus that followed the abrupt and premature end to Season 7. Unfortunately, however, The Blacklist was one of NBC's several shows that returned for just a couple of episodes before going into a winter hiatus, and fans have been waiting all the way since the end of November to get to just the third episode of Season 8. The good news is that the wait is almost over, and we can look ahead to what fans can look forward to when it comes to Liz Keen in the winter premiere.
Called "16 Ounces," the winter premiere of The Blacklist Season 8 will air on Friday, January 22 at 8 p.m. ET on NBC. It will have to pick up on the fall final that saw the deaths of both Dom and Katarina, with Red shooting Katarina right in front of Liz, who had sworn to Red that their relationship would be over if he killed her mother. Blacklist executive producer John Eisendrath already confirmed that a war is coming between Liz and Red, and the episode description of "16 Ounces" sheds some light on how that war will begin:
Well, there may not be a lot in the way of details in NBC's description of "16 Ounces," but hopefully that means the episode is so packed with action and twists that elaborating even a little bit more would have resulted in major spoilers. Liz's priority in "16 Ounces" will seemingly be getting revenge on Red for murdering her mother. Having learned a lot from Red over the 7+ years that she has known and worked with him, she could be one of his most formidable foes. A lot may depend on how closely she feels the need to follow the letter of the law in seeking her vengeance.
Despite the very slow burn of The Blacklist delivering hard answers instead of raising more questions when it comes to Red, the plot can move quite fast on this show, so it's hard to assume anything with too much certainty. Still, some images of Liz from "16 Ounces" can shed some light on what she'll be up to, even if we can only attempt to fill in the blanks ourselves during the final wait for the winter 2021 premiere. Take a look!
Liz looks pretty emotional in this image, although also somewhat numb. It looks to me like she's sitting in a hotel room somewhere, and she seems to be wearing the same sweatshirt that she was wearing in the fall finale when she watched Red shoot Katarina. The coat on the bed looks like what she was wearing over the sweatshirt in that devastating scene, so I'm going to guess that this picture comes from almost the immediate aftermath of the shooting, after Liz has left the scene of the murder but before she jumps into action.
Whenever she jumps back into action after watching Red kill her mom, Liz will pay a visit to Aram. Nobody else seems to be around, and the disposable coffee cups lead me to think that this is a late night at work for Aram that Liz might have crashed. If that's the case, then I'm guessing that Liz wants a favor that would involve Aram crossing some lines, or at least bending the rules. Her face isn't visible in this image, but Aram definitely has an interesting expression. Also: observe Liz's coat.
Liz's expression is a lot softer in this picture, and she's clutching a little pink bundle of cloth. Throw in the color of the wall on the right of the photo, and this seems to be Liz at home holding something that belongs to Agnes. Considering seeking to avenge her dead mother by going after her on-again/off-again father figure isn't really child-friendly, I'm thinking that this is Liz looking at Agnes before leaving indefinitely for her new mission. That might be a bit of a stretch, but I'm pretty confident that this scene has something to do with Agnes. And Liz still has the coat!
Finally, we have Liz sitting in the passenger side of a car with the door wide open, doing... something with it. She doesn't seem to be hot-wiring it if she's fiddling with the wires on that side of the car; could she be planting a bug in whoever's car that is? This seems to be her first change of clothes from what she was wearing when Red shot Katarina, so it's possible that this takes place late in the episode when Liz is off chasing revenge. Or she just got overheated and took off her sweatshirt and jacket, and I followed the coat through the images for nothing. Who knows at this point?
All things considered, we have to just make out best guesses for now without a whole lot to go on. At this point, I'm ready to speculate that the "16 Ounces" title of the episode refers to Liz wanting her pound of flesh on top of everything else, so I'm definitely ready to see what The Blacklist has in store in 2021. Fortunately, the wait is almost over.
The long-awaited winter premiere of The Blacklist airs on Friday, January 22 at 8 p.m. ET on NBC. If you're still in the market for some additional TV options this year, be sure to check out our 2021 winter and spring premiere schedule.
Resident of One Chicago, Bachelor Nation, and Cleveland. Has opinions about crossovers, Star Wars, and superheroes. Will not time travel.
Your Daily Blend of Entertainment News
Thank you for signing up to CinemaBlend. You will receive a verification email shortly.
There was a problem. Please refresh the page and try again.