Chilling Adventures Of Sabrina's Kiernan Shipka Gives Honest Thoughts On The Netflix Finale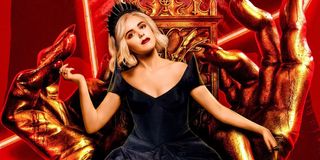 The fourth and final season of Chilling Adventures of Sabrina released for streaming on Netflix back in December, and the ending shocked viewers. If you haven't yet watched the finale you may want to stop right here, bookmark this article, and open up a new tab to watch it because we're about to spoil it for you. There's very little chance for the series to pick up again in the future, as Sabrina was actually killed off in the finale. What the heaven, right? This was a bold ending to the dark Netflix series, and one that surprised even Kiernan Shipka, who plays the leading role of Sabrina Spellman.
Kiernan Shipka apparently had the same impression as most viewers about the show: Sabrina can't die. Not only is she the main character, but she didn't die in the original series, so she won't die in this one. As we know, though, Shipka's Greendale is much more chilling than Melissa Joann Hart's laugh-tracked version of the town. The finale of the last season marks both the ending of her titular character and the first major starring role for the young actress, and she has some thoughts. She tells ET:
Even though we may have all had the same thought, maybe we shouldn't have! After all, there were two Sabrinas in the last season, and one did die not long before the other in a similar way. Both Sabrinas, despite one being the literal Queen of Hell, sacrificed themselves for the good of everyone else.
Kiernan Shipka has some thoughts on what the end of Sabrina Spellman means, and in the same interview she shares that Sabrina's sacrifice represents how utterly selfless she is as a person. In her own words:
Despite Chilling Adventures of Sabrina being over, we at least have the satisfaction that a reboot series can still have surprises for us. Praise Satan!
Cinemablend will continue to stay updated on the future projects of Kiernan Shipka and her Chilling Adventures costars. If the end of the series has left you with a hole that needs filling by more binge-watching, check out what Netflix has in store for us on our updated 2021 Netflix schedule.
Your Daily Blend of Entertainment News
Thank you for signing up to CinemaBlend. You will receive a verification email shortly.
There was a problem. Please refresh the page and try again.