Chilling Adventures Of Sabrina's Kiernan Shipka And Creator React To Netflix Cancellation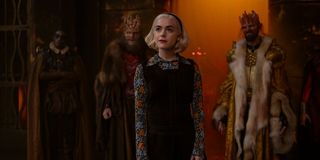 Chilling Adventures of Sabrina has been casting spells on viewers for three seasons now. Season 3 ended on a major cliffhanger that saw not one, but two Sabrina Spellmans existing at the same time. One resided in Hell with her dear old dad Lucifer, while the other enjoyed being a regular witch topside. The good news is that Chilling Adventures of Sabrina will be back to explore that storyline in Season 4. The bad news is that it will be the show's final season, and series star Kiernan Shipka and creator Roberto Aguirre-Sacasa definitely had reactions to share.
Netflix's original streaming series rarely get to live past a fourth season, so the news of Chilling Adventures of Sabrina's cancellation isn't exactly surprising. That said, a fourth season is better than nothing, and Kiernan Shipka seemed pretty damn excited for the final leg of the series. The actress posted to Instagram and included a photo of herself and cast mates in costume. As Sabrina, Shipka is wearing a flowery red dress and veil and she's joined by two demonic characters. The fact that there are several exclamation points should clue everyone in on the excitement level. Check out her post below!
It doesn't seem like Kiernan Shipka is too sad about the cancellation, or at least she's doing a good job of hiding it. However, I'd wager that the cast already knew Season 4 would be the show's last in advance of the official cancellation news. Chilling Adventures of Sabrina was renewed through Season 4 all the way back in December 2018, after all, and the lack of renewal news in all that time had to be telling. While it's a shame the show has to end, I'm excited to see why Sabrina is wearing a red veil.
Meanwhile, Robert Aguirre-Sacasa took to Twitter to react to Season 4 being the last for the Netflix series. He also shared when fans could expect the final season to premiere, alongside a photo of Kiernan Shipka in Sabrina's iconic red pants and hairstyle, ripped straight from the pages of the comic book. Take a look below!
Roberto Aguirre-Sacasa wants fans to "hold on tight," and I'm not sure whether I should be anxious or excited for what he and the writing team have in store for Season 4. Luckily, we don't have too long of a wait since he confirmed that Chilling Adventures of Sabrina is expected to return this fall.
It certainly doesn't seem like Chilling Adventures of Sabrina was one of the shows affected by all the production shutdowns in March. They presumably finished filming before that all happened, which is great for fans who won't have to wait until next year to find out what will happen with Sabrina(s), the Spellman family, and her spirited mortal friends. Of course, I'm hoping that Season 4 will land right around the time for Halloween. What better way to end a series about witches than in October, right? It's just too bad that we may not get a proper crossover with Riverdale before the end of the show.
Chilling Adventures of Sabrina will take its final bow this fall. Stay tuned to CinemaBlend for updates on the show's premiere date. In the meantime, you can stream the first three seasons of the show on Netflix. For more on what to watch, be sure to check out our 2020 summer TV premiere schedule as well.
Your Daily Blend of Entertainment News