Hip-Hop Legends Salt-N-Pepa Talk Revisiting Old Wounds For Lifetime Biopic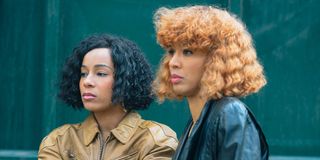 The dynamic duo behind hip-hop hits "Push It" and "Let's Talk About Sex" have released a biopic on Lifetime telling of their journey from nursing students to stardom. Salt-N-Pepa endured a lot of emotional trauma and many of life's big milestones together. They shared the most challenging parts of revisiting old wounds while working on the film.
Both Cheryl "Salt" James and Sandra "Pepa" Denton serve as executive producers on their Lifetime biopic. They worked closely with GG Townson and Laila Odom who play Salt and Pepa, respectively. I recently attended a Q&A in support of the film, where James and Denton opened up about a difficult part of the filmmaking process. Cheryl James said:
Working together for 35 years, there are many aspects of Salt-N-Pepa's story that fans won't know going into the film. As Cheryl "Salt" James mentioned, there were even some things they had to leave out. The scene she discusses above about the eating disorder is very emotional, and GG Townson's vulnerability makes it feel authentic. Salt-N-Pepa were pioneers of celebrities starting conversations and using their platform to address important issues, and they do the same with this biopic.
Some things are even being shared for the first time so publicly. Sandra "Pepa" Denton talked about a scene that depicts a struggle she has not discussed with her own family. It sounds like this was a particularly difficult moment for her to return to. In her words:
Wow. Both of these sound like excruciating moments to re-live. I can't commend Salt-N-Pepa and the actresses playing them, GG Townson and Laila Odom enough for their incredible work. Their story is a powerful one, of love and lose, rise to fame, the downsides of fame, family and friendship. The movie has great drama alongside hilarious comedic moments, and gives fans an inside look at the recording of many of Salt-N-Pepa's hits.
Salt-N-Pepa is now streaming on Lifetime. The network will also debut two Wendy Williams films on January 30. If you love music and biopics, Respect, telling of Aretha Franklin's journey is planned for release August 2021.
Your Daily Blend of Entertainment News
Obsessed with Hamilton and most things Disney. Gets too attached to TV show characters. Loves a good thriller, but will only tolerate so much blood.
Your Daily Blend of Entertainment News
Thank you for signing up to CinemaBlend. You will receive a verification email shortly.
There was a problem. Please refresh the page and try again.