The Trial Of The Chicago 7 And 12 Other Great Courtroom Dramas To Rent Or Watch Streaming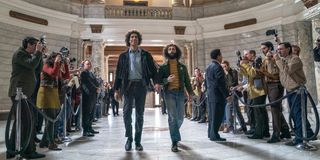 Explosive confrontations on the witness stand. Angry judges yelling "You're out of order." Debates carried out while the jury deliberates. A person's freedom, or even life on the line. These are all qualities that make a great courtroom drama as countless films have shown us over the years. Some of these qualities are even seen in Aaron Sorkin's Netflix film The Trial of the Chicago 7 as well as countless other great movies set within the confines of a crowded and oftentimes stuffy courtroom.
If you are just coming off watching the latest Netflix original and still want more of what you saw but don't know where to start, then I have a few titles I would like to enter into discovery. Over the yeas, there have been countless standouts in the genre with everything from 12 Angry Men to Just Mercy allowing us to enter the courtroom and watch as monumental cases unfold in front of our very eyes. Here are 13 movies that fit that mold.
The Trial Of The Chicago 7
When eight anti-war protestors are arrested and charged with conspiracy to start a riot at the 1968 Democratic National Convention in Chicago, they are put through a series of unconstitutional violations as the United States Department of Justice does everything they can to blame the counterculture for what became a national incident on live TV.
Why it's one of the best courtroom dramas: Say what you will about the movie's ending, The Trial of the Chicago 7 provides for a great mashup of modern storytelling techniques with throwbacks to legal dramas of yesteryear. Great performances led by the defense team and a very unruly presiding judge (Frank Langella) provide for a series of confrontations and revelations, as the accused conspirators fight for their freedom and rights in the process.
Stream it on Netflix (opens in new tab) here.
12 Angry Men
Set in the moments following the closing arguments of a trial to decide the fate of an inner-city teenager accused of stabbing his father to death, 12 Angry Men follows the group of jurors who at first seem all so willing to convict, but slowly change their minds following the pleas from a lone juror (Henry Fonda) willing to listen to reason.
Why it's one of the best courtroom dramas: Primarily set in a single overcrowded and stuffy room, the 1957 classic is often considered one of the best legal dramas of all time, and there's good reason for that. On the surface it looks like 12 men trying to come to an agreement, but each vote peels back another layer of social commentary about the history and thought processes of each of the angry men.
Rent it on Amazon (opens in new tab) here.
Just Mercy
Instead of using his Harvard law degree to ride a wave to fame and fortune, Bryan Stevenson (Michael B. Jordan) heads to Alabama to become the voice of the voiceless and wrongfully accused defendants fighting for their freedom in southern courtrooms, including Walter McMillan (Jamie Foxx). Throughout the legal drama, Stevenson goes through hell and back to prove his client's innocence, even when no one cares to listen.
Why it's one of the best courtroom dramas: There are times during Just Mercy where you will get so angry you want to turn off the TV because of the injustice and blatant racism being shown on the screen. And that's what makes the 2019 legal drama such a great experience. It makes you feel something, whether that be anger, fear, or optimism for a better tomorrow.
Stream it on HBO Max (opens in new tab) here.
To Kill A Mockingbird
Based on the Harper Lee novel of the same name, To Kill A Mockingbird follows Alabama attorney Atticus Finch (Gregory Peck) as he attempts to prove the innocence of Tom Robinson (Brock Peters), a black man wrongfully accused of raping a white woman in the 1930s south.
Why it's one of the best courtroom dramas: Since its release in 1962, To Kill A Mockingbird has been considered to be the standard-bearer in terms of legal dramas. And even though Atticus Finch fails to persuade the (all white) jury to acquit his client and Tom Robinson's life ends in tragedy, the movie (like the book) shows us that sometimes standing up for what is right in the world is a victory in itself.
Rent it on Amazon (opens in new tab) here.
A Cry In The Dark
The 1988 legal drama A Cry in the Dark (Evil Angels in Australia and New Zealand) centers around the legal proceedings surrounding the disappearance of a baby belonging to a couple vacationing in the Australian outback. The mother (Meryl Streep) is convinced that a dingo took the baby, but law enforcement and a shocked public see things differently.
Why it's one of the best courtroom dramas: The movie is best known for the famous "The dingo's got my baby" line, but there is so much more to the Australian drama that makes it worthy of being considered one of the all-time greats. With characters questioning the mother's religious beliefs, motivations, and innocence, she never backs down from her convictions, even if that means going to prison.
Rent it on Amazon (opens in new tab) here.
A Time To Kill
The 1996 drama A Time to Kill, which is based on the John Grisham novel of the same name, tells the story of Carl Lee Hailey (Samuel L. Jackson) a man who takes justice into his own hands following the brutal rape of his daughter and pays the price. With no one else to turn to, Carl calls Jack Brigand (Matthew McConaughey) to do the impossible: get an acquittal for a black man in a racially divided south.
Why it's one of the best courtroom dramas: Being based on one of John Grisham's best novels should be more than enough reason why A Time to Kill is one of the best courtroom dramas, but the back and forth between Matthew McConaughey's defense attorney and the ruthless D.A. Rufus Buckley portrayed by Kevin Spacey doesn't hurt the case.
Stream it on HBO Max (opens in new tab) here.
Rent it on Amazon (opens in new tab) here.
Kramer Vs. Kramer
More than a year after Joanna Kramer (Meryl Streep) left her husband, Ted (Dustin Hoffman) and son, Billy (Justin Henry) behind, she comes back to take custody of the boy, resulting in a heated custody battle that plays out in a public courtroom.
Why it's one of the best courtroom dramas: The 1979 classic Kramer Vs. Kramer is not only one of the most engaging and infuriating courtroom dramas, it also created the mold for future movies focusing on divorce and custody battles for years to come. It's hard not to see the DNA of this film in titles like Marriage Story.
Stream and rent it on Amazon (opens in new tab) here.
The Rainmaker
Francis Ford Coppola's adaptation of John Grisham's The Rainmaker follows struggling attorney Rudy Baylor (Matt Damon) as he teams up with knowledgeable paralegal Deck Shifflet (Danny DeVito) to take on a greedy insurance company and its cold attorney Leo F. Drummond (Jon Voight) in a showdown surrounding the company's refusal to cover life-saving procedures for its clients.
Why it's one of the best courtroom dramas: This is an underdog story through and through, and shows a rookie attorney and paralegal who can't pass the Bar Exam to save his life going up against one of the most evil and ruthless attorneys to ever take the screen. Add in some John Grisham conspiracies and you have yourself a recipe for a great drama.
Stream it on Amazon (opens in new tab) here.
Inherit The Wind
When a Tennessee schoolteacher is put on trial for teaching Charles Darwin's theory of evolution in his classroom, he is put on trial for violating a state law prohibiting the subject. What follows is a courtroom transformed into a three-ring circus as two of the biggest lawyers of 1920s America go head to head in a battle over the merits of religion and science.
Why it's one of the best courtroom dramas: Loosely based on actual events, the 1960 drama Inherit the Wind not only features great legal arguments and an "Ah ha" moment in its final act, it also features one of the best casts ever put together for a movie of this type. With everyone from Spencer Tracy to Gene Kelly getting time to shine, the intense film is a showcase of great talent.
Rent it on Amazon (opens in new tab) here.
The Verdict
Coming off years of bad luck and a worse reputation, attorney Frank Galvin (Paul Newman) goes back to the courtroom for one final shot to prove himself when he is tasked with taking a medical negligence case that sees him going head-to-head against one of the most formidable attorneys in the Boston legal community.
Why it's one of the best courtroom dramas: Like any good legal drama, everything that happens outside of the courtroom intensifies everything takes place during the trial. With Frank Galvin's redemption story, his back-and-forth with Ed Concannon (James Mason), and that phenomenal and emotional closing argument, The Verdict packs all sorts of punches.
Stream it on Starz (opens in new tab) here.
Rent it on Amazon (opens in new tab) here.
Primal Fear
Jaded Chicago defense attorney Martin Vail (Richard Gere) thinks he's seen it all when he takes on the case of an altar boy accused of brutally murdering the archbishop, but as the case goes on, he learns the truth of what's actually going on.
Why it's one of the best courtroom dramas: Shocking twist ending aside, Primal Fear features some of the best courtroom scenes, especially those involving the testimony of Edward Norton's Aaron Stampler. Another great thing about the movie is the fact that the audience learns what is actually happening as Marvin Vail does, which makes for great drama.
Stream it on Starz (opens in new tab) here.
Rent it on Amazon (opens in new tab) here.
A Few Good Men
When military lawyer Daniel Kaffee (Tom Cruise) is tasked with defending two U.S. Marines accused of killing a fellow soldier, he digs deep to uncover a large-scale conspiracy that may or may not be the work of Colonel Nathan R. Jessup (Jack Nicholson).
Why it's one of the best courtroom dramas: I mean, in addition to the great "You can't handle the truth" line, A Few Good Men offers a lot in terms of a great legal drama. Through the research carried out by Daniel Kaffee and his co-counsel, the impeccable dialogue from Aaron Sorkin, and the masterful pacing of Rob Reiner's direction, there's not much to not love here.
Stream it on Amazon (opens in new tab) through IMDbTV here.
Philadelphia
When Andrew Beckett (Tom Hanks) is fired from his prestigious Philadelphia law firm shortly after he is diagnosed with HIV, he hires ambulance chaser attorney Joe Miller (Denzel Washington) who reluctantly takes on his wrongful termination case.
Why it's one of the best courtroom dramas: The thing about Philadelphia is that it's such a great drama about homophobia in the workplace and society in general that sometimes we forget that it centers around a high-profile court case. But those courtroom scenes, they are nothing short of amazing. From the opening arguments with those great Jonathan Demme close-up shots to Andrew Beckett collapse and subsequent hospitalization, there's a lot of great drama here. Just bring your tissues for this one.
Stream it on Starz (opens in new tab) here.
Rent it on Amazon (opens in new tab) here.
Those are just 13 great courtroom dramas that have left a mark on cinema in the past 60 years or so. There are so many other great ones out there, but there just wasn't enough space to include them all. If your favorite didn't make the list, sound off in the comments and let us know.
Your Daily Blend of Entertainment News
Philip grew up in Louisiana (not New Orleans) before moving to St. Louis after graduating from Louisiana State University-Shreveport. When he's not writing about movies or television, Philip can be found being chased by his three kids, telling his dogs to stop yelling at the mailman, or yelling about professional wrestling to his wife. If the stars properly align, he will talk about For Love Of The Game being the best baseball movie of all time.
Your Daily Blend of Entertainment News
Thank you for signing up to CinemaBlend. You will receive a verification email shortly.
There was a problem. Please refresh the page and try again.