Why Viggo Mortensen Is 'Curious' About Amazon's Lord Of The Rings TV Show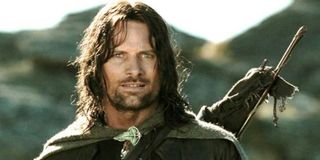 Just over three years ago, Amazon announced a television show set in J.R.R. Tolkien's The Lord of The Rings universe. The show will take place thousands of years before the events of The Hobbit and The Lord of The Rings, so fans shouldn't expect to see all of their favorites from the series. Viggo Mortensen, who played Aragorn II Elessar in Peter Jackson's film trilogy, recently expressed his curiosity about Amazon's Lord of The Rings television show.
After being asked if he would watch the upcoming Amazon series, Viggo Mortensen noted his interest in how the studio will bring Tolkien's words back to life:
In his interview with GQ, the thrice Oscar-nominated Danish-American actor admitted that he will more than likely be watching the show, which is due to release later this year. He also mentioned that he is "curious" to see how Amazon will interpret J.R.R. Tolkien's works, which is no surprise considering the issue he took with the last two films in The Lord of The Rings trilogy.
Only time will tell if Amazon's series is closer to the grounded Fellowship of The Ring or if it will be a grandiose CGI-fest a la The Hobbit trilogy. Money is seemingly not an issue for the studio as The Lord of The Rings series will reportedly be a costly endeavor, clocking in at $125 million a season.
Viggo Mortensen isn't the only Lord of The Rings veteran who has commented on the show. Hugo Weaving has already given a frank answer to the possibility of his character, Elrond, returning for the show. Even Elijah Wood, who starred as hobbit Frodo Baggins in four of Peter Jackson's films, has shared his reservations with the television adaptation.
The show promises to take viewers to never-before-seen locations in Middle Earth and has already been renewed for a second season. Fans of the franchise will have to wait though, as the show doesn't have a confirmed release date but is expected for the later half of 2021.
Those wishing to return to Middle Earth ahead of the show's release need not look further than HBO Max, as both of Peter Jackson's trilogies, The Hobbit and The Lord of The Rings, are currently streaming on the platform. Now is a perfect opportunity to revisit the fellowship, so long as you can handle the run-times.
Your Daily Blend of Entertainment News
Into tracksuits by Paulie Walnuts, the Criterion Channel and Robert Eggers.