Does Marvel Have A Major Falcon And Winter Soldier Twist Coming For Wyatt Russell's John Walker?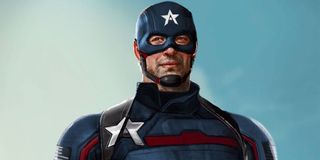 Marvel Cinematic Universe fans may already be deep in superhero goodness, thanks to Disney+'s WandaVision. However, many are already looking forward to the MCU's new show, The Falcon and the Winter Soldier. The show will be here soon and, to celebrate this year's Super Bowl, Disney and Marvel Studios released a new trailer that showcased plenty of action as well as the humorous relationship between Sam Wilson and Bucky Barnes. Although fans received a lot of new footage, there was one aspect, more specifically one character, who is still only being teased, Wyatt Russell's John Walker. And it's making me wonder if there's a twist in store for U.S. Agent.
Marvel Studios has made it clear that Wyatt Russell's John Walker is one of the new faces audiences will see in The Falcon and the Winter Soldier. From what comic book fans can gather, Walker's role will be similar to his role from the comics. In that case, he became the government's candidate to be the new Captain America after Steve Rogers stepped down. Despite this, the show has kept Walker mostly out of promotional material, even going as far as to shrink him in the latest poster. This leads me to believe there could be more to his character than meets the eye. So let's discuss what could be in store for Walker:
Will John Walker Turn Out To Be The Main Antagonist Of The Falcon And The Winter Soldier?
So far, many are pegging Daniel Brühl's Helmut "Baron" Zemo as the main villain of The Falcon and the Winter Soldier, but John Walker can easily slip into the villain role as well. Walker has been many things in the comics, a hero, an antihero and even a villain. Before becoming U.S. Agent, he was first introduced as the villain Super-Patriot. During this time, Walker was still trying to take Captain America's place as the symbol of the nation and even resorted to staging dangerous situations in order to prove his skills as a "hero." This would eventually lead him to come to blows with Steve Rogers and, after a fight, Walker would actually emerge victorious.
Of course, Marvel Studios never goes strictly by the book so, if Wyatt Russell's John Walker does take a villainous turn, the studio may go in a direction that makes more sense to the cinematic universe. While it hasn't been officially confirmed, it would appear The Falcon and the Winter Soldier will see the MCU debut of the terrorist group known as the Flag-Smashers. In the comics, there was actually a character known as the Flag-Smasher, who was an enemy of Captain America. As mentioned, Marvel Studios likes to revamp characters for the purposes of their franchise, so what if Walker actually ended up being the leader of this terrorist group, essentially the MCU's version of Flag-Smasher? It sounds crazy, but it's definitely not impossible.
So as you can see, John Walker definitely has some villainous roots Marvel Studios can utilize for his MCU debut, and there's always the chance The Falcon and the Winter Soldier ends with Sam and Bucky going toe to toe with him and not Zemo. Still, there's always the possibility that Marvel Studios is planning to go in different direction.
Could John Walker Become One Of The MCU's Newest (Anti)Heroes?
With John Walker being mostly hidden by Marvel Studios, it's clear the company doesn't want much known about the character at this point, indicating that something big is coming. So on the off chance he doesn't turn out to be the villain, could he at the very least stick around in the MCU in a significant capacity? Someone is more than likely going to take up the mantle of Captain America by the end of the series and, while Walker may hold the shield now, it probably won't be him. Nevertheless, that doesn't mean the U.S. Agent couldn't remain an entity in his own right. Some may assume he'll be a one-and-done for the show, but there's still plenty of room for him down the line. After all, he has had stints as an Avenger and has worked with other Marvel organizations like Force Works and S.T.A.R.S.
Marvel doesn't have to make Walker a straight-up hero in order to keep him around, though. In many of his incarnations, he's been shown to be more of an antihero with somewhat questionable morals. He's also been a part of teams that are a bit more questionable when it comes to their "heroics." This includes the Dark Avengers and the Thunderbolts, two teams that have at one time or another been rumored to be introduced into the MCU. Making Walker an antihero gives the sprawling cinematic universe something it doesn't have much of. Most characters in the MCU are clearly defined, and it would be nice to have someone who's a bit more morally ambiguous than most.
So if the plan is for Walker to be a hero or antihero, then one would probably wonder why Marvel has chosen to hide him from the marketing campaign. It's an interesting choice, but it's possible Marvel wants to keep marketing solely on Sam, Bucky and other returning characters rather than any of the new major players. With this, some won't be able to pre-determine or better speculate how things pan out for U.S. Agent, which is probably how Marvel likes it.
It would honestly be nice to see more of Wyatt Russell's John Walker in The Falcon and the Winter's Soldier's promotional materials. At this point, we haven't even seen the character's face, aside from a piece of concept art (and leaked set photos). But if anything, Marvel Studios' hesitation to show more of him only makes me more curious and excited to see how Walker is depicted in the MCU. And if he's anything like any incarnation of his comic book counterpart, he's sure to be an interesting guy.
The Falcon and the Winter Soldier debuts on Disney+ on March 19 and, in the meantime, you can check out new episodes of WandaVision, which currently air Fridays on the streamer.
Covering superheroes, sci-fi, comedy, and almost anything else in film and TV. I eat more pizza than the Teenage Mutant Ninja Turtles.
Your Daily Blend of Entertainment News
Thank you for signing up to CinemaBlend. You will receive a verification email shortly.
There was a problem. Please refresh the page and try again.