How Riverdale's Big Time Jump May Deliver A 'Really Tragic' Fate For One Major Character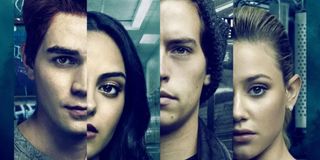 Warning: Spoilers ahead for Riverdale Season 5, Episode 4 "Chapter Eighty: Purgatorio." Read at your own risk!
This week's episode of Riverdale took the series where it's never gone before: into the future! After the gang graduated high school, they all went their separate ways. Seven years later, everyone was shown being reunited with each other, but according to the showrunner, the happy reunion might not last very long.
The new episode gave Riverdale fans a peek at the Core Four living their new lives; Archie's in the army, Betty's an FBI trainee, Veronica's an Upper East Sider and Jughead is a struggling writer. During Betty's story, it was revealed that there's a new serial killer on the loose, and Betty got in too close. Creator Roberto Aguirre-Sacasa told TV Guide that this serial killer is different from past iterations on the show, and that in the following episode, something potentially tragic will happen to a major character that fans have known since Season 1. Aguirre-Sacasa explained:
The episode in question was originally going to be the season premiere, but then production got delayed and made it so that the final three episodes of Season 4 became the first three of Season 5. Still, it all worked out. In any case, "Purgatorio" revealed that Betty found out the location of the new serial killer, nicknamed the Trash Bag Killer, and instead of waiting and calling for backup, she went in alone, only to find the victim already dead before she was taken hostage. Betty was held in captivity for two weeks and although she claims she's okay now, her nightmares beg to differ.
The episode then ended with a new character (whom fans have only known for a couple of seconds) leaving town via hitchhiking, and Jughead's narration tipped viewers off that she never got to where she was going. While not much is known about who this killer is or what his motives are, it already seems like he could be a lot worse than the previous serial killers the gang has encountered, like The Black Hood, also known as Betty's father, the Gargoyle King, and even Charles Smith, Betty and Jughead's own half-brother.
The gang might have come back to a changed town after graduation now that Riverdale is controlled by Hiram Lodge, but it looks like it's still a magnet for mystery and murder. But just who is going to suffer that tragic fate? While Roberto Aguirre-Sacasa didn't say, could it maybe be F.P. Jones, considering Skeet Ulrich has officially left the show? The time-jump is surely going to keep everyone watching Riverdale on the edge of their seats every Wednesday night on The CW.
Passionate writer. Obsessed with anything and everything entertainment, specifically movies and television. Can get easily attached to fictional characters.
Your Daily Blend of Entertainment News
Thank you for signing up to CinemaBlend. You will receive a verification email shortly.
There was a problem. Please refresh the page and try again.