Riverdale's Skeet Ulrich Says Goodbye After 5 Seasons With Touching Message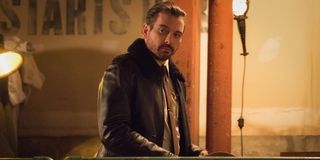 Skeet Ulrich is saying goodbye to Riverdale after five seasons of playing FP Jones. In February, Ulrich and Marisol Nichols announced they were departing the series after its fourth season. However, production on Riverdale Season 4 shut down in March due to the pandemic and the cast was unable to finish filming its remaining episodes, resulting in Ulrich returning for the beginning of the fifth season. The CW drama has resumed filming and Ulrich bid farewell to the show with a picture and a touching message.
Production on Riverdale Season 5 began last month, with showrunner Roberto Aguirre-Sacasa sharing a steamy photo of KJ Apa's Archie to properly kick things off. While the shortened fourth season brought Skeet Ulrich back for Season 5, viewers shouldn't expect him to stick around for long. On Instagram, the actor shared a photo and caption to officially say goodbye to the show. He also confirmed that October 15 was his last day filming Riverdale. Here's what Ulrich wrote:
I'm sure that Riverdale fans will also miss Skeet Ulrich and the badassery he brought to his character. As Jughead's father and a member of the Southside Serpents, FP has been a staple of the series since the beginning. FP has gone through his own personal drama and it was revealed in Season 3 that he and Betty's mother Alice were briefly together in high school and that they had a secret son.
The image Skeet Ulrich posted alongside the caption is pretty awesome. The actor is standing stoically in the middle of the street while sporting FP's classic leather jacket. There is some fog, and the headlights of a few cars brighten up the photo to give it a cool effect. Check out Ulrich's Riverdale post below!
While the production shutdowns were necessary (if unfortunate), there were a couple of bright spots regarding actors who would have otherwise left their respective shows last season. America Ferrera, for example, was set to exit Superstore at the end of its fifth season. However, the shutdown left her final storyline incomplete and it was confirmed that she would be back to bid a proper farewell in Season 6.
It seems the shutdown also instigated Skeet Ulrich's return to Riverdale and I can't complain about getting to see FP's storyline play out as it was always intended to. How he'll be written out of the show is still unclear, but it'll be refreshing to see him again in Season 5 before he's gone for good.
Riverdale Season 5 is set to premiere in January 2021 on The CW. You can catch up with the first four seasons of the show on Netflix. For more on what to watch in the meantime, be sure to check out our 2020 fall TV premiere schedule.
Your Daily Blend of Entertainment News
Your Daily Blend of Entertainment News
Thank you for signing up to CinemaBlend. You will receive a verification email shortly.
There was a problem. Please refresh the page and try again.