When NCIS Will Return With Maria Bello's Final Episode After Latest Season 18 Break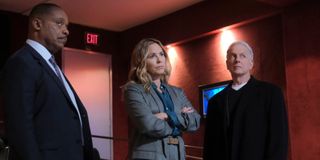 (Image credit: CBS)
NCIS wrapped its emotional latest episode by not only revealing a devastating loss for Palmer, but also setting up the exit of Maria Bello's Jack Sloane. Bello's departure was announced before Season 18 even premiered in the fall, but the end of her time on NCIS is very much nigh. That said, fans have a wait ahead of them before finding out how NCIS says goodbye to Jack despite. The long-running CBS series is heading into another break, but at least we know when it will be back.
The next new episode of NCIS will air on Tuesday, March 2 in its usual 8 p.m. ET time slot on CBS. Called "True Believer," the March 2 premiere date means that fans will have to go weeks without the payoff on Jack telling Gibbs that she's ready to leave NCIS. According to the episode description for "True Believer" after the Season 18 break for the rest of February, however, Jack's departure might not be as simple as giving her notice and heading off to Costa Rica to open a bar.
"True Believer" will see Jack's name discovered at the site of an abandoned bus with a dead driver... in Afghanistan. Gibbs will join her on a trip to find a group of girls who had been kidnapped from the bus. On the home front for NCIS, McGee (clearly recovered from his ordeal earlier this year) along with Bishop and Torres will track a hacker who emailed information to the Taliban that is compromising.
Jack and Gibbs traveling to Afghanistan because her name was discovered somewhere with a dead body and a group of kidnapped girls doesn't really bode well for what seems to be Jack's final case with NCIS. The episode description doesn't actually confirm that this is Maria Bello's farewell episode, but the actress was scheduled to appear in eight episodes of NCIS Season 18, and "True Believer" will be the season's eighth, and it already sounds like the most Jack-centric episode of the season.
Throw in the setup in the previous episode before the break, and I think it's safe to say that fans should prepare to say farewell to Maria Bello's character. That's not to say that it will be goodbye forever, since NCIS co-showrunner Frank Cardea previously promised an exit for Jack that will be worthy of what she deserves after all the years since Season 15. If you ask me, that doesn't sound like the message of a showrunner who intends to kill a character off!
Then again, NCIS has proven that even seemingly being killed off doesn't mean a character is gone for good, so there are reasons to be optimistic about Jack's future, even if she's not going to be around anymore. I'm just hoping that whatever happens in this case allows her to leave NCIS without being forced out or in trouble because of her name involved in what happened. At the very least, fans have plenty to speculate about over the weeks of the latest break between NCIS episodes.
See what happens for Jack's final episode when "True Believer" marks NCIS' return to CBS (opens in new tab) on Tuesday, March 2 at 8 p.m. ET. For more of what's on the way as spring gets closer and the weather (hopefully) warms, check out our 2021 premiere schedule. This season of NCIS will be unusually short, and actually half over by the end of "True Believer," so don't miss an episode. As for whether Jack and Gibbs will get at least one big romantic moment before she's gone, find out on March 2!
Resident of One Chicago, Bachelor Nation, and Cleveland. Has opinions about crossovers, Star Wars, and superheroes. Will not time travel.
Your Daily Blend of Entertainment News
Thank you for signing up to CinemaBlend. You will receive a verification email shortly.
There was a problem. Please refresh the page and try again.