Looks Like The Bachelorette's Clare Crawley And Dale Moss Are Hanging Out Again After Big Breakup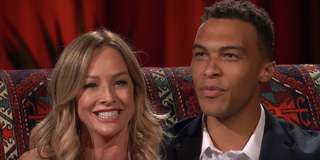 Dear Bachelor Nation, when you awoke from your peaceful slumbers this (possibly snowy) February morn, did you expect, in even the slightest way, to be reading about The Bachelorette's Clare Crawley and Dale Moss? I, for one, can certainly say that I did not dream of such a thing, and yet here we are. It hasn't even been a full month since the breakup heard 'round the world, but something's going on with those two, because it looks like Clare and Dale have been hanging out again.
As you may recall (LOL. I know you do.), Clare and Dale broke up in late January, just three months after their very speedy engagement was shown on Season 16 of The Bachelorette. And, several aspects of that split did not seem to imply that Clare and Dale would be on friendly terms so recently after the fact, but TMZ has obtained photos of the two out and about at a bar in Florida just yesterday.
Apparently, Clare and Dale were spotted at the Nokomo's Sunset Hut in Nokomis, Florida yesterday, where they reportedly walked in together and even saw fit to engage in a little PDA, as they hugged a few times while patronizing the establishment. According to others who were in the bar at the same time, Clare and Dale each had a Moscow mule, and stayed at the bar for about 45 minutes before leaving to walk down the waterfront, which is nearby.
Guys? I am so confused. If you look at the photos, neither of them appear to be especially happy, but they're also not distancing or wearing masks, so...what? What does this mean?! Is this just a post-breakup reckoning? If that's the case, couldn't they have done it over the phone or video chat, and not traveled from their respective homes (which I believe to be Sacramento for her and New York for him) to meet in person, when they likely haven't spent any time together in almost a month? Could they be trying to work things out and actually considering getting back together?
The idea of that seems rather unlikely considering how their breakup went down, but everything about how Clare and Dale got into a relationship in the first place is unlikely. When Clare was chosen as Bachelorette early last year, we all thought things were going to go as planned, but, of course, pretty much nothing did. Because of the long break needed before they could film her season, she had time to check out all the men who'd been cast, and seemed to have set her sights on Dale very early on.
Once they met on set, it only took about two weeks for them to become engaged, which led to Clare leaving her season way early, and them riding off into the sweaty Palm Springs sunset during the fourth episode of The Bachelorette. Everything seemed hunky dory between them for the entirety of their five month engagement if one checked out their social media or watched interviews with them, right up through the first week of January. Dale then announced their split on Instagram on January 19, claiming that it was a mutual decision, which Clare disputed when she released her own statement a couple of days later.
On top of that, there have been rumors that Dale was cheating on Clare for the duration of their romance, which sources have said isn't true, noting that the woman Dale was spotted with was simply a long-time friend who was trying to help him find an apartment in New York for himself and Clare. Either way, it sounds like their split was sudden and at least somewhat contentious, so them being seen with one another so soon afterward is very surprising.
But, they also could have met up in private, so, who knows? It seems that Clare Crawley and Dale Moss wanted everyone to know that they had a Florida hang, though we may never know why they did it publicly. For those of you who were heartbroken over their breakup, I suppose this might offer a small glimmer of hope that the two are trying to work things out. We'll just have to wait and see what happens next.
Yennefer's apprentice, Gilmore Girl; will Vulcan nerve pinch pretty much anyone if prompted with cheese...Yes, even Jamie Fraser.
Your Daily Blend of Entertainment News
Thank you for signing up to CinemaBlend. You will receive a verification email shortly.
There was a problem. Please refresh the page and try again.