Firefly Lane: 6 Major Differences Between The Book And The Netflix TV Show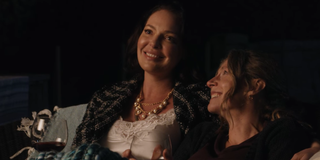 Spoilers below for Firefly Lane, both the Netflix series and the book by Kristin Hannah.
While viewers of the Netflix series Firefly Lane have been swept up in the coming-of-age tale of two best friends, the outgoing Tully Hart (Katherine Heigl) and hilariously introverted Kate Mularkey (Sarah Chalke), the TV show takes huge leaps away from the Kristin Hannah book it's based on. Firefly Lane the book is told chronologically, following Kate and Tully's friendship over three decades, taking them from teenagers into adulthood, while the Netflix series jumps back and forth, highlighting the fashion and pop culture of the decades. However, that's far from the biggest difference. With book-to-screen adaptations, plot changes and new characters are to be expected, so here are six major differences the writers of Firefly Lane Season 1 made when bringing the book to Netflix.
Kate And Johnny Don't Get Divorced In The Book
Firefly Lane the book often left Kate and readers alike questioning whether Johnny Hart settled for her and was really in love with Tully. And while Tully and Johnny's relationship sometimes strikes the same chord in the Netflix series, it's of little consequence, as Kate and Johnny (Ben Lawson) are already separated when the series begins. We're never fully given a reason for the breakup; Johnny mentions to Tully that Kate had an emotional affair, but it's unclear if that was the reason Johnny left or it happened because of issues the couple were already having.
This change in the narrative puts in motion a number of different story lines for Kate's character in the series. Firstly, she and Johnny only have one child, Marah (Yael Yurman), where in the book she and Johnny also shared twin boys. Secondly, Kate has to get a job. The book told of Kate living the "at-home" life, and though she struggled to be satisfied, it was the life she wanted and chose. The series shows Kate as assistant (to the) editor, working for a nightmarish millennial named Kimber (Jenna Rosenow), who on Kate's first day asks her to fulfill such tasks as expressing her dog's glands.
Also, because Kate is, for all intents and purposes, a single woman, we see her wonderfully awkward conquests toward finding new love. There's the aforementioned affair with Travis (Brandon Jay McLaren), who is quite lovable as Kate's "PTA crush," as well as photographer Gideon Vega (Andres Joseph), whom Kate meets at her new job. It's also revealed that in Kate and Tully's young adult days at the TV station, Kate had a semi-serious relationship with cameraman Mutt, which did not happen in the book.
Sean Becomes A Major Character With A Big Secret
Kate's little brother Sean was only a minor character in the book. He was mentioned as being present, often with a girlfriend, at Christmas or other family gatherings. But in the TV series, Sean Mularkey (Jason McKinnon) is Kate's older brother, and plays a bigger role in Kate and Tully's lives, after teenage Tully (Ali Skovbye) finds out Sean is gay when she sees him kissing his friend Robbie. Tully keeps Sean's secret, even from Kate, forming a bond between the two that Kate envies as they grow older. The series shows a small part of Sean's journey growing up in the closet, joining the Navy, getting married and having kids, and ultimately coming out.
Tully Doesn't Get Pregnant And Married In The Book
The series offers many of the same romantic connections for Tully as the book, Chad Wiley and Johnny Ryan included. But young EMT Max (Jon-Michael Ecker) was not a part of the book. Max meets Tully in a bar and becomes a recurring hook-up. When Tully finds out she's pregnant, she at first turns down Max's proposal. Then, in a leap that her book character never would have made, Tully comes to the realization that she does want to marry Max and have a family, and she proposes to him in front of his crew at the fire station. They elope in a small ceremony officiated by Johnny. But the marriage crumbles quickly after Tully's miscarriage, and just as in the book, Tully remains single and childless, though less by choice than in the book.
No Redemption For Cloud In The Book
The Netflix series may have pulled a bit of this story from Fly Away, Kristin Hannah's sequel to Firefly Lane, in which Tully's mother's background is more fully developed. The series shows Tully confronting Cloud (an excellent portrayal in all timelines by Beau Garrett ), who is working in a diner, after an expose reveals Tully's mother is not dead, as Tully tells people. Cloud says she has gotten sober, then is present as Tully recovers from her miscarriage. She even makes an appearance at Christmas with the Mularkeys. In the book, there was no redemption for Cloud. As many times as Tully tracked her down or tried to get her into rehab, Cloud asked for money, or straight-up stole from Tully, then abandoned her again.
Kate And Tully's Falling Out Is Explained In The Book
Perhaps the biggest question at the end of the Netflix series Firefly Lane is "What happened to Kate and Tully's friendship?" In the Season 1 finale, "Auld Lang Syne," we see Kate and Tully come face to face outside Kate's dad's funeral — a scene teased throughout the season — and Kate tells Tully, "When I said I could never forgive you for what you did, what do you think that meant?" But the series gives no explanation as to what transpired between the friends. In the book, the falling out was a product of Tully meddling in Kate's turbulent relationship with daughter, Marah.
Early episodes of the series touch on Tully's close relationship with Kate and Johnny's daughter Marah as being an issue for Kate. Tully signs a permission slip for Marah to get on birth control, causing a rift between Tully and Kate that lasts about a day. Though that specific situation never happened in the book, there were many other examples of Tully spoiling Marah and acting like the "cooler mom," unwittingly driving Kate and Marah further apart.
This relationship led to a huge event in the book that drove the Firefly Lane Girls apart. Tully brought Kate and Marah on her show "The Girlfriend Hour," for a live episode to speak to a family therapist about the issues they'd been having. Kate was so hopeful that she would finally find a way to connect with Marah, only to be ambushed live on air by Tully. Tully had lied to Kate about the topic of the show, which was actually "overprotective mothers and the teenage daughters who hate them." As Kate expressed confusion, the therapist told her that her parenting style was crushing her daughter's spirit. Kate then lashed out, asking the audience why they would want advice from someone who never knew love or family, before storming off stage. The two didn't speak again until Kate was on her deathbed. Which brings us to …
Kate Dies In The End
The biggest side-step from the book was the omission of the book's major tear-jerker ending. Kate was diagnosed with inflammatory breast cancer, and by the time she was able to reconnect with Tully, Kate and Johnny had exhausted all options for treatment. The last chapters of the book showed the Firefly Lane Girls reconnecting, reminiscing and lamenting that life isn't about whether you're a career woman or an at-home mom, but it's about the people you surround yourself with and the memories made. Tully gave Kate a journal for Kate to fill with stories about her life that Tully would give Kate's children when they got older.
There's no official word on when or if there will be a second season of Firefly Lane (opens in new tab). The series seemed to leave room for more though, with major parts of Kate and Tully's story left untold. Stay tuned to CinemaBlend for all the latest streaming news, and in the meantime, check out our 2021 Netflix TV Series premiere schedule, or find something to watch on Netflix during Black History Month.
Mom of two and hard-core '90s kid. Unprovoked, will quote Friends in any situation. Thrives on New Orleans Saints football, The West Wing and taco trucks.
Your Daily Blend of Entertainment News
Thank you for signing up to CinemaBlend. You will receive a verification email shortly.
There was a problem. Please refresh the page and try again.