Firefly Lane Season 1 Ending Explained: What Happened And What The Book Reveals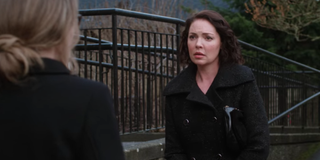 Spoilers below for Firefly Lane, both the Netflix series and the book by Kristin Hannah.
The Netflix series Firefly Lane takes a pretty big step away from the book that it's based on, particularly where major plot lines are concerned. But as the characters seemingly end up in similar places in the book and TV show, there are clues we can take from the book to possibly answer some of the questions from the Firefly Lane Season 1 ending. What happened to Kate and Tully's friendship that made Kate say she'll never forgive Tully for what she did? Is this the last we've seen of Johnny Ryan? Here's what happened to each of the main characters at the end of Season 1 and what the book might reveal about some of these cliffhangers.
What Happens At The End Of Firefly Lane, Season 1?
The Netflix series Firefly Lane tells the story of Kate Mularkey (Sarah Chalke) and Tully Hart (Katherine Heigl) over the span of three decades, starting in the 1970s, and most of the plots are wrapped up in the 2000s timeline. Tully quits her show The Girlfriend Hour after the sleazy Wilson King (Martin Donovan) takes over production, and she asks Kate to be the producer in a new show she's going to develop. Tully's mother Cloud (Beau Garrett) is also seemingly back in the picture, as she is shown arriving for Christmas with Tully and the Mularkeys. Sean finally reveals to his family that he is gay. Johnny, who left for Baghdad to cover the war, and his team get hit by an IED, leaving his fate unknown.
But Kate and Tully's story continues in a timeline that's seemingly a couple of years later. The Firefly Lane Girls come face to face at a funeral, where we find out something has happened to drive Kate and Tully apart.
The Book Possibly Explains Kate And Tully's Falling Out
Throughout Firefly Lane Season 1, we see Kate and daughter Marah outside a church, preparing to go into a funeral. At first we're made to think they might be at Tully's funeral, as the funeral scenes are edited around instances of Tully fainting and Kate and Marah saying things like, "I miss her. I know you don't like talking about her," and "Tully would have known how to do this, but I don't know how to say goodbye." By the end of season, however, we know it is Kate's dad, Bud Mularkey (Paul McGillion), who has died. On the way into the funeral home, Kate and Marah encounter Tully, and Kate steers Marah past her into the church. Kate later confronts Tully outside the church, telling her no one wants her there and she'll never forgive her for what she did.
What The Book Tells Us
Kate and Tully stop speaking to each other in the Kristin Hannah book Firefly Lane after Tully ambushes Kate on her show The Girlfriend Hour. Tully asks Kate and Marah to come on the show to talk to a family therapist about the issues they've been having. But Kate quickly learns the topic of the show is actually about "overprotective mothers and the teenage daughters who hate them." Live on the air, Kate fires back at Tully for not knowing anything about the hard choices a mother has to make. She tells the audience Tully has never known love or family. "Your own mother didn't love you, and you'd sell your soul for fame," Kate tells Tully before storming off stage. In the book, the two don't speak again for years, and it's likely this could be the unforgivable deed Kate is referring to.
Does Johnny Ryan Die In Iraq?
In the Netflix series, Kate's estranged husband Johnny Ryan (Ben Lawson) is leaving to cover the war in Iraq in 2003. In a montage at the end of the season, we see Johnny and his team trigger an IED, sending them all flying in the explosion. An unconscious Johnny is shown as the camera zooms out, leaving us wondering: Is Johnny dead?
What The Book Tells Us About Johnny's Fate
In the book, Johnny Ryan goes to Baghdad to cover a war, but it's Operation Desert Storm in the early '90s. After weeks of Kate worrying and waiting by the fax machine for an update, she receives a phone call telling her there was a bombing in which Johnny was critically injured. Kate and Tully rush to the hospital in Germany to be by Johnny's side, though Tully has ulterior motives and is using the situation to further her journalism career. Tully sneaks a cameraman into an unconscious Johnny's room and broadcasts a live update on his condition, expressly violating Kate's wishes. Because the series hasn't stayed completely true to the book's events, it's possible this situation could be what drives Kate and Tully apart. But at least there is hope that Johnny will return from Iraq, as he ultimately does survive the bombing in the book.
Cloud Is Part Of Tully's Life
Tully's mother Cloud makes fleeting appearances in Tully's adult life, most notably providing quiet support in the wake of Tully's miscarriage and failed marriage. Though she characteristically flees Tully's apartment, saying she needs space, she is last shown arriving to the Mularkeys' house for Christmas, leaving hope that she and Tully are taking small steps toward a better relationship.
What The Book Tells Us About Cloud
Cloud does not get clean nor show any kind of support for Tully in the book, despite multiple attempts by Tully over the years to help her mother or earn her approval. The series may have dipped into the Firefly Lane sequel, Fly Away, for a bit of Cloud's story line here, as Cloud does get clean and return to help Tully after a medical emergency in that book.
Sean Comes Out To His Wife
Throughout Firefly Lane Season 1, we see Sean Mularkey (played as a teen by Quinn Lord and as an adult by Jason McKinnon) struggle with his sexuality and the feeling he needs to hide that he is gay. When he and his girlfriend get pregnant unexpectedly, he marries her, telling Tully this is the only way he can have the family and children he wants. Over time, he comes out to Kate, and then at the end of the season, we learn he has come out to his wife. When she kicks him out of the house, he asks if he can stay with Kate for a while.
What The Book Tells Us About Sean
This story line was developed solely for the series. Sean doesn't play a major role in the book; he is only mentioned as having girlfriends over the years and being present at family functions. So while the book can't give us any clues as to what will happen with Sean, his coming out to his family and living with Kate might mean they can finally have the brother-sister relationship Sean formerly only shared with Tully, who had known he was gay since they were teenagers. If there is a Season 2, perhaps we'll see a new love interest for Sean?
Whether or not there will be a Season 2 of Firefly Lane (opens in new tab) remains to be seen, but I'm hopeful Netflix will renew the series to answer some of these questions. Stay tuned to CinemaBlend for all the latest streaming news, and in the meantime, check out our 2021 Netflix TV Series premiere schedule, or find something to watch on Netflix during Black History Month.
Mom of two and hard-core '90s kid. Unprovoked, will quote Friends in any situation. Thrives on New Orleans Saints football, The West Wing and taco trucks.
Your Daily Blend of Entertainment News
Thank you for signing up to CinemaBlend. You will receive a verification email shortly.
There was a problem. Please refresh the page and try again.