9 Spectacular Shows Premiering On Netflix In February 2021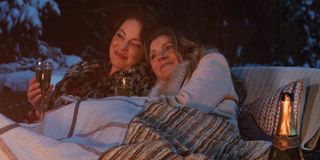 (Image credit: Netflix)
2021 is rolling on to February, and while love is in the air for some people, others will surely find a new obsession on Netflix. This month's offerings have a healthy mix of content for everyone across the board, so there will be plenty of opportunities to find the show equivalent of a soulmate. Has someone trademarked the term "showmate"? If not I have a trademark to file and t-shirts to make.
This month features a new show from a classic cartoonist, a new Katherine Heigl television series, Tiffany Haddish, and Kevin James getting comfy and cozy in the world of NASCAR. There's also stuff for dog lovers, food lovers, and those who are curious about the day-to-day involved in running a funeral home. Let's dive in and get into some of the spectacular series Netflix has on tap for February 2021.
Kid Cosmic - 2/2
From The Powerpuff Girls and Foster's Home for Imaginary Friends creator Craig McCracken, Kid Cosmic looks to tell the story of a kid who is both superpowered and imaginative. The kid comes by these powers via his discovery of five cosmic rings and lends four of them to people he knows to keep them safe from intergalactic evildoers. This is definitely a show that this adult who grew up on Cartoon Network will be watching, regardless of if my kid is interested or not.
Tiffany Haddish Presents: They Ready (Season 2) - 2/2
Tiffany Haddish Presents: They Ready is back for another season, which means the comedian/actress has six new stand up comedians she'd like to introduce to the world. This season's line-up sounds promising, with comedians with experience in late-night programs like Saturday Night Live and Late Night with Seth Meyers. Each episode will feature a 15-20 minute set from each comedian, who will ultimately hope to win a few fans with this once-in-a-lifetime opportunity via Haddish and Netflix.
Firefly Lane - 2/3
Based on the book by Kristin Hannah, Firefly Lane tells the story of a lifelong friendship between two women who first met when they were girls. Tully (Katherine Heigl) and Kate (Sarah Chalke) have been through many ups and downs in their 30-year friendship, but apparently, their friendship will last through hard times. This definitely looks like a high-profile drama that will make waves on Netflix, thanks in no small part to the leading roles played by Heigl and Chalke.
Buried By The Bernards - 2/12
Before reading the Buried by the Bernards' description, I felt reasonably sure I wouldn't want to watch a reality show about a family that runs a funeral home. In the show, Ryan Bernard and his family work to provide affordable funerals for their community. This family thrives on sarcasm, understanding, and honesty, which can definitely cause some drama. All that being said, the picture above makes them look like the coolest funeral directors I've ever seen, so I'm eager to see how this show turns out.
Nadiya Bakes - 2/12
Nadiya Hussain rose to prominence as a star following her win in Season 6 of The Great British Bake Off, and since then, it has been a rather common occurrence to see her pop in on cooking shows or as the star in her own shows. I was a big fan of Nadiya's Time to Eat last year, and while I'm still getting around to making any of the recipes she made that looked oh-so-delicious, I'm more than ready to learn more in Nadiya Bakes.
The Crew - 2/15
Kevin James plays a crew chief in a NASCAR garage, trying to cope with a new crew of tech-savvy millennials who are brought in to modernize the team. I don't know a lot about NASCAR, but I am familiar with what tends to happen in scenarios where old-school clashes with newcomers with fancy tech in a competitive industry. Tensions can run high, people can be stuck in their ways, and everyone tends to learn a little something. Kevin James is the master of sitcoms, so I'm expecting this one to find an audience at Netflix relatively quickly.
Behind Her Eyes - 2/17
Netflix is relatively light on dark and twisted dramas this month, though Behind Her Eyes sounds twisted enough to make up for the limited offerings. A single mom begins an affair with her psychiatrist boss while simultaneously forming a bond with his wife. I'm not quite sure what to expect beyond that, but I can only assume this is a situation that goes south or gets twisted rather quickly. Remember what happened in You when Joe realized his girlfriend was having an affair with a therapist? If not, watch You Season 1, and then get ready for this show.
Tribes Of Europa - 2/19
The year is 2074, and thanks to a catastrophe, Europe has splintered into many different microstates vying for dominance. As is often the case in futuristic dystopian societies, it's on the shoulders of ragtag young adults to set the world right, and three siblings will certainly try to do just that in this upcoming German series. I know non-English language shows can be a bit of a hard sell for some audiences in the United States, but when it comes to sci-fi, Netflix has a solid record for delivering quality series.
Canine Intervention - 2/24
Jas Leverette runs one of the top dog training facilities in California and has changed dogs' behaviors far and wide with his methods. This definitely sounds like a show for those who enjoy pet shows or anyone in the California area looking for an answer to their mischievous pet. I'll watch because I like to see dogs that misbehave more than my own, though those are increasingly hard to come by these days. Hopefully, this show takes off, and Leverette will take his show on the road, specifically to my house.
Catch all these shows and more during the month of February on Netflix. As always, continue to stick with CinemaBlend for all the latest happening in television and movies.
Mick likes good television, but also reality television. He grew up on Star Wars, DC, Marvel, and pro wrestling and loves to discuss and dissect most of it. He's been writing online for over a decade and never dreamed he'd be in the position he is today.
Your Daily Blend of Entertainment News
Thank you for signing up to CinemaBlend. You will receive a verification email shortly.
There was a problem. Please refresh the page and try again.