What The Scrubs Cast Is Doing Now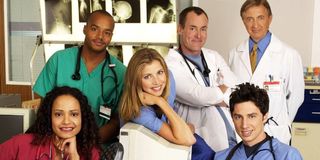 Over the course of its turbulent television run, Scrubs became the little show that could. Despite inconsistent ratings, a station that never really knew what to do with it, a shifting date-and-time slot, a cancellation or two, and a network change, among other problems, Bill Lawrence's beloved hospital dramedy surprisingly made it to nine seasons — even though the last season, which became a soft reboot, was contested among fans.
Nevertheless, in the series that turned Zach Braff into a household name, Scrubs became a lovably charming, heartfelt comedy-dramedy on the medical profession, with its real-life setting, relatable characters and high-concept comedy mixed with realistic pathos, earning a cult following and a loyal fandom. It's been a little over a decade since we last saw the doctors, resident nurses and other staff members of Sacred Heart Hospital — if you can believe it. Here's what Scrubs cast is doing now.
Zach Braff (Dr. John "J.D." Dorian)
As Dr. John "J.D." Dorian, the fanciful, good-hearted protagonist/narrator of Scrubs who is prone to daydreams, Zach Braff gave his most recognizable performance in Scrubs. Following the show's end in 2010, Braff continued to split his time between film and TV. He had a supporting role in 2013's Oz the Great and Powerful and he starred in the 2012 drama The Color of Time, while also making appearances in The Exes, Cougar Town, Community, Undateable, Inside Amy Schumer, and BoJack Horseman, where he voiced a fictionalized version of himself. Notably, though, Braff has been spending more time behind-the-camera. He co-wrote, directed, produced, and starred in his sophomore film, Wish I Was Here, which had a controversial Kickstarter campaign. He also directed the 2017 studio comedy, Going In Style. Furthermore, Braff headlined, produced, and directed the short-lived ABC series, Alex Inc.
Up next, Zach Braff is set to be seen in the action film, The Comeback Trail, and the drama, Percy. Additionally, following his tenure on Scrubs, Braff made some appearances on the stage. He starred in the 2011 production of All New People, which he also wrote. He also got the lead role in 2014's musical adaptation of Bullets Over Broadway, which fittingly showed on Broadway. Also, earlier this year, Braff started the podcast, Fake Doctors, Real Friends, with Donald Faison where they re-watch Scrubs episode-by-episode and share their thoughts, anecdotes, and memories making the episode. In his personal life, Braff is dating actress Florence Pugh, which has also sparked controversy. Pugh recently addressed it on her social media account.
Sarah Chalke (Dr. Elliot Reid)
As the eccentric-yet-lovable Dr. Elliot Reid, the passionate (if clumsy) Sacred Heart doctor who has an on-again/off-again relationship with J.D., Sarah Chalke was one of our primary leads in Scrubs. A former child actress previously known best for Roxanne, Chalke has been acting for years, though Scrubs was one of her most famous projects. Since the show's run, Chalke was notably seen in reoccurring roles in How I Met Your Mother and Cougar Town, also from Bill Lawrence. She was the lead in the short-lived ABC series How To Live With Your Parents (For The Rest Of Your Life) and she had major parts in Speechless and Backstrom. She also starred in Mother's Day and Netflix's The Wrong Missy.
Chalke currently lends her voice to Adult Swim's Rick & Morty. She'll soon be star in the drama series, Firefly Lane, from Lawrence as well.
Donald Faison (Dr. Chris Turk)
As the charismatic Dr. Chris Turk, the easygoing surgeon as Sacred Heart Hospital who has been J.D.'s best friend and roommate since college, Donald Faison shared an enormous amount of chemistry with Zach Braff, and he's easily one of the most likable and winning characters on Scrubs.
Prior to Scrubs, Faison was best known for Clueless, both the 1995 film and the television series of the same name, as well as Remember the Titans, and Waiting to Exhale. Following his time on the NBC/ABC series, Faison starred in the TV Land sitcom The Exes, and he appeared in Skyline, Kick-Ass 2, Pitch Perfect, and Zach Braff's Wish I Was Here. Faison also voices Hype Fazon on Star Wars Resistance, in a role written for him specifically. Recently, the actor starred in ABC's short-lived Emergence. He co-hosts the Scrubs podcast, Fake Doctors, Real Friends, with Braff.
John C. McGinley (Dr. Perry Cox)
As the curmudgeon Dr. Perry Cox, the seasoned, sarcastic Sacred Heart doctor who became J.D.'s unwitting mentor, John C. McGinley played a substantial role in Scrubs. A veteran character actor who appeared in Point Break, Office Space, Se7en, Platoon, Wall Street, and more before his time in Scrubs, this performance became McGinley's most commonly-known part, with his prickly-yet-charming demeanor becoming as oddly endearing to us as it was to J.D.
Since hanging up his robes, McGinley kept primarily to TV. He's had reoccurring roles in WordGirl, Burn Notice, and, as of last year, Chicago P.D. McGinley also reunited with Bill Lawrence for TBS' short-lived multi-camera sitcom, Ground Floor. He also played the lead in IFC's horror-comedy series, Stan Against Evil and starred in 42, Alex Cross, The Belko Experiment, and Battle of the Sexes. In 2014, McGinley appeared on Broadway in Glengarry Glen Ross.
Neil Flynn (The Janitor)
As the elusive The Janitor, who might've been named Glen Matthews, Neil Flynn played an avid trickster who was constantly avoiding work and pulling pranks on the various doctors and staff members of Sacred Heart Hospital. Once meant to be a figment of J.D.'s imagination, Flynn's role in Scrubs grew as the show continued. He became a main cast member for most of the show's run, though his backstory and other personal details were made mysterious by his habitual lying.
Also known for Mean Girls, as well as The Fugitive, Magnolia, Indiana Jones and the Kingdom of the Crystal Skull, and more, Flynn was notably seen in ABC's The Middle when Scrubs wrapped up. That network sitcom also ran for a very long time, wrapping up in 2018. Now, Flynn stars in NBC's new sitcom, Abby's. He also did a voice role in Hulu's Solar Opposites.
Judy Reyes (Carla Espinosa)
As Carla Espionsa, the head nurse of Sacred Heart's Intensive Care Unit who eventually marries and has kids with Turk, Judy Reyes was a sharp, dryly funny personality in Scrubs. Following Scrubs, Reyes picked up a leading role in Lifetime's Devious Maids. She also appeared in Jane the Virgin, Law & Order: SVU, iZombie, Fresh Off The Boat, Blue Bloods, Search Party, Better Things, and Succession. Reyes also appears on One Day at a Time. Since 2017, Reyes has played a starring role in TNT's crime dramedy, Claws. The series was renewed for a fourth and final season, though its production was shut down due to the coronavirus pandemic. She'll next be seen in the drama, Sorta Like A Rock Star.
Ken Jenkins (Dr. Bob Kelso)
As Dr. Bob Kelso, the Chief of Medicine who has two thumbs and usually doesn't give a crap, Ken Jenkins was a persistent part of Scrubs' long-running history. Though ultimately a supporting character, his presence loomed largely over the series, providing many both comedic and dramatic scenes. With over a hundred credits to his name, Jenkins has been a hard-working actor throughout his career, appearing in several noteworthy movies and shows. Since Scrubs, Jenkins had a reoccurring role in Cougar Town, as well as prominent roles in Black-ish, Gravity Falls, and Netflix's A Series of Unfortunate Events. He also appeared in HBO's All the Way. Jenkins was most recently involved in the Sundance comedy Girls Weekend, which was directed by Kyra Sedgwick.
Robert Maschio (Dr. Todd "The Todd" Quinlan)
As Dr. Todd Quinlan, better known as "The Todd," Robert Maschio's crass, confident macho-man with an overactive lubido rarely took the center stage but his antics were a constant source of rambunctious hilarity. Since the show ended, Maschio hasn't picked up as much acting work as his peers. He does the occasional film or television gig, notably with roles in Undatable, Bones, and Men at Work, but it appears Maschio has made a bit of a career shift.
Specifically, Maschio is apparently in real estate now, though he is also on Cameo (opens in new tab). If you have $95 to spare, you can get a personalized response!
Sam Lloyd (Ted Buckland)
As Ted Buckland, Sacred Heart's sad-sack lawyer whose life was filled with hilariously depressing anecdotes, Sam Lloyd was a darkly funny presence on Scrubs. Outside of Scrubs, Lloyd also starred in Desperate Housewives, Cougar Town, The Middle, Modern Family, Bones, Shameless, Dr. Ken, and American Housewife.
Tragically, in early 2019, Lloyd was diagnosed with inoperable brain cancer, which was later revealed to be metastatic lung cancer that spread throughout his body. His wife had also recently given birth to their first child around the time of this devastating diagnosis. On April 30th, 2020, Lloyd passed away in Los Angeles at 56. Several Scrubs writers and cast and crew members expressed their condolences and offered thoughts and happier memories of their time spent with the belated actor, celebrating his kind heart, friendly spirit, and warm personality. He is certainly missed.
Christa Miller (Jordan Sullivan)
As Jordan Sullivan, a board member of Sacred Hospital and the ex-wife of Dr. Perry Cox with a complicated relationship to the hard-to-please doctor, Christa Miller had a standout supporting role in Scrubs. Married to creator Bill Lawrence, Miller was most notably seen in The Drew Carey Show prior to her appearance on Scrubs, though this hospital series ultimately became her second most-commonly known performance. Following Scrubs' end, Miller worked with her husband once more with ABC/TBS' Cougar Town, where she got a larger role in the proceedings. Additionally, Miller appeared in episodes of Undateable and Whiskey Cavalier, and she also had a role in 2018's home invasion thriller, Breaking In.
Dave Franco (Cole Aaronson)
Though he's better known for his work that followed, Dave Franco briefly appeared in Scrubs during its final season as Cole Aaronson. Having played minor roles in various films and shows before his time in Bill Lawrence's long-running hospital series, Scrubs was one of Franco's first major roles, though he'd be better remembered for his other projects.
Notably, Franco starred in 21 Jump Street, Nerve, The Disaster Artist, If Beale Street Could Talk, 6 Underground, the Neighbors movies, and the Now You See Me movies, to name a few. He also played voice roles in The LEGO Movie and The LEGO Ninjango Movie. Next, Franco's directorial debut, The Rental, a horror-thriller he also co-wrote, comes out on July 24th. He's also set to star in Quibi's The Now. It was recently announced that Now You See Me 3 is in development. He's married to Alison Brie.
Eliza Coupe (Denise "Jo" Mahoney)
As Denise Mahoney, a new resident physican of New Sacred Heart Hospital who bothered J.D. with her callous personality, Eliza Coupe was a late-in-the-game addition for Scrubs. Joining the medical show for its last two seasons, she didn't have as long a stay as some of her other cast members, though she would go on to star in some other popular TV series. Notably, Coupe played one of the leads in Happy Endings, another turbulent dramedy with a loyal fanbase. Coupe also played a leading role in USA's short-lived comedy series, Benched. The actress also had prominent roles in shows like Casual, Quantico, House of Lies, The Mindy Project, and Superstore. She can currently be seen in Hulu's sci-fi comedy series, Future Man.
Who is your favorite Scrubs actor or actress? Let us know in the comment section below!
Your Daily Blend of Entertainment News
Will is an entertainment writer based in Pittsburgh, PA. His writing can also be found in The Playlist, Cut Print Film, We Got This Covered, The Young Folks, Slate and other outlets. He also co-hosts the weekly film/TV podcast Cinemaholics with Jon Negroni and he likes to think he's a professional Garfield enthusiast.
Your Daily Blend of Entertainment News
Thank you for signing up to CinemaBlend. You will receive a verification email shortly.
There was a problem. Please refresh the page and try again.