Supernatural Veteran Jared Padalecki Has Advice For His Walker Costar About Handling Fans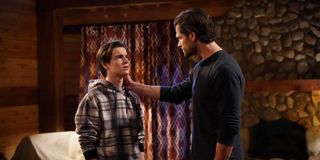 20 years after the end of Walker, Texas Ranger, The CW premiered its reboot Walker, starring Jared Padalecki as the Chuck Norris-originated lead character. Padalecki is no stranger to the network, as The CW hosted his long-running drama Supernatural, which ended before Walker's premiere. Although the western has already featured a number of actors from The CW's Supernatural, including Padalecki's own real-life wife, there are of course fresh faces as well. For Kale Culley, who plays Padalecki's on-screen son, Walker is his first series with more than just minor appearances, and Padalecki gave the 15-year-old actor some advice when it comes to handling fans.
Kale Culley talked about his excitement when it comes to playing August Walker in The CW's Walker for an interview with Entertainment Weekly. There, the teen star shared the advice that Jared Padalecki gave him when it comes to meeting eager fans in real life. In the young actor's own words:
This is definitely pretty sound advice, especially for a young actor whose career is just starting to take off. Headlines of actors being publicly rude to fans, or even assaulting them, are pretty much never a good thing for a celebrity's career, regardless of what the situation was. Plus, being in a network reboot of a pretty famous series 20 years after the original is a big deal, especially for it being Culley's first major role. He's in a good place to just enjoy whatever may come with that.
Kale Culley would be hard-pressed to find someone who is more versed on handling die-hard fans than Jared Padalecki. Padalecki's 16-year stint as Sam Winchester on Supernatural put him at the center of one of the most passionate TV fandoms that there is. The fandom is so involved that the writers of Supernatural even incorporated it into the actual show, kind of breaking the fourth wall in the process.
Supernatural didn't get 15 seasons on the air by ignoring viewers and neglecting all of its fan-favorite characters; even though a number of them died, it didn't always take the first time. In fact, being kind to fans can pretty much only help shows. There have been a number of cases in which online fan fervor had quite a bit to do with either bringing a show back on the air, or keeping a character from meeting an untimely departure from a show. There was certainly enough Walker, Texas Ranger love out there to convince network execs to bring it back, and some of that will now be directed at Kale Culley.
It seems like Jared Padalecki has taken a shine to Kale Culley, whether it be because they play father and son in the show or that Culley is somewhat of a fresh face in Hollywood, just like Padalecki was when he was in Gilmore Girls. That can only mean good things for Culley, though, because Padalecki is a veteran at this point, and even though Walker is a new series, his fanbase has stuck with him. And everyone can tune into new episodes of Walker on The CW at 8:00 p.m. ET on Thursday nights.
Constantly thinking about books, coffee, and the existential dread I feel from Bo Burnham's Inside. While writing I'm also raising a chaotic toddler, who may or may not have picked up personality traits from watching one too many episodes of Trailer Park Boys.
Your Daily Blend of Entertainment News
Thank you for signing up to CinemaBlend. You will receive a verification email shortly.
There was a problem. Please refresh the page and try again.