How Two And A Half Men's Charlie Sheen Feels About His 'Winning' Comments A Decade Later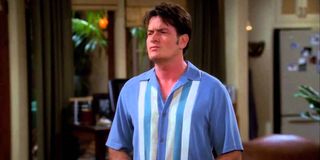 Charlie Sheen, at one time, seemingly had it all. He was the highest paid Hollywood actor on TV, raking in almost 2 million per episode of Two and a Half Men, and had a solid, iconic background in film. The Red Dawn star, though, suffered in his personal life and had an infamous meltdown that led to the steep decline of his career. While he appeared to believe himself on top of the world back then, Sheen can now look back on his "winning" comments from 10 years ago as they really were: an unfortunate break in both mental and physical health.
Charlie Sheen's "Tiger Blood" and "Winning" rants skyrocketed his popularity. His social media blew up and, at the time, he broke records for reaching one million followers on Twitter so quickly. Even though that may sound like a good career move, it really wasn't. People all over the world were tuning in to Sheen's meltdown, and having an audience's judgement really isn't great for anyone's mental health. So in addition to dealing with drugs and domestic violence charges his struggles were broadcast for the world to see. The Platoon actor looks back on that time as trading his career "for a hashtag". In Sheen's own words:
While Charlie Sheen obviously isn't thrilled about how things went down back then, he does understand that he should have done things differently. He was offered help in the form of rehab to save himself and his career, and the actor admittedly had options. In the same interview with Yahoo! Entertainment, Sheen takes ownership of his past actions:
Of course, being in the mental state he was in back then, there may not have been much he could have controlled compared to someone not having the same struggles. Charlie Sheen was in a haze of drugs, his actions clearly of someone not in their right mental state.
When thinking back to how the overly confident meltdown came about, Charlie Sheen says he simply made a classic list of pros and cons for his life. Being rich and famous, there were clearly some "winning" pros on that list. Even so, Sheen was still struggling mentally. Here are his exact words on where his head was around the time of the meltdown:
Like a lot of other stars who started their careers early in life, Charlie Sheen's personal life was not all sunshine and roses. His struggles with drugs and mental health are not uncommon and, when you add in the public scrutiny that he faced amid a huge meltdown, it's no wonder he seemed to go off the deep end a little bit. A decade later though, even though his career has not quite rebounded, Sheen does appear to have turned over a new leaf and can take responsibility for his past. The best we can do is to wish him happiness and continued sobriety.
Constantly thinking about books, coffee, and the existential dread I feel from Bo Burnham's Inside. While writing I'm also raising a chaotic toddler, who may or may not have picked up personality traits from watching one too many episodes of Trailer Park Boys.
Your Daily Blend of Entertainment News
Thank you for signing up to CinemaBlend. You will receive a verification email shortly.
There was a problem. Please refresh the page and try again.