America's Got Talent Judge Sofia Vergara's Court Battle With Ex Has Finally Been Resolved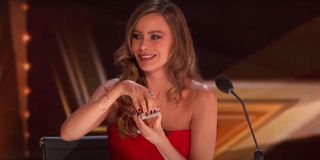 (Image credit: America's Got Talent)
Sofia Vergara, one of the highest paid TV actresses in the world, successfully made it through the end of her long-running show Modern Family and maneuvered her way into becoming a judge on America's Got Talent. Vergara's journey away from her ex-fiancé Nick Loeb, however, has been somewhat less smooth, as the two have been engaged in a court battle since 2017. Only now, four years later, has that court case been resolved.
The legal back-and-forth between Sofia Vergara and her ex-fiancé Nick Loeb stemmed from custody rights to the frozen pre-embryos they created while still a couple. Legal documents obtained by People reveal that a Los Angeles Superior Court judge has sided with Vergara, so in essence, her ex cannot "create a child without the explicit written permission of the other person." And if Vergara, who is now married to Justice League's Joe Manganiello, doesn't want to allow Nick Loeb to use the embryos with anyone, then she doesn't have to.
The court battle has been a contentious one, to say the least. Sofia Vergara filed in 2017 to block Nick Loeb's use of the embryos, and ever since then, it has been a back=and-forth over fees and custody rights between the two.
Women's reproductive rights have been a heated topic of conversation for many years in the United States. But it wasn't until Sofia Vergara's court battle that a nationwide debate sparked over parental rights of embryos. It pivoted the conversation to who the embryos belong to when they are no longer in the woman's body. The judge's decision in Vergara's case upheld what she was claiming since the beginning of the drama – that both she and Loeb signed legal documents stating that they both had to agree to bring children to fruition from the embryos. All the way back in 2015, Sofia Vergara said this on The Howard Stern Show,
Regardless, the judge's decision this week is good news for Sofia Vergara as she continues to move on with her life. Her pivot from the fast-talking Modern Family favorite to the first Latina judge of America's Got Talent has been spectacular for fans to watch. NBC confirmed as recently as Tuesday that America's Got Talent would be back for Season 16, and Vergara along with it.
In the interim, Sofia Vergara hasn't let the court drama get her down. If anything, she has become notorious for her internet-breaking Instagram thirst traps. The 48-year-old actress is not shy with her words or her body, at all. Whether it is an old 1990s modeling pic or a more recent thong shot, the Internet and the American public love what Vergara is working with.
The last chance for virtual auditions for America's Got Talent is Saturday, March 6, so if you've got some amazing skills to put on display, it's time to show them off.
Freelance writer. Favs: film history, reality TV, astronomy, French fries.
Your Daily Blend of Entertainment News
Thank you for signing up to CinemaBlend. You will receive a verification email shortly.
There was a problem. Please refresh the page and try again.