How The Flash Will Handle The Fallout Of Barry's Fateful Decision About Iris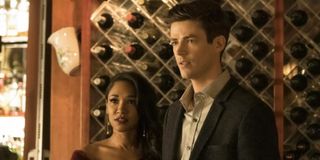 Warning: Spoilers ahead for The Flash Season 7, Episode 2, "The Speed of Thought." Read at your own risk!
The latest episode of The CW's The Flash ended with Barry making a surprising decision concerning the Mirrorverse after discovering that he and Team Flash could save either Iris or Kamilla and Singh, but not all three. Due to his new power of speed-thinking, mixed with the artificial Speed Force, Barry's emotions were almost no more. Since Iris knew more about Eva McCulloch, though, it was the logical decision to save her, though when he opened the portal, Iris wasn't all that willing to go, as Kamilla and Singh were injured. And as you would expect, there are going to be some repercussions.
Grant Gustin spoke to TVLine about Barry's decision and how different the more thought-filled hero was with the team up until the point when he sees his loving wife and crime-stopping partner Iris is injured. Gustin explained:
At the beginning of the episode, Barry couldn't help but blame himself for the Mirror Mistress getting as far as she has, saying that if he could have just seen through Mirror Iris, none of this would be happening. This definitely isn't the first time Barry's enemies have used his heart as a weapon against him, which he is firmly aware of, but he wants Eva to be the last one to do so. The Artificial Speed Force ultimately took him over, making him the complete opposite of who he is, and Grant Gustin says that Barry will take that realization pretty hard:
So Iris is officially out of the Mirrorverse, but Kamilla and Singh are still trapped. In next week's episode, Barry will most likely be experiencing the consequences of his actions, even if it wasn't completely on him. It'll will be interesting to watch how things play out, so be sure to watch when The Flash airs Tuesday nights at 8 p.m. ET on The CW.
Passionate writer. Obsessed with anything and everything entertainment, specifically movies and television. Can get easily attached to fictional characters.
Your Daily Blend of Entertainment News
Thank you for signing up to CinemaBlend. You will receive a verification email shortly.
There was a problem. Please refresh the page and try again.