How The Flash's Storytelling Will Change Up Yet Again For Season 7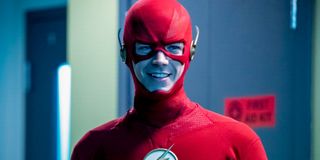 The Flash Season 6 saw some much-needed changes in its storytelling. Typically, the Scarlet Speedster would face off against one big bad per season, but Eric Wallace, who took over showrunner duties from Todd Helbing for Season 6, shook things up a bit (in a good way). He presented the new "Graphic Novel" format that basically meant the season was split between two storylines that each featured a major villain. With The Flash Season 7, Wallace revealed how the storytelling format will change up yet again.
The Flash capped off Season 6 with an unintended finale that saw Eva McCulloch wining a battle against Team Flash while Candice Patton's Iris disappeared completely inside the mirror world. Viewers were meant to learn what happened with Iris in the very next episode, but it never made it to air due to Hollywood-wide production shutdowns in March. Having the season end three episodes shy of its original finale left things up in the air, and Eric Wallace relayed to TVLine what those changes means for Season 7. Here's what he said:
Of course, getting a major twist three episodes into Season 7 may not be so typical for The Flash, but I'm honestly interested to find out exactly how the repurposed Season 6 ending will end up impacting "all of Season 7." It could make for the strongest season of the show creatively, depending on what goes down. That said, I can only hope that Iris is out of the mirror world before the first standalone Season 7 Graphic Novel arc really gets going.
Season 6 introduced Bloodwork and Eva, aka Mirror Mistress, as the big bads of the season, with sprinkles of Reverse-Flash thrown in for good measure. Bloodwork wreaked havoc on Barry and Co. in "Graphic Novel No. 1," whereas Eva's plot would have finished off "Graphic Novel No. 2" had Season 6 closed out as planned. Given the unexpected adjustments being made to The Flash Season 7, the graphic novel format will also be impacted. Here's how Eric Wallace put it:
This could mean several things. Fans would likely expect the same kind of 1-2 punch that Season 6 delivered, but perhaps Season 7's major arcs will bleed into each other in certain ways. That would make sense if Eric Wallace and the creative team plan to add more than one or two other Graphic Novel stories. Either way, the showrunner is aiming to try something fans won't see coming, and I'm ready for Season 7 to get here already!
Despite the production shutdown, The Flash showrunner previously said that he was "relieved" that it at least allowed Season 6 to end on a cliffhanger. The shortened season unintentionally gave him and the writers the opportunity to consider and deliver something different for Season 7.
On top of smoothly transitioning from the already written end of Season 6 into Season 7 proper, Eric Wallace will also have to figure out how to handle Ralph Dibny's storyline. Hartley Sawyer was fired from The Flash during the offseason for racist, misogynist, and homophobic tweets. However, there's no word yet on whether Sawyer's character will be dropped from the show completely, or if he'll be recast.
With changes on the way, The Flash Season 7 is scheduled to premiere in January 2021. Stay tuned to CinemaBlend for updates. In the meantime, be sure to check out our 2020 summer TV premiere guide for more on what to watch.
Your Daily Blend of Entertainment News
Thank you for signing up to CinemaBlend. You will receive a verification email shortly.
There was a problem. Please refresh the page and try again.