Oz: 11 Actors You Forgot Were On The HBO Series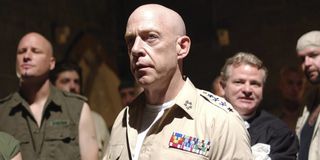 There are few shows that had as stellar of a central cast as Oz, the gritty HBO series that featured scores of established stars and up-and-coming talent during its six-season run starting in July 1997. And while fans of the show will find it hard to forget the likes of J.K. Simmons' Vernon Schillinger, Dean Winters' Ryan O'Reily, or even Ernie Hudson's portrayal of Oswald State Penitentiary warden Leo Glynn, there are other members of the cast that many forgot even appeared within the confines of Emerald City.
Below, we will break down some of the forgotten members of the Oz cast and discuss what they did before stepping foot onto one of the most offensive TV shows of all time and what they've been up to since. There's a lot to unpack here, so let's get started…
Luke Perry (Reverend Jeremiah Cloutier)
Luke Perry has long been associated with a different staple of '90s TV, Beverly Hills, 90210, but the actor had a small role in the later years of Oz. Reverend Jeremiah Cloutier, a religious zealot sent to prison for embezzlement, was not the most beloved of inmates and ended being buried alive in walls of the prison not once, but twice, before everything was said and done.
Following his stint on Oz, Luke Perry would continue to have a successful career in film and on television with roles in movies like Once Upon a Time in Hollywood and Riverdale. Perry tragically passed away in March 2019 after suffering two massive strokes before being taken off life support.
Seth Gilliam (Clayton Hughes)
Seth Gilliam, who currently plays the hard-to-kill Father Gabriel on The Walking Dead, was just one of the many Oz actors who would end up in The Wire cast following his short run as corrections officer-turned-inmate Clayton Hughes early in his career. The son of a slain Oswald Penitentiary guard, Hughes would end up being one of the more unhinged characters on the show, who attempted to assassinate Governor James Devlin and Warden Leo Glynn before meeting his fate.
Kathryn Erbe (Shirley Bellinger)
Kathryn Erbe will forever be known for her portrayal of Detective Alexandra Eames on Law & Order: Criminal Intent, but before she tracked down cold-blooded murderers, she played one herself on Oz. Featured sporadically throughout the prison drama's run, Erbe played Shirley Bellinger, who was sentenced to death after driving her car, with her daughter inside, into a body of water. The show's only female inmate, Bellinger was just as conniving as the rest of the bunch.
In addition to appearing on multiple titles in the Law & Order franchise, Kathryn Erbe has also had roles on shows like Blue Bloods, Elementary, and The Sinner, as well as movies like D2: The Mighty Ducks, Stir of Echoes, and Mistress America.
Eric Roberts (Richard L'Italien)
Eric Roberts had already been nominated for an Academy Award (Runaway Train) by the time he appeared in an extremely brief role in Oz Season 1 as Richard L'Italien, a death row inmate who showed no remorse for his crimes, or fear of his execution, until his final hour had come. With at least 500 television, film, and other credits to his name, Roberts is definitely one of the biggest stars to show up on Oz, especially one that appeared in only one episode partway through the first season in 1997.
Michael Hyatt (Sadiya Khan)
Michael Hyatt, who would go on to appear on The Wire and, more recently, in The Little Things cast, had a one-off appearance on Oz. She portrayed Sadiya Khan, the wife of Hamid Khan, who showed up at Oswald Penitentiary after her husband sustained a severe brain injury in a boxing match. Hyatt would go on to become a prolific actress following her brief Oz appearance, including runs on Crazy Ex-Girlfriend, Ray Donovan, and Snowfall, which started its fourth season in February 2021.
Melina Kanakaredes (A.D.A Marilyn Crenshaw)
One year before she became a star on the medical drama Providence, Melina Kanakaredes had a small yet explosive role in a 1998 episode of Oz, playing assistant district attorney Marilyn Crenshaw, a character later revealed to be formerly engaged to Kareem Saïd (Chicago Fire's Eamonn Walker). Already a known entity with performances on New York News, NYPD Blue, and Guiding Light, Kanakaredes would go on to have a lead role in CSI: NY from 2004 to 2010.
Bobby Cannavale (Alonzo Torquemada)
Bobby Cannavale, who recently showed up as a member of the Tom & Jerry cast, and who will soon appear in a number of upcoming movies, including Thunder Force, appeared in the final year of Oz. The one-day Ant-Man star played Alonzo Torquemada, a nightclub owner sent to Oswald for throwing a jar of acid on a victim's face. In the years following his stint on Oz, Cannavale has appeared in two subsequent crime dramas on the premium channel, Boardwalk Empire and Vinyl.
Mark Margolis (Antonio Nappa)
Mark Margolis is no stranger when it comes to the crime genre, having appeared in everything from Scarface to Breaking Bad and its spinoff Better Call Saul. Margolis even appeared on Oz, portraying mobster Antonio Nappa, who ends up in Emerald City after killing a man at a strip club. Just one of the many victims of Simon Adebisi, Nappa's stay at Oswald is brief yet, nonetheless, tough.
David Zayas (Enrique Morales)
David Zayas is probably best known for his portrayal of Angel Batista on Dexter, but prior to the playing Dexter Morgan's colleague and best friend, the veteran actor appeared on Oz (alongside future co-star Lauren Vélez), as Enrique Morales. Though one of the bigger names on this list, Zayas' performances is often overshadowed by his Dexter role and even his devious portrayal of Sal Maroni on eight episodes of Gotham.
Edie Falco (Officer Diane Whittlesey)
Edie Falco will forever be remembered for her long-running Golden Globe and Primetime Emmy Award-winning performances on The Sopranos and Nurse Jackie, but before she was known as Carmela Soprano or Jackie Peyton, she made a name for herself as Officer Diane Whittlesey on the first three seasons of Oz. A staple of the first half of the show's run, Falco's character added a level of sincerity and honesty to a show that leaned so heavily towards raw and shocking images of violence.
These are just a few of the names who you forgot showed on Oz at some point in the show's six-season run. And while some of these actors were major stars before or became so after their respective stints in Emerald City, it's easy to see how they could slip between the cracks, considering all of the talent which anchored the Oz cast for all those years.
Philip grew up in Louisiana (not New Orleans) before moving to St. Louis after graduating from Louisiana State University-Shreveport. When he's not writing about movies or television, Philip can be found being chased by his three kids, telling his dogs to stop yelling at the mailman, or yelling about professional wrestling to his wife. If the stars properly align, he will talk about For Love Of The Game being the best baseball movie of all time.
Your Daily Blend of Entertainment News
Thank you for signing up to CinemaBlend. You will receive a verification email shortly.
There was a problem. Please refresh the page and try again.