Upcoming Bobby Cannavale Movies And TV Shows: Jolt, Sing 2 And More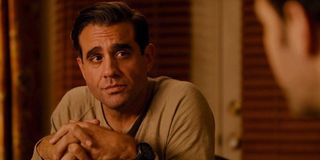 Bobby Cannavale is one those actors that you don't really remember being in your favorite movie or TV show, but upon further inspection, you realize he's been all over the place since making his big-screen debut 25 years ago. Over the years, Cannavale has shown up in the Marvel Cinematic Universe as well as multiple HBO series including Sex and the City, Oz, Boardwalk Empire, and Vinyl. Hell, he's even completed the Law & Order hat trick. And with more projects like Sing 2, Blonde, and others coming out in the next couple of years, Cannavale will be just as busy for the foreseeable future.
With his most recent film project, Tom & Jerry already in theaters and on HBO Max, Bobby Cannavale is going to be someone we see and hear a lot about as the year continues. Below is a breakdown of each of his upcoming film and television roles, even if it still remains to be seen if he'll return for Ant-Man and the Wasp: Quantumania.
Thunder Force - April 9, 2021 (Completed)
Coming out at some point in 2021 is the Netflix action-comedy Thunder Force, which follows Emily Stanton (Octavia Spencer) and estranged best friend Lydia (Melissa McCarthy) after they develop super powers in an effort to protect their city from ongoing attacks from various super-villains, creating the first superhero team in the process. The two lead roles are all that we know about at this point, but Bobby Cannavale, Jason Bateman, Pom Klementieff, Tyrel Jackson Williams, and director Ben Falcone are also set to appear in some capacity.
First announced back in March 2019, director Ben Falcone officials started principal photography in September of that year. The film has since been completed and is set to be released on Netflix Friday, April 9, 2021.
Sing 2 - December 22, 2021 (In Production)
In December 2016, Illumination Entertainment broke out from its Despicable Me and Minions properties to create one of the most refreshing and charming animated musicals in some time with the star-studded Sing. Most of those stars, including Matthew McConaughey, Reese Witherspoon, Scarlett Johansson, Taron Egerton, and Tori Kelly are all returning in their roles from the first movie when Sing 2 lands in theaters at the end of the year. This time around, the gang is setting off to the Crystal Tower Theater to debut a new show, but first they have to find a way to impress the theater's ruthless owner, Jimmy Crystal (Bobby Cannavale).
Originally scheduled to be released on December 25, 2020, Sing 2 was pushed back to a July 2021 release by Universal pictures in April 2019. The release was pushed back even further in early 2020 due to the COVID-19 pandemic and is currently set for a December 22, 2021 release.
Blonde - 2021 (Post-Production)
There have been countless films based on the life and career of Hollywood legend Marilyn Monroe, but Andrew Dominik's upcoming Netflix movie Blonde doesn't sound like it will be anything like any of its predecessors. Based on Joyce Carol Oats 2000 novel of the same name, Blonde will feature Ana De Armas as the Hollywood starlet in a completely fictional story with various characters based on real people only with different names. For example, Bobby Cannavale will play a character known as The Ex-Athlete (a play on Joe DiMaggio) while Adrien Brody portrays The Playwright (Arthur Miller). Such is the case for the rest of the cast which includes Julianne Nicholson, Caspar Phillipson, Scoot McNairy and multiple others.
Blonde, which was previously adapted into a made-for-TV movie in 2001, has been in development for well over a decade now, with Naomi Watts attached to star at one point and Jessica Chastain signed on at another. Production finally started and wrapped in the second part of 2019 and the film is currently awaiting release through Netflix.
This Is The Night - TBD (Post-Production)
This is the Night, formerly known as Once Upon a Time in Staten Island before being retitled in 2020, will see The Purge creator James DeMonaco direct Bobby Cannavale, Naomi Watts, Frank Grillo, and more in a period drama centering on a teenage boy named Anthony (Cody Fairless-Lee) and his dramatic journey in the heart of his small town. Per The Hollywood Reporter, This is the Night is set in the summer of 1982 around the time of the release of Rocky III, during which Anthony embarks on "a quest in his Rocky Balboa-obsessed town that swirls in his family members." His parents are played by Watts and Grillo.
Production on This is the Night got underway in May 2018 in Staten Island, and according to SI Live, was to be wrapped up after around 26 days of shooting. There hasn't been much in terms of updates since then. The film is produced by Jason Blum and his Blumhouse Productions and is set to be released by Universal Pictures.
Jolt - TBD (Post-Production)
Jolt follows Lindy (Kate Beckinsale), a woman suffering from rage issues that are so severe, she wears a shock-vest to send jolts of electricity through her body to calm her down. The movie will center on Lindy after her one shot at a normal life with a man named Justin (Jai Courtney) is scrubbed away when he is brutally murdered. But as she goes on a one-woman rampage in pursuit of the killer, Lindy becomes the prime suspect in the eyes of two detectives played by Bobby Cannavale and Laverne Cox.
Per Deadline, production on Jolt got underway in the summer of 2019 in London but there is no word as to when the action-comedy will be released in theaters (or on a streaming service like so many movies these days). With that cast and story, however, don't expect to go too much longer before we have more information on its status.
Lapham Rising - TBD (Post-Production)
Lapham Rising, Charlie Kessler's long-in-the-works film adaptation of the Roger Rosenblatt novel of the same name, will come out at some point in the future, but no one really seems to know when. If the movie is anything like the novel, it will follow Harry March (Frank Langella), a retired writer spending the twilight of his life in a quiet stretch of the Hamptons, as he deals with a new multi-millionaire neighbor and the construction of a massive estate across the road from his idyllic retreat. Instead of letting things be, Harry instead sees the mansion as a personal attack on all the things he holds true and starts a small war of sorts. Oh, and there is a talking dog named Hector, who just so happens to a born-again Christian capitalist.
In addition to Frank Langella, Bobby Cannavale, Ashley Benson, Stockard Channing, and Catherine Parker are all set to star, though their individual roles have not be announced (please let Cannavale voice the talking dog). According to Deadline, Production began on Lapham Rising in May 2019 in Minnesota, but no release date or other details have been revealed nearly two years later.
Seriously Red - TBD (In Production)
The musical comedy Seriously Red centers on a wild and crazy red-headed woman by the name of Red (Krew Boylan) who also wrote the script) after she misinterprets the dress code at a company-sponsored party and soon finds herself living in a world of tribute artists and impersonators. All of this, according to Deadline, is set to the music of Dolly Parton, which will serve as the backdrop to Red's descent into the country music madness as she navigates life. Bobby Cannavale and his real-life partner Rose Byrne (who is also producing the picture) are set to star alongside Daniel Webber.
Production on Seriously Red got underway in Australia in November 2020, but there is currently no word on when the musical (which features a Kenny Rogers impersonator) will land in theaters. Expect more on this rowdy comedy in the months to come.
Nine Perfect Strangers (TV Series) - TBD (Post-Production)
Nine Perfect Strangers, the upcoming Hulu limited series based on Liane Moriarty's novel of the same name, will see Melissa McCarthy, Luke Evans, Bobby Cannavale, Samara Weaving, Regina Hall, Michael Shannon and more play a group of people who all meet at a pricey 10-day "Mind and Body Total Transformation Retreat" run by a mysterious woman named Masha (Nicole Kidman). Things aren't always as they seem and the group has no idea what's coming their way, according to The Hollywood Reporter.
The limited series, which was created by Edge of Tomorrow scribe John-Henry Butterworth and Big Little Lies creator David E. Kelley, entered production in August 2020, according to IF.com.au and reportedly wrapped in December 2020, per an Instagram post by Nicole Kidman. The Academy Award-winning actress also stated Nine Perfect Strangers would be released at some point in 2021, though a specific date has yet to be announced.
By the looks of it, Bobby Cannavale is going to continue to be a busy as ever these next couple of years. Now we just need to find a way to get him back into the fold with 2022's Ant-Man and the Wasp: Quantamania.
Your Daily Blend of Entertainment News
Philip grew up in Louisiana (not New Orleans) before moving to St. Louis after graduating from Louisiana State University-Shreveport. When he's not writing about movies or television, Philip can be found being chased by his three kids, telling his dogs to stop barking at the mailman, or yelling about professional wrestling to his wife. If the stars properly align, he will talk about For Love Of The Game being the best baseball movie of all time.