Tom And Jerry Cast: Where You've Seen (Or Heard) Them Before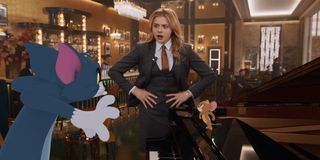 The first three movies — Wonder Woman 1984, The Little Things, and Judas and the Black Messiah— released through Warner Bros. new release model fell more into the superhero and crime thriller dramas, respectively, but the fourth entry in a long list of titles being released in theaters and on HBO Max simultaneously is a little more family-friendly but features a cast just as impressive as its predecessors. Seriously, the Tom and Jerry (or Tom and Jerry: The Movie) cast is one of the most impressive of the bunch, and in terms of animated features in recent years.
With everyone from Chloë Grace Moretz taking on the role of a young hotel employee doing her best to avoid disaster and find a solution for the titular cat and mouse, to Michael Peña doing his best impression of an evil mastermind, the live-action cast is something else. Combine that with Frank Welker (along with archival footage of Tom and Jerry original creators), Bobby Cannavale, Lil Rel Howery, and more filling out the voice cast, Tom and Jerry will leave you saying "I've seen/heard that face/voice before."
To save you time (and sanity), we've put together this breakdown of the Tom and Jerry cast and where you've seen (or heard) them before.
Chloë Grace Moretz (Kayla)
Leading the live-action cast in Tom and Jerry is Chloë Grace Moretz, who portrays Kayla, the recently hired Royal Gate Hotel employee and wedding planner at the center of the story. Since landing a breakout role in the 2005 horror remake The Amityville Horror, Moretz has become and remained one of the most prolific and celebrated faces in young Hollywood. Over the years, Moretz has done everything from play the foul-mouthed and lethal Mindy McCready, aka Hit-Girl, in Kick-Ass and its sequel, Kick-Ass 2, bring the truth as Rachel Hansen in 500 Days of Summer, and even returned to the horror genre with Let Me In and Suspiria.
Michael Peña (Terrance)
There to thwart Chloë Grace Moretz's Kayla in Tom and Jerry is Michael Peña's Terrance, the meddling deputy hotel manager whose villainous scheme can bring all sorts of troubles for everyone at the Royal Gate Hotel. In recent years, Peña has become best known for his scene-stealing performance as Luis in Ant-Man and again (with truth serum) in its followup Ant-Man and the Wasp. The accomplished actor's career doesn't start and end with the MCU (to which he will return in 2022), however, as Peña has given outstanding performances in dramas like Crash and End of Watch as well as television series like Eastbound and Down and Narcos: Mexico.
Colin Jost (Ben)
Ben, one half of the couple engaged to get married at the Royal Gate Hotel, is played by none other than Saturday Night Live's Colin Jost. The "Weekend Update" host and one of the head writers of the popular sketch comedy show makes a rare film appearance in Tom and Jerry, having only acted in two other movies over the years. When Jost isn't busy with SNL or being married to Scarlett Johansson, he spent some of his time appearing on WWE television, most notably at WrestleMania 35, where he participated in the Andre the Giant Memorial Battle Royal.
Rob Delaney (Mr. DuBros)
Rob Delaney, joined by his impressive mustache, portrays Mr. DuBros, the owner and manager of the Royal Gate Hotel in Tom and Jerry, the latest in a long line of comedies for the comedian-turned-actor. In recent years, Delaney has been seen in Deadpool 2, Hobbs & Shaw (with all those cameos), and Bombshell, but he is probably best known for playing one of the co-leads in the Amazon original comedy series Catastrophe which he created and wrote alongside co-star and on-screen wife Sharon Horgan (and the late Carrie Fisher). Delaney is next set to appear in the Disney+ Home Alone reboot.
Ken Jeong (Jackie)
Jackie, the chef and baker at the center of the wedding preparations in Tom and Jerry is played by Ken Jeong, whose decades-spanning career has led to unforgettable performances in The Hangover, Community, and Crazy Rich Asians to name only a few. In addition to working as a standup comedian and actor, Jeong is also a licensed physician, which became the basis of his 2015 ABC comedy series Dr. Ken. More recently, Jeong has entered the game show genre, appearing as a judge or host on multiple shows including The Masked Singer (and its spinoff The Masked Singer) as well as I Can See Your Voice.
Pallavi Sharda (Preeta)
Bollywood actress Pallavi Sharda, who portrays the other half of the married couple to be, Preeta, doesn't have nearly as many credits as her co-stars, but her body of work is impressive, nonetheless. Appearing in Bollywood titles like My Name is Khan, Dus Tola, and Love Breakups Zindagi, Sharda has also shown up in movies like Lion, Beecham House, and Retrograde in the past five years.
Frank Welker (Tom Cat; Jerry Mouse)
Providing the vocal effects for both Tom Cat and Jerry Mouse in Tom and Jerry this time around is primarily the prolific Frank Welker with archival recordings from William Hanna, Mel Blanc, and June Foray being used throughout the latest version of the classic cartoon. We rarely see Frank Welker's face in any of his performances, but his voice has been featured in everything from Scooby-Doo, Where Are You! and essentially every animated version of the franchise since 1969, providing the voice of Fred Jones, in addition to all sorts of other minor characters. Welker, a longtime voice-actor for Hanna-Barbera, has gone on to voice characters like Jabberjaw, Crime Globe in The Super Globetrotters, and pretty much any given cartoon. He also provided vocal effects for Tommy Boy (the deer), Mars Attacks! (the martians), and Scoob! (Scooby-Doo).
Nicky Jam (Butch Cat)
Voicing the unsavory and unfriendly alley cat Butch is Nicky Jam, the American singer and songwriter known for his contributions to the Latin trap and reggaeton musical genres. When he's not releasing hit singles like "X," "Travesuras," and "El Amante," the award-winning artist has been trying out his hand in big-budget action flicks like xXx: Return of Xander Cage alongside the returning Vin Diesel and Bad Boys for Life, in which he portrayed Lorenzo "Zway-Lo" Rodriguez.
Longtime Kevin Hart collaborators Joey Wells, Harry Ratchford, and Na'im Lynn provide the voices of the various members of Butch's gang of stray cats.
Bobby Cannavale (Spike)
A Tom and Jerry movie wouldn't be the same without Spike, the oversized American Bulldog featured heavily as one of Tom's fiercest foes throughout the property's history. Providing the voice for Spike this time around is Bobby Cannavale, yet another actor to have appeared in both Tom and Jerry and the Marvel Cinematic Universe (he plays Jim Paxton in Ant-Man and Ant-Man and the Wasp). Cannavale has also appeared in The Irishman, Mr. Robot, and Homecoming. Cannavale also falls in the middle of the Venn diagram of actors who have appeared on Sex and the City, Law & Order, and Oz.
Lil Rel Howery (Tom's Shoulder Devil)
Ah, the classic trope of a character having a "devil" and "angel" on his shoulders is alive and well in Tom and Jerry, and none other than Lil Rel Howery is voicing Tom's more sinister side this time around. The Chicago native has appeared on various TV comedies and stand-up comedy specials over the years, but he's best known for his role as TSA officer Rod Williams in Get Out and if not that then Charlie in Bird Box. Howery was recently featured in the cast of Judas and the Black Messiah.
Tone Bell (Tom's Shoulder Angel)
Since we've already knocked out Tom's Shoulder Devil, I guess we have to talk about the kinder and more logical figment of the cat's imagination. Portraying Tom's Shoulder Angel in Tom and Jerry is Tone stand-up comedian and actor Tone Bell. Bell's television appearances include a main role on the Netflix comedy series Disjointed and the BET drama American Soul in which he plays Richard Pryor. His film credits include The United States vs. Billie Holiday, Sylvie's Love, and Little to name a few.
These are just the main members of the Tom and Jerry live-action and voice cast. With random animated (and live-action) characters popping up throughout the movie, including some classic Hanna-Barbera legends appearing from time to time, the cast of the latest animated film featuring the iconic cat and mouse duo is absolutely stacked. You can check out the live-action/computer-generated hybrid come to life in theaters or on HBO Max until the end of March 2021. And if you want to know what else is coming to theaters (and streaming services) this year, check out CinemaBlend's 2021 movie release schedule for all the latest updates.
Your Daily Blend of Entertainment News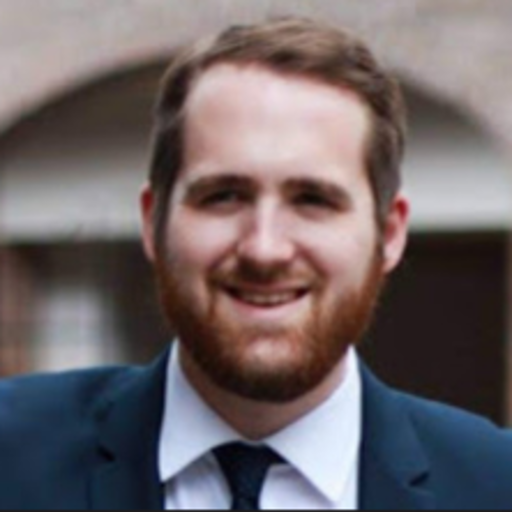 Philip grew up in Louisiana (not New Orleans) before moving to St. Louis after graduating from Louisiana State University-Shreveport. When he's not writing about movies or television, Philip can be found being chased by his three kids, telling his dogs to stop barking at the mailman, or yelling about professional wrestling to his wife. If the stars properly align, he will talk about For Love Of The Game being the best baseball movie of all time.